Dow Futures Rise 150 Pts; Powell, Jobless Claims in Focus

uk.investing.com
23/06/2022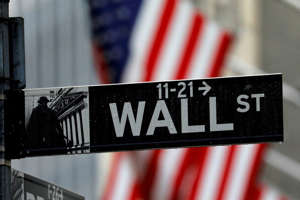 By Peter Nurse    
Investing.com -- U.S. stocks are seen opening a touch higher as investors digest Fed Chair Jerome Powell's testimony to Congress, with the second session to come, ahead of the release of important economic data.
At 07:00 AM ET (1100 GMT), the Dow Futures contract was up 150 points, or 0.5%, S&P 500 Futures traded 26 points, or 0.7%, higher and Nasdaq 100 Futures climbed 130 points, or 1.1%.
The major indices on Wall Street closed marginally lower Wednesday after Federal Reserve Chair Jerome Powell told the Senate that a recession is a possibility given the central bank's determination to tame red-hot inflation. 
The blue-chip Dow Jones Industrial Average closed almost 50 points, or 0.2%, lower, the broad-based S&P 500 dropped 0.1%, while the tech-heavy Nasdaq Composite also fell 0.2%.
Investors have been fretting about a potential recession, particularly after the Federal Reserve hiked interest rates by a hefty 75 basis points last week to combat inflation running at levels not seen for 40 years. The broad-based S&P 500 index has fallen more than 23% off its record high from early January, putting it clearly in a bear market.
Powell is set to appear again on Capitol Hill Thursday for another round of questions, this time from the House as part of his semiannual report to Congress.
Before he appears, the new numbers for the weekly jobless claims are due at 08:30 AM ET (1230 GMT). These are expected to be 227,000, roughly in line with the prior week, and indicative of a strong employment market, one of the Fed's main barometers of the economy's health.
Additionally, the June manufacturing PMI, which is a reading on business conditions, is due at 09:45 AM ET, and is expected to fall to 56, from 57 the prior month. The equivalent data in Europe showed Eurozone business activity slowed significantly in June, adding to fears of a sharp economic downturn.
It's a quiet earnings week, but results from the likes of Darden Restaurants (NYSE:DRI), information technology company Accenture (NYSE:ACN), drugstore Rite Aid (NYSE:RAD) and, after the bell, delivery giant FedEx (NYSE:FDX) are due.
Oil prices weakened Thursday, with major U.S. oil refiners set to meet with U.S. Energy Secretary Jennifer Granholm later in an emergency meeting about how to lower record-high fuel prices. President Joe Biden has already called on Congress to pass a three-month suspension of the federal gasoline tax.
Wednesday's U.S. crude supply data from the American Petroleum Institute showed a surprise build of 5.6 million barrels for last week. Traders will have to wait for official confirmation as the Energy Information Administration's weekly oil data will be delayed until at least next week due to systems issues.
By 07:00 AM ET, U.S. crude futures traded 0.6% lower at $105.58 a barrel, while the Brent contract fell 0.4% to $111.25. Both benchmarks fell around 3% in the previous session, dropping to their lowest levels since mid-May.
Additionally, gold futures fell 0.4% to $1,831.05/oz, while EUR/USD fell 0.6% to 1.0503.