Stock Market Today: Dow Gains as Tech Rebounds on Earnings

uk.investing.com
20/07/2022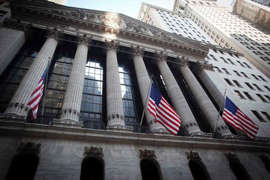 By Liz Moyer
Investing.com -- U.S. stocks rode the surge in tech Wednesday ahead of more corporate earnings.
At  4:00 PM ET, the Dow Jones Industrial Average was up 51 points, or 0.2%, while the S&P 500 was up 0.6%, and the NASDAQ Composite rose 1.6%.
Netflix, Inc. (NASDAQ:NFLX) set a positive tone after the closing bell on Tuesday, saying it lost under one million subscribers in the second quarter, which is far fewer than initially feared. It also forecast growth and talked about an ad-supported subscription tier to be introduced next year. The stock was up more than 7%.
Mortgage applications slumped 6% from the prior week as high prices and rising loan interest rates pushed would-be buyers to the sidelines.
The Federal Reserve is expected to raise interest rates another 0.75 percentage point when it meets later this month. Before that, the European Central Bank is expected to make a rate move as central banks try to respond to high inflation.
Baker Hughes Co (NASDAQ:BKR) fell 8% after it revised its outlook and said there was a deterioration in demand.
Tesla, Inc. (NASDAQ:TSLA) shares jumped 4% after it beat expectation for profit. Revenue came in slightly below estimates.
Bath&Body Works, Inc. (NYSE:BBWI) shares rebounded after an earlier tumble, up 3% after it lowered its guidance.
Oil fell. Crude Oil WTI Futures was down 0.8% to $99.88 a barrel, while Brent Oil Futures fell 0.4%, to $106.88 a barrel. Gold Futures dipped 0.6%, to $1,699 an ounce.