Tim Martin: 'If there's a no-deal Brexit I'll bring the price of beer down'

The Financial Times
14/03/2019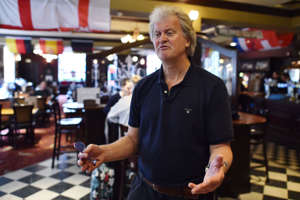 It is a bright February morning — unusually warm, with the sun painting the English Channel towards Calais and Dunkirk an unseasonal blue — and Tim Martin is walking. He is striding through the Kent town of Ramsgate towards the Royal Victoria Pavilion, a former assembly rooms built in 1903, with an ornate interior based on Marie Antoinette's Trianon theatre in Versailles. Martin has two things on his mind.
One is what he spent to transform the 11,000 sq ft Royal Victoria into the most spectacular of the 883 public houses run by JD Wetherspoon, the pub chain that he founded four decades ago. The local authority handed over the dilapidated building free, but it cost £4.5m to restore in 2017.
"It's a hell of a bloody pub and it captured the imagination," he says. "The danger is that people come from far and wide to look, but business dies off when the novelty goes. It is a bit of a risk if it doesn't work."
Brexit in-depth: All the latest news, analysis and expert opinion
His second topic — Brexit — also involves a bit of risk. There are only weeks left before the UK is due to leave the EU, and British politics is in chaos, but Martin is unworried. "I don't think there's a sword of Damocles hanging over us," he says. Half an hour earlier, he had gestured to a local reporter at another Wetherspoons, like a trader promising a bargain: "If there's a no-deal Brexit, I'll bring the price of beer down!"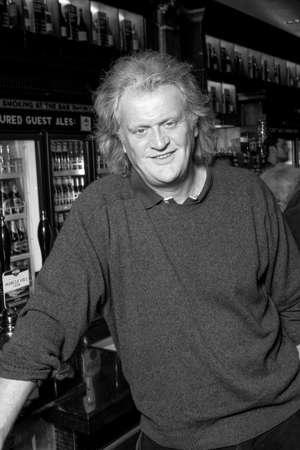 Martin has been impossible to ignore since the 2016 referendum — his 6ft 6in frame, long shock of grey hair and square jaw are constantly on television, railing for Brexit. The 63-year-old, who grew Wetherspoons from a single pub in London to the UK's third-largest managed pub chain, with a market capitalisation of £1.3bn, has defied the business consensus that favours trade and economic continuity.
By throwing his weight behind what he calls the "motley crew" of Brexiters, he has given their political rebellion a stamp of entrepreneurial authority.
His is a personal crusade — although he has spoken at Leave Means Leave events, he does not belong to a political party. As in business, he has trodden his own path, printing 500,000 beer mats advocating a no-deal Brexit, and replacing Belgian wheat ale with British across Wetherspoons branches.
The 17 million people who visited a "Spoons" in the past six months could read an in-house magazine lambasting the Remainer "metropolitan elite", including the Financial Times. "A 'deal' is just a trap laid by the CBI, the FT and others for keeping us in the EU," Martin wrote in the latest.
The way in which Brexit and his business overlap is obvious as we enter the kitchen of the Royal Victoria, where a multinational team of workers is cooking energetically to meet Wetherspoons' benchmark of 10 minutes from order to meal being served. That, along with low prices (fish and chips with peas costs £7.75 in Ramsgate), cleanliness (the pubs' average hygiene rating is 4.97 out of five) and decent quality ensure that the average Spoons sells 3,780 meals a week, including 800 breakfasts.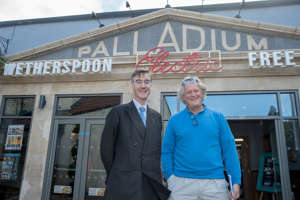 'You meet a cross-section of people in a pub. That's what makes it different'
The Royal Victoria's kitchen manager is Ildiko Kovacs, a 34-year-old Hungarian who has worked at three Wetherspoons pubs since moving to the UK as an EU citizen. The industry is heavily reliant on immigrants: of the 450,000 people working in British pubs and bars, 14 per cent are estimated to come from the EU, rising to 23 per cent in kitchens. At the Royal Victoria, there are 130 full-time and part-time workers, expanding to 200 in summer. Kovacs moved from a Spoons in Surrey for this job, buying a house in Margate with her partner.
She is an enthusiast, talking of trying to surpass the company's food sales record set by The Velvet Coaster in Blackpool. "Our record is £97,000 [a week] and we're going to try to beat Blackpool this summer," she says. "We're always in the high-volume mindset, getting it out as fast as possible . . . I can confidently say I love my job."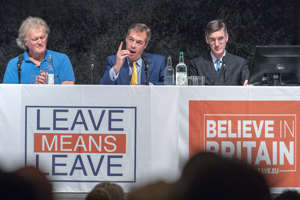 © Getty So you're not going to go back to Hungary? I ask. "Not unless I get kicked out, I guess," she says, cheerfully.
"Who can see into the future?" Martin replies, laughing uneasily. It feels tactless from someone who advocates Brexit, albeit on the virtues of democracy and free trade. "I'm not against immigration," he had said as we walked through Ramsgate. "If someone has a job, I'm not trying to stop them coming here. I've said that when I've gone around the country talking and I've got a big cheer. There's a strong sense of grievance among Leavers that they're vilified for racism."
Martin's prominence ("If I get an invitation to speak on telly, I try not to turn it down," he says, and that morning had again argued his case on breakfast television) has brought him fans. In each pub we visited, he was accosted by at least one Leaver, all middle-aged men with short hair and a furtive look, as if confessing to a shameful passion. "Friends of mine read the bloody Guardian and I dare not mention the 'B word', but I'll be alright with you," says one.
But it has also provoked a media backlash and unsettled his board. He says that the company's four non-executive directors differ with him on Brexit: "I don't talk to them much about it because it's too emotional." David Page, an old friend and founder of the Franco Manca pizza chain, who voted Remain, says it is "as personal to him as the pubs. I think he's sad about how divisive it has become but when Tim makes up his mind, it takes an earthquake to change it."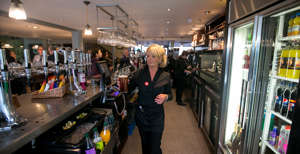 © PA Martin's image as a genial host who welcomes everyone is at stake: if the pub landlord is a bore who harangues his customers, some will find another watering hole. There is no sign of it yet — Wetherspoons' sales grew by 5 per cent last year and his 32 per cent stake in the business is now worth £420m. Still, he admits the danger, even as he pushes forward. "God, no. You wouldn't have gone along this path to build your business," he says. "Too risky, too divisive."
Every Thursday morning, in an office block near Watford Junction station, north of London, a ritual occurs. It is the weekly management meeting at Wetherspoons' head office, known as the Wether Centre, where department and area heads gather, along with a sample of pub and kitchen managers and people from all levels, to pursue its distinctive approach to business, as recorded in its annual report: "The company aims to make lots of small improvements to its pubs."
The god of small improvements was Sam Walton, late founder of Walmart, the US discount store chain, and Martin is his disciple. "Walton's guys would go out on the road on Monday and they weren't allowed back in the office until Thursday afternoon," he recounts. "They would bring in ideas from customers and staff. The key is not to have the top brass reaching too many decisions."
© PA Martin, who lives in Exeter with his wife (they have four children) and spends one day a week in Watford, is travelling in when the February 7 meeting starts at 8.30am. John Hutson, Wetherspoons' chief executive since 2004 and a low-key counterfoil to Martin, sits on a stool at the front of the room, dressed in a black jersey, facing 80 managers seated in rows.
Among the first items on the agenda is whether to drop Comic Sans, a quirky font that some, notably Tina Coppitters, Martin's friendly and loyal personal assistant, use on internal documents. There is a jokey debate on whether Comic Sans is Wetherspoons' official font and whether it matters.
Hutson leans forward to catch a remark. "Michelle says Comic Sans uses a bit more ink. We might save £5 a year by changing," he reports.
"People's Vote," a wag calls from the back.
"We'll stay as we are, even though it turns out we don't know what that is," Hutson concludes. He turns to the next item, whether pizzas should be served with steak knives to cut them (the consensus is yes). Later, they debate whether to use latex-free kitchen gloves (yes); whether to add kombucha fermented tea to the drinks menu (perhaps); and where to put baby-changing facilities (women's toilets in new pubs).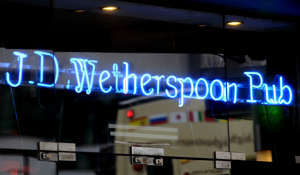 © PA At 9.30am, Martin enters, dressed in his usual black Levi's jeans, striped Gant polo shirt and black Dr Martens shoes, as if he picked an outfit about the time he opened his first pub in 1979, and has seen no need to change. "Morning, chaps," he says (the term "chaps" includes women — 39 per cent of senior managers are female). "Morning, Tim," the class mumbles.
Martin relays some of his latest experiences visiting Wetherspoons' pubs and one of its 57 hotels, which the business began opening in 1998 to fill out its buildings. His gripes include "one of the worst bin areas I've ever seen" at one pub, and there being only sparkling water in his room when he stayed at The Bull & Stirrup in Chester. "There were biscuits, which I thought was good, but who drinks fizzy water at night in a hotel?" he asks.
"Someone who hasn't had the Merlot," Hutson interjects.
Recording minutiae is not the chairman's role in most companies but it is sacrosanct for Martin. "Helping to provide information on customers' and employees' views by calling on pubs" is one of his official duties listed in the annual report. "I call it the 1,000 components of a BMW — you have to go along with a notebook and write down all the little things," he says. "Management intensity" is what he believes retains customers' loyalty to a Spoons after the buzz of an opening fades.
The other foundation of its growth is scale and efficiency, passed on to the customer in low prices. "Wetherspoons is a thoroughbred with blinkers — it serves the same as others at a 30 per cent discount," says David Page. A pint at a Spoons is reliably cheap, leading to the urban myth that it buys discounted beer from suppliers just before the sell-by date. The truth is prosaic: like Walmart, its margins are low and its volumes very high.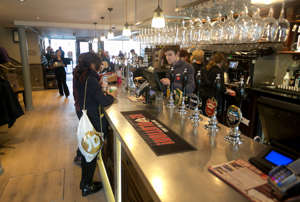 © PA The company has roiled the industry since floating in 1992 at a value of £46m. "Tim has stayed exceptionally grounded in what customers are saying and thinking," says Richard Pennycook, finance director in the mid-1990s. "He also had the skill to make it scale, which is rare, and the patience and tenacity to stick at it for year after year. From early on, he wanted to have 1,000 pubs."
It is not the biggest pub chain — Greene King and Mitchells & Butlers directly manage more of the UK's 39,000 pubs, while companies such as Ei Group (formerly Enterprise Inns) lease thousands to "tied" landlords. But it frightens local bars the most when a Wetherspoons opens nearby. They are vulnerable after decades of pub closures, squeezed by everything from taxation to changing family habits.
"The price of a pint has really gone up. It feels ridiculous when you are paying £5 for one in London and you are standing outside," says Christopher Snowdon, head of lifestyle economics at the Institute of Economic Affairs think-tank. The number of pubs has fallen from 69,000 in 1980, while the volume of beer drunk in them has almost halved from 23.4 million barrels (6.7 billion pints) in 2000 to 12.6 million in 2017. More is bought in supermarkets and shops and consumed at home.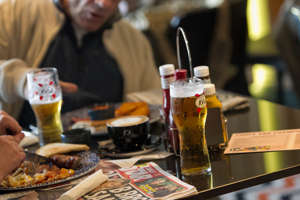 © PA Last year brought a measure of relief — beer sales in pubs stabilised after falling for all but one of the past 18 years, partly thanks to warm summer weather and fans watching England World Cup games at pubs, according to the British Beer and Pubs Association. "The pub is the last social hub in some rural areas, with banks and post offices closing. People really care about them," says Brigid Simmonds, BBPA chief executive. But in a flat industry, the growth of Wetherspoons is at the expense of others.
Martin did not just invent a more efficient pub, he expanded what a pub could be. In 1946, the writer George Orwell listed its ideal qualities as "draught stout, open fires, cheap meals, a garden, motherly barmaids and no radio". Martin banned music in his pubs, as well as naming some The Moon Under Water, after Orwell's mythical ideal pub. But his ambition for food was greater than Orwell's "cut off the joint, two vegetables and boiled jam roll, for about three shillings".
Wetherspoons started selling coffee from cappuccino machines, which now comes with free refills, in 2000 and opened for breakfast six days a week in 2002; food has grown from 18 per cent of sales in 2000 to 35 per cent last year. The change is evident as we walk into The Sir Norman Wisdom in Deal to find the rear area full of dining tables. The staff are enthusiastic but Martin is uneasy — he still wants what is known in the trade as a "wet-led" hostelry, where the prime activity is drinking.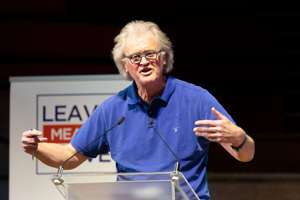 © Getty "This looks congested, as if it's putting the drinkers off," he says, getting more worried when told of a plan to put in seating booths. "It sounds like someone's running riot, going around imposing booths." His comments, while amiably phrased, are not to be treated lightly. As well as visiting pubs, he oversees the closure of underperformers. Despite his ambition, the chain peaked at 951 pubs in 2015 and has disposed of 100 in the past three years, while adding only 32.
Rather than quantity, the business has shifted toward size and profitability — the average new opening last year was 5,200 sq ft compared with 3,640 in 2013. The archetypal Spoons has, as Orwell put it, "regulars who occupy the same chair every evening and go there for conversation as much as for the beer", but they are propping up a far bigger bar than the local of Orwell's imagination. The Moon Under Water has grown into the Royal Victoria Pavilion.
"I felt quite ill, bit of a gut ache, and for the first time in my life I went to A&E. They said 'it's gastroenteritis', although they didn't do many tests, and you don't like to make a fuss. That was on Monday; on Sunday, I was operated on for a burst appendix. I lost half my bowel," Martin recalls of the medical emergency that struck last October, from which he is still recovering.
Gallery: Facts to know about Brexit (Photos)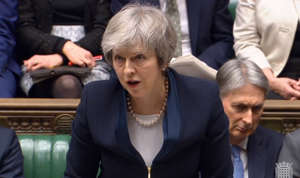 As on other topics, he has his views on the National Health Service that eventually saved him ("My criticism of the NHS is that it's too much the sacred cow. It doesn't get the scrutiny it should"). He was later told by a Wetherspoons pub manager in Exeter that, unlike him, she had been treated privately for appendicitis under the company's medical insurance. "I was pleased about that," he says, "I thought it was good, really."
An egalitarian story is useful at the moment. Martin evangelises about treating his 40,000 staff well — "People aren't paid a hundred grand a year in this industry, so if it's not an attractive environment, they go elsewhere." But staff from two pubs in Brighton went on strike over wages last October. "I work in a great team and that is rewarding," says Chris Heppell, one of the strikers. "But Wetherspoons makes millions from our hard work and we're trapped between low pay and the rising cost of living."
Martin still smarts from becoming lost for words in a video interview with the leftwing campaigner and Guardian columnist Owen Jones, who accused him of paying "poverty wages". He shakes his head. "I've never lost my cool in all these years, so he's got a bit of talent."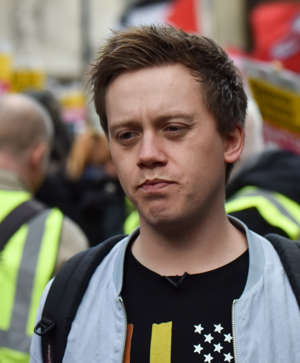 Wetherspoons is not the meanest pub employer: its over-25s starting rate of £8.26 per hour is 5.5 per cent higher than the £7.83 legal minimum wage (though lower than the voluntary "living wage" of £9 an hour) and it pays 15.8 per cent higher on average. It also gave £43m in bonuses and free shares last year, 82 per cent of which went to pub employees.
We are lunching in the Royal Pavilion at a high table with a sea view — fish and chips for me and jacket potato with tuna mayonnaise (£6.75) for him, delivered in less than 10 minutes. Martin talks about his father, a Royal Air Force pilot who left at 29 with vertigo, and took a sales job with Guinness. Martin was born in Norwich and grew up in both Northern Ireland and New Zealand as his father's job moved.
"He used to call me insubordinate. His idea of anathema was someone who argued all the time," Martin says. Yet this iconoclasm was crucial to Martin's success. Having studied law at Nottingham university and moved to London to study as a barrister, he found it hard: "I thought, 'I can't spend my life reading at half the pace of everyone else.'" But he also studied at another bar — an independent pub in Muswell Hill, London, that was not tied to a brewer and served Ruddles County bitter.
He ended up buying it for £40,000 (partly financed by selling his flat) plus a holiday for the seller in Jamaica, where Martin's father was then working. Wetherspoons, named after a teacher at one of his schools, was independent from the start: he avoided buying pubs with ties to brewers, often converting other properties instead. Its pubs can be found in former cinemas, post offices and banks.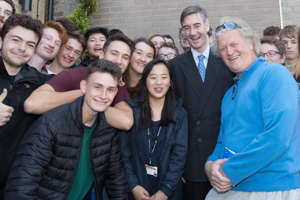 His belief in Brexit parallels his faith in the British pub as a demos, in which everyone has a voice — like a Wetherspoons management meeting. Orwell complained in the 1940s that a ban on children in pubs had "turned these places into mere boozing-shops instead of the family gathering-places that they ought to be". Martin defines the distinction between a pub and an American bar, or a French café, as the social mix: "You meet a cross-section of people in a pub. That's what makes it different."
For him, Brexit is an opportunity to regain sovereignty rather than ceding control to European bureaucrats. "From a teenager, my thought was that democracy is essential for the future . . . if the world's going to survive, you need countries like China and Russia to be democracies. If everyone's got a vote, including women, it's a brilliant way to avoid conflict. A lot of people [think] you can have too much democracy and you do better if you give power to énarques (the French elite). I've hardly had a sensible conversation about this, it's so riven with emotion."
It might also be because he argues without compromise, and his views have grown harder since 2016. "Once you start arguing, I suppose you tend to marginalise, then radicalise yourself," he says. From backing something like single market membership before the referendum ("We can do a fantastic deal with the French, as have the Norwegians and the Swiss . . . if they can do well outside the EU, so can we," he said on Sky television in February 2016), he now insists on a complete breach.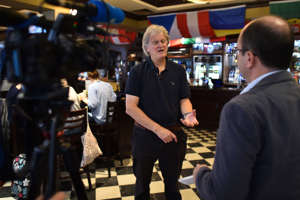 "I would go for no deal, just get out and try to negotiate from there. I think there's all sorts of agreements the EU would be willing to do then. I wouldn't try to get a 50,000-page document that covers every damn thing, all at once. It's too complicated," Martin says. His radicalism fits his hostility to limits on British sovereignty; it also evokes an insubordinate young barrister buying a pub without a draught beer tie to any brewer. He could run it exactly as he wanted.
The English Romantic painter JMW Turner called the skies over east Kent "the loveliest in all of Europe". He is commemorated in the Turner Contemporary gallery in the Victorian seaside resort of Margate, where Martin's driver drops us a mile short of The Mechanical Elephant pub. The late afternoon sun is indeed lovely, falling across the Dreamland amusement park and Margate bay.
Martin has always been a walker — the first time we met, in the Knights Templar, a Spoons converted from a former bank in Chancery Lane, he was a few minutes late because he had walked across London from Paddington. As we emerged from the first pub on our tour of Kent, the Eight Bells in Dover, he cited a Thomas Hardy poem about the poet treading the same ancient path as when a child: "The Roman Road runs straight and bare/ As the pale parting-line in hair."
By Margate, he has visited four pubs that day, and has three more to go. But he is on alert as we reach The Mechanical Elephant, named after a contraption driven by an engine that "walked" the front with holidaymakers on its howdah in the 1950s. We stop to check the state of its flower baskets and three posters that are supposed to be on display. "How f-ing difficult is it to get right?" he mutters.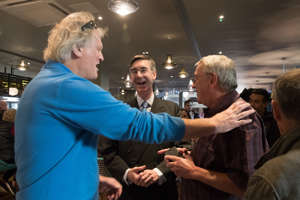 The Mechanical Elephant is on the endangered species list — it has been trading in a lacklustre fashion and a new manager has been brought in to make improvements. But as Martin enters the pub, filled with locals having a Friday afternoon pint of beer, his mood elevates.
"I didn't realise you were so tall," says one drinker at the bar.
"I'm wearing high heels today," Martin replies, easing happily into bar room banter. "I've heard they're popular in Margate."
"I should have brought my mate in. He's playing golf this morning. He's so Brexit you could have talked to him for hours."
"We might drive each other mad," Martin says. He introduces himself to the bar staff, getting one name wrong, then correcting it carefully in his notebook. "I think I'm getting hard of hearing," he apologises. "It wouldn't be surprising — it's all that Captain Beefheart in the 1970s."
Having ordered a cup of tea, he is soon perched by a high table at the rear, talking to the Elephant's new manager about his revival efforts. I chat to a group of middle-aged men gathered with pints at a table. One is Bernie Stone, a 64-year-old retired bricklayer who is a forthright Brexiter.
"I think England is an island on its own and it should work on its own. We don't have to be in the EU and pay them money left, right and centre," he says. "We have exports that go to Canada, America, China etc. We used to be a strong country. We are still a strong country."
As I go, Martin is mulling over refurbishments with the manager, warming to the idea of reviving the Elephant. "We'll be moving the bar upstairs and generally sprucing it up, I think," he says.
Some other entrepreneurs who supported Brexit have invited charges of hypocrisy by planning to relocate themselves or their companies abroad. Sir James Dyson, founder of the consumer electronics company, is shifting his headquarters from the UK to Singapore. Sir James Ratcliffe, founder of the chemical group Ineos, has been reported to be considering moving to Monaco himself to avoid tax.
Martin is not leaving. The UK government received £729m in taxes from Wetherspoons' business in 2018, including VAT, national insurance and alcohol duty, but relocating the pubs is impossible and it is difficult to imagine him happy anywhere else but in one of them. He took a sabbatical in 2003 but returned as chairman after only six months. Nearing The Elephant, I had asked whether, at his age and with his fortune, he thought of retiring.
"There's not actually much else I can do," he replied, mulling over the question as we walked. "I've got a bad back, so I can't do many sports. If I work eight hours a day, I can still go for a walk for an hour or two, and have a couple of pints. What else is there, sort of thing?"
John Gapper is the FT's chief business commentator
Follow @FTMag on Twitter to find out about our latest stories first. Subscribe to FT Life on YouTube for the latest FT Weekend videos