Wall Street Opens Higher as CPI Fails to Shock; Dow up 90 Pts

uk.investing.com
12/01/2022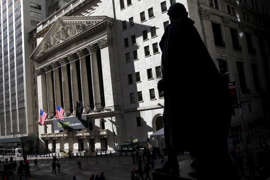 By Geoffrey Smith 
Investing.com -- U.S. stock markets opened higher on Wednesday, shrugging off a slightly higher-than-expected print for inflation in December that cemented expectations for repeated interest rate hikes in the coming 12 months. 
By 9:45 AM ET (1445 GMT), the Dow Jones Industrial Average was up 90 points, or 0.3%, at 36,342 points. The S&P 500 was up 0.4% and the Nasdaq Composite was up 0.6%, on course for a third straight day of gains.
At the same time, benchmark 10-year Treasury yields moderated by 2 basis points to 1.72%. They had been as high as 1.80% earlier in the week, in response to new forecasts from private economists that envisaged four rate hikes from the Federal Reserve this year. 
Fed Chair Jerome Powell's testimony at the confirmation hearing for his second term on Tuesday produced no major surprises, allowing market participants to feel that the new forecasts were sufficiently priced in. 
Earlier, the Bureau of Economic Analysis had confirmed expectations that annual inflation hit a 40-year high in December, against a backdrop of supply chain disruptions, labor shortages and strong household balance sheets that are allowing consumers to sustain the pace of their spending despite the end of many pandemic-related fiscal supports last year. The report was strong all across the board, with both headline and core consumer prices rising a touch more than expected from November, up 0.5% and 0.6% respectively. The annual headline rate rose to 7.0%, a level it hasn't seen since the last oil shock in 1982.
"We could be close to the peak but the risk is that inflation stays higher for longer and we could see a more aggressive response from the Fed," said James Knightley, chief international economist with ING Group (NYSE:ING), in a note to clients.
However, such thoughts didn't hold back tech stocks, which have come under pressure in recent days and weeks due to their sensitivity to long-term interest rates. Chipmakers and software companies advanced broadly, while electric vehicle makers - a sector whose current struggle for profitability makes them particularly vulnerable to cost-of-capital concerns - also rose. Tesla (NASDAQ:TSLA) stock rose 1.8%, while Lucid Group (NASDAQ:LCID) stock rose 2.8% and Rivian Automotive (NASDAQ:RIVN) stock rose 4.0%.
Financials were also well bid as fourth-quarter earnings season appeared over the horizon, at a time when rising interest rates are rapidly improving the profit outlook for banks' core lending businesses. JPMorgan Chase (NYSE:JPM) stock rose 0.6% while PNC Financial (NYSE:PNC) stock, which is already up 12% this year, rose another 0.6% to a new record high.
On the downside, Biogen (NASDAQ:BIIB) stock tumbled 9.5% to its lowest since September 2019 after regulators decided that Medicare shouldn't cover the costs of its Alzheimer's drug Aduhelm, except in the small number of people who are enrolled in clinical trials to monitor its effects. The decision greatly restricts the drug's revenue-generating potential and ensures the controversy over its authorization last June by the Food and Drug Administration will continue to cast a shadow over it. 
Elsewhere, DISH Network (NASDAQ:DISH) stock rose 4.3% on reports that it has renewed merger talks with DirecTV, while miner Freeport-McMoran (NYSE:FCX) stock rose 4.7% to its highest since May as copper prices continued to surge. That rally is being underpinned by hopes of monetary policy easing in China, where figures released overnight showed inflation on a downward path.