U.S. Builds World's Most Powerful Supercomputer

24/7 Wall St.
09/06/2018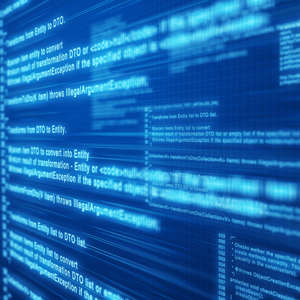 © Thinkstock It is called "Summit" and it is now the world's most powerful supercomputer, according to the U.S. Department of Energy's Oak Ridge National Laboratory.

Summit performs calculations at an unprecedented speed:
With a peak performance of 200,000 trillion calculations per second—or 200 petaflops, Summit will be eight times more powerful than ORNL's previous top-ranked system, Titan. For certain scientific applications, Summit will also be capable of more than three billion billion mixed precision calculations per second, or 3.3 exaops. Summit will provide unprecedented computing power for research in energy, advanced materials and artificial intelligence (AI), among other domains, enabling scientific discoveries that were previously impractical or impossible.
What are machines like this used for? Artificial Intelligence, weather forecasting, work on high level physics, and the human genome, astrophysics, cancer research, and systems biology.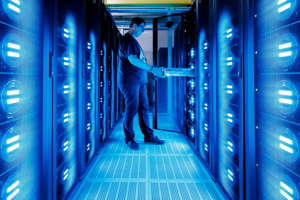 © Getty HAMBURG, GERMANY - JUNE 07: An employee of the German Climate Computing Center (DKRZ, or Deutsches Klimarechenzentrum), at the request of the photographer, stands at the 'MistralÓ supercomputer at the DKRZ on June 7, 2017 in Hamburg, Germany. The DKRZ provides HPC (high performance computing) and associated services for climate research institutes in Germany. Its high performance computer and storage systems have been specifically selected with respect to climate and Earth system modeling. With a total of 100,000 processor cores, Mistral has a peak performance of 3.6 PetaFLOPS. With a capacity of 54 PBytes, its parallel file system is currently one of the largest in the world. The DKRZ's robot-operated tape archive has currently a capacity of 200 petabytes and allows for long-term archiving of climate simulations such as those carried out with respect to reports by the Intergovernmental Panel on Climate Change. (Photo by Morris MacMatzen/Getty Images) Jeff Nichols, ORNL associate laboratory director for computing and computational sciences, said:
Summit takes accelerated computing to the next level, with more computing power, more memory, an enormous high-performance file system and fast data paths to tie it all together. That means researchers will be able to get more accurate results faster. Summit's AI-optimized hardware also gives researchers an incredible platform for analyzing massive datasets and creating intelligent software to accelerate the pace of discovery.
An IBM (NYSE: IBM) hardware system was used to help complete the project.
Summit is the next generation of a long line of development. According to ORNL Director Thomas Zacharia:
From its genesis 75 years ago, ORNL has a history and culture of solving large and difficult problems with national scope and impact, ORNL scientists were among the scientific teams that achieved the first gigaflops calculations in 1988, the first teraflops calculations in 1998, the first petaflops calculations in 2008 and now the first exaops calculations in 2018. The pioneering research of ORNL scientists and engineers has played a pivotal role in our nation's history and continues to shape our future. We look forward to welcoming the scientific user community to Summit as we pursue another 75 years of leadership in science.
Related: Top human vs computer matchups over the years ( Microsoft GES)