Boris Johnson's Brexit plan for businesses dismissed by head of WTO

The Independent
09/07/2019
The head of the World Trade Organisation has blown a hole in Boris Johnson's Brexit plans as Conservative members vote on whether he should become party leader and prime minister.
Mr Johnson has argued that if the UK crashes out of the EU without a deal on 31 October, businesses will still be able to continue tariff-free trade with Europe under an obscure trading law known as Gatt 24. Without this protection, thousands of goods traded between the UK and the EU would be subject to standard WTO tariffs, adding considerably to costs to consumers.
But WTO director general Roberto Azevedo has now baldly stated that the mechanism – which his organisation oversees – cannot be invoked unless the parties involved have reached agreement on a future trade deal.
Related: Tory rebels' bid to block no-deal Brexit gathers pace
© Provided by Independent Digital News & Media Limited He told Prospect magazine that Gatt 24 only applies in the period between a deal being struck and its full implementation.
"If there is no agreement, then Article 24 would not apply, and the standard WTO terms would," said Mr Azevedo.
What next for Brexit? Follow key developments, expert analysis and multiple perspectives as the UK edges closer to leaving the EU
Standard WTO terms involve tariffs of anything up to 10 per cent on cars and 35 per cent on dairy products. If the UK were to waive tariffs unilaterally for EU exporters under these terms, it would have to do the same for all 164 WTO members around the world or face charges of breaching fair access rules.
If the UK left the EU without first agreeing on a future trading arrangement, Mr Azevedo said that "in simple factual terms in this scenario, you could expect to see the application of tariffs between the UK and EU where currently there are none".
Leave vs Remain: Images of divided Brexit Britain [Photos]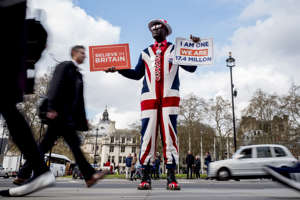 Mr Azevedo's predecessor as director-general, Pascal Lamy, said that the introduction of the levies would "certainly hurt" the UK after decades in which it has benefited from the tariff-free conditions of the EU single market.
He compared the effect on the quality of trade arrangements to dropping two leagues in a sporting competition.
Mr Lamy, who led the WTO from 2005-13, told Prospect: "Jumping brutally from trade league one (the internal market without borders) to trade league three (a WTO, multilaterally committed trade regime for goods and services) would certainly hurt."
And Stuart Harbinson, former director of the WTO's general council division, told the magazine: "The effect of increased costs would be to make UK businesses less competitive, with the risk that EU importers of goods and services might look elsewhere."
The WTO director general is the most senior figure yet to contradict Leavers' claims that the use of Gatt 24 could spare the UK a shock to trade conditions in the case of a no-deal Brexit.
Speaking during a TV leadership debate last month, Mr Johnson said that in the case of no deal, "there will be no tariffs, there will be no quotas because what we want to do is to get a standstill in our current arrangements under Gatt 24, or whatever it happens to be, until such a time as we have negotiated (the free trade agreement)".
Within days of his comments, his argument was rejected by international trade secretary Liam Fox.
Mr Fox, who is backing Jeremy Hunt for the Tory leadership, said then that in order to benefit from the terms of Article 24, "there must be an agreement between two WTO members as to the elimination of duties and other restrictive regulations on substantially all trade".
And he added: "A no-deal scenario, by definition, suggests that there would be no mutual agreement between the UK and the EU on any temporary or permanent arrangement. In those circumstances Article 24 cannot be used."
Biggest news stories of 2019 (Photos)
Mr Lamy said: "Affirmations such as 'WTO terms would be painless, after all many countries do that' are one of the many Brexit unicorns flying around.
"If that were the case, why would all developed countries – and many emerging countries – have negotiated free trade agreements, which provide a higher bilateral level of openness than the multilateral WTO regime?"
The was no immediate response from Mr Johnson's team to a request for comment on Mr Azevedo's remarks.
A spokesman for the People's Vote campaign for a second referendum said: "Talk of Article 24 is just another pipedream of hardline and reckless Brexiters. 
"We don't need any more of their fantasies, what we need is for the people to be given a final say on whatever comes out of the Brexit mess."
MSN are empowering Women In Sport this summer. Find out more about our campaign and the charity fighting to promote the transformational and lifelong rewards of exercise for women and girls in the UK here.