Brexit amendments latest: PM wins Commons backing to go back to Brussels to seek 'alternative arrangements'

Evening Standard
29/01/2019
Theresa May tonight claimed a mandate to renegotiate Brexit after uniting the Conservatives behind a Commons vote to get rid of the Irish border backstop.
The victory put her on a collision course with the European Union whose president Donald Tusk promptly cut out any attempt to reopen negotiations.
MPs voted by 317 to 301 – a healthy majority of 16 – on an amendment saying they would "support the Withdrawal Agreement subject to this change".
_______________________
More on this story:
LIVE: Fallout as MPs vote on May's deal (Evening Standard)
British retirees in EU to lose health benefits (Guardian)
Brexit in-depth: All the latest news, analysis and expert opinion
______________________
In reality, the victory was owed partly to members of the European Research Group who said outside the chamber that they were against the withdrawal blueprint but just wanted rid of the backstop.
And Mrs May was defeated in another division, when the House of Commons voted to oppose a no-deal Brexit.
A cross-party group of MPs passed an amendment tabled by Dame Caroline Spelman, the former Conservative chair, by a margin of eight votes. The defeat puts pressure on Mrs May to make compromises to avoid a disorderly Brexit if her own blueprint fails, but it is not legally binding on her.
Overall, Mrs May appeared to have won an extra fortnight in which to attempt her renegotiation and kick the Brexit can further down the road towards Brexit Day on March 29.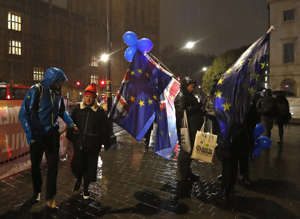 © AP People stand in the pouring rain as they gather near Parliament
Responding to the cliff-hanger series of votes, she told the House the vote showed a "substantial and sustainable" majority in the Commons for leaving the European Union with a deal.
She admitted renegotiation "will not be easy" as there was "limited appetite for such a change in the EU".
Mrs May's success was sweetened when Jeremy Corbyn finally agreed to take part in cross-party talks, having previous refused unless the PM took her implkied threat of no-deal off the table.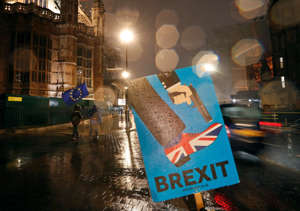 © AP An anti-Brexit placard near Parliament
It did not take long for the EU to formally reject Mrs May's demands.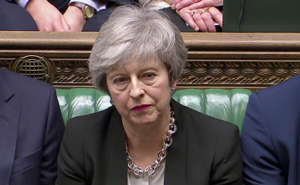 © Reuters Theresa May listens as Jeremy Corbyn speaks
A spokesman for Donald Tusk, the European council president, stated: "The backstop is part of the withdrawal agreement and the withdrawal agreement is not open for re-negotiation."
Earlier, Tory whips saw off two amendments designed to legally oblige the PM to delay Brexit for the sake of a deal.
But several Conservative ministers privately indicated to the Standard that although they had stayed loyal tonight in the binding votes, they would change sides if Mrs May failed to rescue her own withdrawal deal when the next "meaningful vote" is staged in Parliament on February 13. If Mrs May loses that vote, then tonight's votes on delaying Brexit are set to be repeated, possibly with a different result, on St Valentine's Day.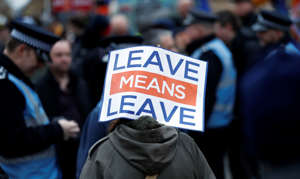 © ASSOCIATED PRESS A pro-leave supporter carries a placard during demonstrations in London
There were bitter recriminations in Labour after a dozen or so MPs in Leave-supporting areas voted with the Government against amendments designed to allow alternatives such as a new referendum. Others abstained.
Labour ex-minister MP Ben Bradshaw fumed on Twitter: "So disappointing that vital cross-party amendment led by Dominic Grieve was defeated because more than ten Labour colleagues voted with the Tories."
In a night of Commons drama, Speaker John Bercow called seven key amendments for voting.
In the first key vote, MPs rejected Jeremy Corbyn's motion calling for a debate on Labour's Brexit plans by 296 votes to 327.

Next an amendment tabled by the Scottish National Party, which called on the Government to rule out no-deal and extend the two-year Article 50 negotiation process, was crushed by 39 votes to 327, with Labour abstaining.

Then it came to the first of the major cross-party challenges to Mrs May – an amendment drafted by former Attorney General Dominic Grieve that would let MPs seize control of the parliamentary timetable on six dates to debate and vote on alternatives like a second referendum. The amendment was voted down 301 to 321.

The next vote was on Yvette Cooper's cross-party amendment which was reckoned by many to be the most incendiary if Mrs May lost. The amendment would have hijacked Commons business to allow a legally-binding Act to be passed by backbenchers delaying Brexit and forcing the PM to strike a different deal. However, it was lost by a bigger-than-expected margin of 298 to 321.

An amendment tabled by Labour ex-minister Rachel Reeves which called on the PM to delay Brexit if she could not get any deal past Parliament by February 26 was then defeated by 322 to 290.

Former Conservative chair Dame Caroline Spelman's amendment, which simply "rejects the UK leaving the EU without a Withdrawal Agreement and a [trade] Framework" was next up. It was won by a bigger than expected margin of 318 to 310. However, although the motion puts pressure on Mrs May to seek an extension to Article 50 if she does not have a deal, it is not legally binding.

Finally the amendment put down by the Conservative grandee Sir Graham Brady, chairman of the 1922 Committee, was passed by 317 to 301, requiring the backstop to be replaced by mysterious "alternative arrangements" and stating that the House would "support the Withdrawal Agreement subject to this change".
Just before voting started, French president Emmanuel Macron said there could be no renegotiation of the backstop.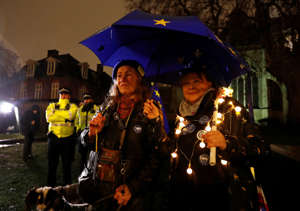 © AP Anti-Brexit supporters shelter under umbrellas as they gather near Parliament
Speaking in Cyprus, he said the withdrawal agreement that was defeated by 230 votes a fortnight ago "is the best accord possible. It is not re-negotiable". He said a no-deal exit was one that "no one wants but we should all prepare for."
The European Commission was also preparing to deliver a rebuff to Mrs May's demands for a renegotiation.
Officials in Brussels said a statement was being drafted that would shut down any possibility of changing an agreement agreed in November after talks lasting 20 months.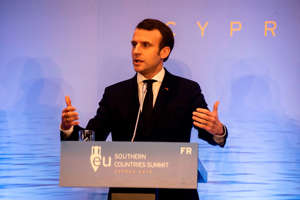 Mrs May's hopes of winning a vote on the amendment put down by grandee Sir Graham Brady were boosted at the last moment when core members of the pro-Brexit European Research Group held a meeting where they decided to back it.
However, some of the ERG leaders made clear that while they supported her efforts to get rid of the backstop, they would still vote against Mrs May's withdrawal blueprint in a future vote even if she succeeded in neutralising the backstop.
Irish leader Leo Varadkar said he would speak to the Prime Minister to see "what the next steps are". He suggested he was ready to deal with a no-deal exit, saying: "We could find ourselves in 10 or 12 weeks' time needing to find a lot of money to save people's jobs."
Earlier, Ireland's finance minister said a disorderly Brexit could slash the country's growth to around 2.7 per cent this year and one per cent in 2020.