Brexit: Downing Street draws up fresh customs plan as Theresa May attempts to unite Cabinet and rescue EU talks

The Independent
02/07/2018
© Provided by Independent Digital News & Media Limited No 10 has drawn up a fresh plan for customs rules after Brexit, as Theresa May battles to rescue the stalled negotiations amid a fresh threat to topple her.

The warring cabinet will be urged to back a third proposal at its crunch Chequers gathering on Friday, after the first two were rejected by senior ministers and Brussels, The Independent has been told.
The new blueprint is said to be distinct from both current models which provoked bitter disputes in the cabinet, although no details have been set out yet.
Related video: May wants 'intensified' Brexit talks after migrant-dominated EU summit (Provided by Press Association)
The signs that the government is starting from scratch – nearly one year after customs plans were first published and just four days before the Chequers showdown – are certain to add to criticism of Brexit chaos.
The plan will be put forward as hardliner Jacob Rees-Mogg steps up his threats of open revolt in the Tory party if Ms May breaks her promise of a clean break from the EU.
The senior backbencher likened her fate to that of 19th-century Tory leader Robert Peel - who was forced to resign after joining forces with opposition parties to defeat his own MPs and repeal the Corn Laws.
"There are some things that no independent nation could agree to," Mr Rees-Mogg wrote, in an article for The Daily Telegraph.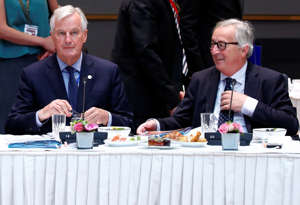 © Reuters European Commission President Jean-Claude Juncker and EU's chief Brexit negotiator Michel Barnier attend a roundtable during a European Union leaders summit in Brussels, Belgium June 29, 2018. REUTERS/Francois Lenoir "Any attempt by the EU to impose its laws and court on the UK, either directly or indirectly, must be rejected.

"Any EU agreement that restricts the country's ability to make trade agreements with other states, restricts our ability to control our migration policy, makes us pay to trade or interferes with our fishing waters could not be accepted."
A government source said a third plan for customs arrangements had been devised, but insisted no details would be announced before the Chequers awayday.
Downing Street had insisted its two original customs proposals remained on the table, as two small groups of ministers examined them in greater detail.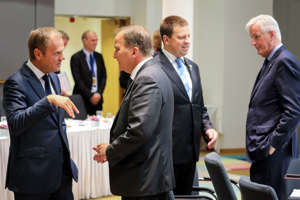 © Getty European Council President Donald Tusk (L) speaks with Sweden's Prime Minister Stefan Lofven (2ndL), as Estonia's Prime Minister Juri Ratas (2ndL) speaks with Brexit Chief Negotiator Michel Barnier (R) during the last day of the European Union leaders' summit, without Britain, to discuss Brexit and eurozone reforms on June 29, 2018 at the Europa building in Brussels. - EU leaders clinched a hard-won migration deal during all-night talks on June 29, that Italy's hardline new premier said meant his country was 'no longer alone' in shouldering the responsibility for migrants. (Photo by Ludovic MARIN / AFP) (Photo credit should read LUDOVIC MARIN/AFP/Getty Images) However, the prime minister's preferred "customs partnership" – which would see the UK collect EU tariffs – outraged pro-Brexit ministers and cannot be implemented before 2023 anyway.

The rival technology-based "max fac" plan would require border checks in Ireland and was torpedoed by HMRC, which revealed it would cost businesses up to an astonishing £20bn a year.
Meanwhile, Ms May told the EU she will accept some form of "backstop" option to avoid a hard Irish border, keeping the UK aligned with customs rules into the next decade.
Mr Rees-Mogg's article appeared to have triggered another bout of Tory Euro-wars, as supporters of Ms May lashed out at his threat of outright rebellion.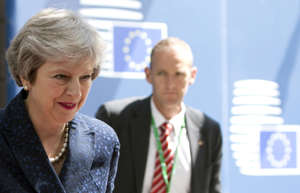 © Getty British Prime Minister Theresa May arrives for an EU summit at the Europa building in Brussels on June 28, 2018. - European Union leaders meet for a two-day summit to address the political crisis over migration and discuss how to proceed on the Brexit negotiations. (Photo by Virginia Mayo / POOL / AFP) (Photo credit should read VIRGINIA MAYO/AFP/Getty Images) Among them was Alistair Burt, the foreign office minister, who tweeted: "Enough. Just tired of this endless threat and counter threat.

"Why don't we want the best for the UK than for our own ideological cliques? And there are others in this negotiation as far as I'm aware?"
The infighting came ahead of the prime minister facing MPs this afternoon, when she delivers a potentially perilous statement on the EU, following last week's Brussels summit.
Her chief Brexit negotiator, Olly Robbins, is reported to have told ministers there will be no "bespoke" trade deal and Britain must basically pick between the Norway and Canada models.
MSN Loneliness Campaign: Could you go a week without seeing anyone? We're helping three charities raise funds for the 9 million people affected by Britain's 'silent epidemic'. Find out more and please donate now.