Brexit march 2019: Hundreds of thousands descend on central London demanding a People's Vote

Evening Standard
23/03/2019
Thousands of people have begun marching through central London to demand the public get a final say on Brexit.
The Put it to the People march began at midday as demonstrators made their way from Hyde Park Corner towards Parliament.
Large EU flags were being flown by people throughout the length of the crowd, while marching bands, whistles, cheers and chants of "People's Vote" provided constant backdrop of noise.
Placards carried among the crowd called on the Government to "Revoke Article 50". Others read: "We're marching to demand a People's vote" and: "We love EU".
The Union flag, the Scottish saltire and flags of other European nations are also being flown above marchers.
The crowd of demonstrators stretched from Hyde Park down to Piccadilly.
Sadiq Khan tweeted a video of the countdown launching the Put it to the People march, with the London mayor holding up a banner at the front of demonstrators.
He wrote: "And we're off!
"Here in London, thousands of people from across our city and country have come together with @peoplesvote-uk to send a clear message: Enough is enough - it's time to give the British public the final say on Brexit."
Sarah and Andrew Smith, aged 40 and 54, have attended the march on their sixth wedding anniversary.
Mr Smith said: "It's got to be done. We've got to get our priorities right.
"You can see by how many people have families here, this is what matters."
Leave vs Remain: Brexit demonstrations around the UK [Photos]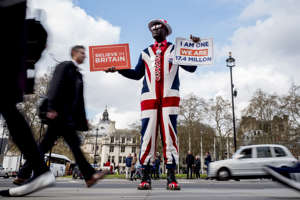 David Love, 68, travelled from Devon and said he is marching with his grandchildren.
He told the Standard: "I think it's terrific to see so many people here. My problem with Mrs May is she is putting party before country."
"We're voting for the reality of staying in versus the fantasy of being out," he added.
More follows...