Brexit: Whitehall officials begin 'serious work' on UK staying in EU customs union as way to rescue deal

The Independent
01/02/2019
A special message from MSN:

The UK's most vulnerable children and young people face unimaginable challenges. We've partnered with giving platform Benevity to raise funds for two charities - the NSPCC and The Children's Society – to try to help turn things around for them. You can help make a difference - please donate now.
Whitehall officials have begun "serious work" on the UK staying in a permanent EU customs union as a route to rescuing the Brexit deal, despite Theresa May ruling out the move, The Independent can reveal.
Preparations are underway at a high level, amid a belief the beleaguered prime minister is likely to be forced to offer the potentially crucial compromise to Jeremy Corbyn's party.
Ms May has repeatedly rejected a customs union – fearing a further revolt by anti-EU Tories – but some cabinet ministers are pushing her to accept the red line will have to be dropped if her deal is to be rescued.
They believe it could tempt scores of Labour MPs to back the deal when it returns to the Commons, even if Mr Corbyn himself still refuses to drop his opposition.
Now a well-placed Whitehall source has told The Independent: "There is serious work going on about a customs union. We need to be prepared, so we are ready if the politics moves in that direction."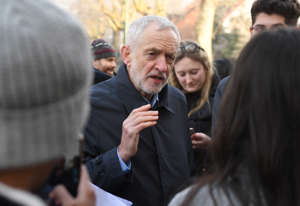 © PA Wire/PA Images Labour leader Jeremy Corbyn talking to students in Nottingham before a visit to Ilkeston, Derbyshire to discuss cuts to bus services. (Photo by Joe Giddens/PA Images via Getty Images) Although the prime minister has not yet been won over, she will come under fierce pressure if, as expected, the EU rejects her plea to replace the backstop – before fresh Commons votes in just 12 days' time.
The concession of a customs union is unlikely to be enough to persuade Mr Corbyn to throw his weight what he is determined to brand "a Tory Brexit", but many Labour MPs are expected to switch sides.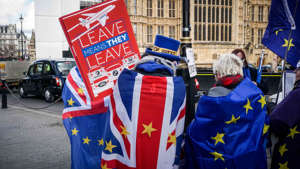 © 2019 SOPA Images LONDON, UNITED KINGDOM - 2019/01/31: Anti-Brexit campaigners are seen wrapped with flags during the protest. Anti-Brexit campaigners protest outside the Houses of Parliament as Theresa May meets the EU leaders on 13th of February if there is no deal, British Prime Minister will start an amendable motion for the debate on 14th of February with discussion to move forward with the brexit. (Photo by Ioannis Alexopoulos/SOPA Images/LightRocket via Getty Images) Furthermore, despite inevitable Tory outrage, some Conservative MPs could be persuaded that a customs union would make it less likely the Irish backstop they oppose – designed to guarantee an open border – will ever be needed.
Crucially, it could also see EU leaders agree to offer concessions on the backstop, as Brussels has repeatedly said it would be more flexible if the UK's red lines changed.
Jack Dromey, a Labour MP whose Birmingham constituency includes the Jaguar car plant, said a customs union could be a game-changer that all parties had a duty to pursue.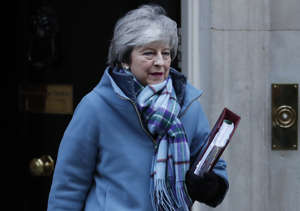 © ASSOCIATED PRESS Britain's Prime Minister Theresa May leaves 10 Downing Street for the House of Commons for her weekly Prime Minister's Questions in London, Wednesday, Jan. 30, 2019. (AP Photo/Alastair Grant) "Everyone now has responsibility to respond fiercely on reaching a deal in the national interest," he told The Independent, "and at the heart of the deal must be progress on a customs union.
"That will inevitably mean a degree of compromise, but it's absolutely essential that everyone is serious about the most serious negotiations in a generation."
Another Labour MP, Jim Fitzpatrick, said his party should seize on what would be only the latest example of Downing Street edging towards Labour's Brexit priorities.
"The fact is that Jeremy is now talking to the prime minister and the unions have been to see her, following her clear indications about securing guarantees on workers' rights, environmental standards and consumer rights," he said.
"There are clear moves towards Labour's position on what the deal should look like, so I hope that Jeremy would be able to respond positively."
However, Dominic Raab, the former Brexit secretary, signalled the risk of Ms May igniting a fresh Tory civil war, when he said a customs union would be a "flagrant breach" of a manifesto commitment.
Hardline Tories oppose it because the UK would lose the right to sign independent trade deals with the likes of the US, China and India – which they view as a key prize from leaving the EU.
Conservative MP Dominic Raab speaks to the press outside parliament in central London on January 30, 2019. - British Prime Minister Theresa May is pinning Brexit hopes on fresh talks with EU leaders after winning a mandate from lawmakers to try to renegotiate a deal -- even if Brussels insists it will not budge. (Photo by Daniel LEAL-OLIVAS / AFP) (Photo credit should read DANIEL LEAL-OLIVAS/AFP/Getty Images) Mr Raab told The House magazine: "We would suffocate all the opportunities of Brexit if we were inside the customs union, if we don't have control over our trade policy.
"From a public trust point of view, a customs union is a direct and flagrant breach of the manifesto commitment. I don't see how we can countenance that and the prime minister has been right to rule that out so far."
Even with significant Labour support, it would still require a big climbdown by Tory MPs for the deal to pass – given it suffered a crushing defeat by a record 230 majority last month.
Despite promising to return to Brussels to fight for "alternative arrangements" to the backstop, the prime minister has yet to say when she will go – or what that alternative will be.
Three possible options have been suggested – a time limit, an exit clause or the use of unproven technology – but all three have been comprehensively rejected by the EU.
The EU has ruled out reopening the withdrawal agreement, one senior MEP suggesting it would prefer to accept a no-deal Brexit than abandon the Irish border guarantee.
Meanwhile, MPs can again seek to amend the deal on 14 February, a clash Ms May was forced to concede to stop many ministers resigning to block the UK crashing out on 29 March.
Greg Clark, the business secretary, this week came close to backing a customs union as a way of trying to "bring the country together".
Asked if the idea had his support, Mr Clark said: "I would want to see what proposals were there – you're talking about a proposal that hasn't even been made, let alone proposed for agreement."
20 must-visit UNESCO World Heritage Sites in Europe [Photos]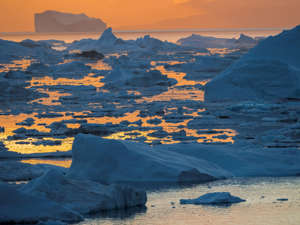 More from The Independent

The Independent