Labour declares it wouldn't block second Scottish independence vote as Nicola Sturgeon hints at 'alliance'

Evening Standard
06/08/2019
Labour has declared it would not block a second Scottish referendum in a significant shift of policy as Nicola Sturgeon hinted at a possible "progressive alliance".
Shadow chancellor John McDonnell said any decision about holding a vote on independence would be up to the Scottish Parliament, saying: "that's democracy".
His comments signal a major change of direction for the party on the issue and came after Scottish first minister Ms Sturgeon suggested she would be open to a pact with Labour that would "lock the Tories out of government".
Video: Labour 'very concerned' over no deal Brexit (ITN News)
In an interview with journalist Iain Dale at the Edinburgh Fringe Festival, Mr McDonnell said Labour would not block a second vote on Scottish independence.
What next for Brexit? Follow key developments, expert analysis and multiple perspectives as the UK edges closer to leaving the EU
He said: "It will be for the Scottish Parliament and the Scottish people to decide that. They will take a view about whether they want another referendum.

Mr McDonnell added: "We would not block something like that. We would let the Scottish people decide. That's democracy. There are other views within the party but that's our view."
This contradicts the view taken by Scottish Labour leader Richard Leonard. In an interview on the BBC's Sunday Politics Scotland in March, he said if Labour took power in Westminster the party would refuse to grant a "Section 30 order" giving Holyrood the power to hold another vote.
Mr Leonard added: "What we said in the manifesto at the 2017 election was that there is no case for, and we would not support, a second independence referendum."
Mr McDonnell's comments on Tuesday night came just hours SNP leader Ms Sturgeon signalled her party would move towards a pact aimed at ousting Boris Johnson as the parties prepared for an autumn election.
Gallery: Brexit timeline (Photo Services)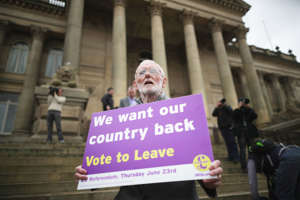 Ms Sturgeon said she was "no great fan" of Labour leader Jeremy Corbyn, especially on Brexit, but that she would sign up to a pact that "could lock the Tories out of government".
She told The Guardian: "We would always want to be part of a progressive alternative to a Tory government."
Mr McDonnell later said: "The Scottish Parliament will come to a considered view on that and they will submit that to the Government and the English Parliament itself.
"If the Scottish people decide they want a referendum, that's for them."
On Brexit, Mr McDonnell said Mr Corbyn would "never" step down if other opposition parties demanded it to form a coalition of national unity.
He said: "It won't happen. I think we'd form a minority government, seek to implement our manifesto and we'd expect the other opposition parties and other MPs to vote for those policies and if they don't, we'll go back to the country.
"If they want to vote against a real living wage, if they want to vote against £70 billion worth of investment in Scottish infrastructure, if they want to vote against a green industrial revolution to tackle climate change then so be it, we'll go back to the people and then let them explain to the people why they wouldn't support those policies.
"We want to change the world, we're not going to be held back by other parties."
Explore the issues faced by the UK's most vulnerable children and young people this summer and discover what you can do to help.