Louella Michie manslaughter trial: Ceon Broughton found guilty of killing girlfriend after filming her dying from drug overdose at festival

The Independent
28/02/2019
The boyfriend of Louella Fletcher-Michie has been found guilty of manslaughter after he filmed the daughter of Holby City actor John Michie dying from the effects of the drugs he gave her.
The Winchester Crown Court jury took just over nine hours to find Ceon Broughton guilty of manslaughter and guilty of supplying a Class A drug.
The Independent understands that Broughton's defence team plan to appeal against his conviction, which was secured with a unanimous jury decision. Broughton, who will be sentenced on Friday morning, made no show of emotion as the guilty verdicts were delivered, but moments later he called a lawyer to his side and told him: "text my mum".
© Provided by Independent Digital News & Media Limited Ceon Broughton has been found guilty of manslaughter and Class A drug supply after filming Louella Fletcher-Michie overdosing on the drugs he gave her . (PA) Broughton, 29, of Enfield, north London, had denied the charges, but he declined to enter the witness box in his defence.
The court heard that Louella - described by police who investigated her death as "a free spirit" - died from the world's first known fatal overdose of 2C-P at the Bestival music festival on September 10 2017, the night before her 25th birthday.
She was just 400 metres from the festival's medical tent, but the prosecution said that instead of taking effective action to help, Broughton filmed her as she enduring a "gradual demise" over several hours, during which she "screamed like a wild animal" before collapsing.
The court heard that as Louella's condition deteriorated, Broughton had been worried about getting in trouble with the police because he already had a suspended prison sentence hanging over his head due to a previous offence.
Prosecutor William Mousley QC said the real reason Broughton "let Louella down so badly, was to save himself and perhaps even to collect souvenirs of the fatal evening on his phone".
"That," said Mr Mousley, "is shocking and despicable negligence of the highest order."
Louella, he added, had fallen victim to the consequences of a "fatal attraction" for her boyfriend.
"Her attraction to Ceon Broughton," said Mr Mousley, "Her feelings towards Ceon Broughton, turned out to be a fatal attraction."
Medical expert Professor Charles Deakin said Louella would have had a 90 per cent chance of survival had she received early medical help. Instead, Prof Deakin said, Louella was "in all probability dead" in the last video that Broughton took.
As Louella's parents raced from London to Dorset having heard Louella screaming in the background during a phone call with Broughton, her older brother Sam sent the boyfriend a message: "Please take Louella to the medical tent, please."
Nine seconds later Sam followed up with another message: "She needs to be with professionals."
Later that night, he sent a third message: "Did you get her there, bro?"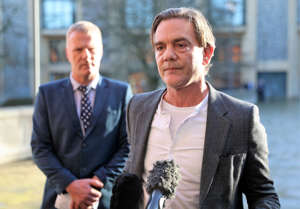 © PA Images John Michie speaking outside court following the verdict Louella was found dead in a wooded area of the Bestival site that was supposed to be off-limits to festival goers at 1am on 11 September 2017.
The court also heard that when Sam spoke to Broughton over the phone and asked what he had given his sister, he received the reply "I bumped it up a bit", suggesting a bigger dose.
Mr Mousley said Broughton had given an "excessive dose" to someone who "had a very careful attitude" towards drugs.
"Any reasonable person," said Mr Mousley, "Being prudent and careful having given Louella drugs, would have appreciated the risk in seeing her reaction and deterioration and that her life was in danger.
"And by taking reasonable steps, quite simply her life could have been saved."
Mr Mousley added that Broughton had "lied and lied" in order to "dodge responsibility".
For the defence, Stephen Kamlish QC had urged the jury to consider the possibility that Broughton acted as he did because he thought his girlfriend was just having a bad trip, not dying.
In a police interview, Broughton had denied supplying Louella with the drugs that killed her, telling investigating officers: "I didn't think it would be such a life and death situation, I didn't think it would be serious like this."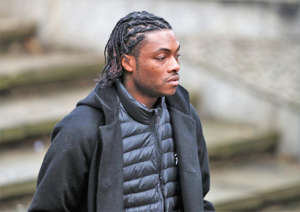 © PA Images Ceon Broughton arrives at court before being found guilty of manslaughter In court Mr Kamlish had argued that the act of filming his girlfriend actually showed Broughton's innocence. He told the jury: "The act of the filming assists you in seeing he didn't realise the seriousness, however stupid that may be."
Mr Kamlish reminded the jury that as Broughton filmed Louella he told her 'When this is all over, you will want to show it to your mum.'
"That," the defence barrister said, "Is how ironic and tragic this case is."
"The offence of gross negligence manslaughter," added Mr Kamlish, "Is unique in UK law. It makes criminals of people, in this case, Ceon, who desired the opposite of the death of the deceased."
"You will ask why he filmed and filmed to the end," Mr Kamlish said. "None of us condone this [but] people who live certain lives spend their lives filming everything they do for the Instagram and the Snapchat. This is not a court of morals."
The jury, however, decided that in the eyes of the criminal as well as moral law, Broughton was guilty.
Outside court, senior investigating officer Neil Devoto, of Dorset Police, effectively questioned whether Broughton felt remorse for his actions.
"He is very saddened by the loss of Louella," said Mr Devoto, "But as far as showing remorse – I wouldn't be able to comment."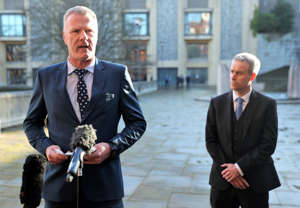 © PA Images Senior investigating officer Neil Devoto questioned the sincerity of Ceon Broughton's evidence But the senior police officer paid tribute to the Michie family for the way they had conducted themselves throughout the investigation and trial.
"They've been very helpful, very transparent in the evidence they've given, and very honourable throughout," he said. "They are a very loving, grounded family, whose lives have been completely and utterly torn apart by this terrible news that they've lost their daughter."
The investigating team, Mr Devoto added, were "dealing with a family who have lost a very cherished member of their family.
"It was a very emotional investigation, a very difficult and a complex case, but I'm glad that the result is as it is.
"It is a reflection of the hard work that has gone into bringing Ceon Broughton to justice."
And the senior detective paid tribute to Louella.
"She was a free spirit. She was very buoyant, very friendly, very happy and she'd had a fantastic childhood.
"The family will say that she was into all types of art and she loved festivals. She was like many festival-goers: there to enjoy herself and have a great time.
"Unfortunately she found herself reliant on someone that she cared for, who failed to act and failed to raise the alarm and failed to get her medical help when she really needed it."