Matthew Pennycook: Labour MP resigns as Shadow Brexit Minister to 'focus efforts' on campaigning for Remain

Evening Standard
25/09/2019
Matthew Pennycook has announced he is stepping down as Shadow Brexit Minister.
The Labour MP described the job as an "immense privilege" but said he wanted to focus on campaigning for Remain and for a public vote on the UK's future in the EU.
In a letter to the party's leader Jeremy Corbyn on Wednesday night he said the fact his second child is due soon also influenced his decision.
His announcement came as MPs were back in the Commons debating Brexit after Boris Johnson's prorogation was ruled unlawful.
What next for Brexit? Follow key developments, expert analysis and multiple perspectives as the UK edges closer to leaving the EU
© Provided by Independent Digital News & Media Limited The Labour MP announced he was stepped down as a Shadow Brexit Minister in a letter to the party's leader (Matthew Pennycook) Mr Pennycook wrote: "I now want the opportunity to focus my efforts on campaigning vigorously for that public vote and unequivocally for the UK to stay in the EU when it is secured.

"With our second child due in a matter of weeks, I think I can best do so as a backbencher rather than with the added responsibilities of being a frontbench spokesperson."
Have your say! Tell us what you think about Microsoft News
He added: "I have nothing but respect for the dedicated and talented members of the team in which I have served for nearly three years".

The MP has represented Greenwich and Woolwich since May 2015 and has served on the frontbench since October 2016.
Gallery: Brexit timeline (Photo Services)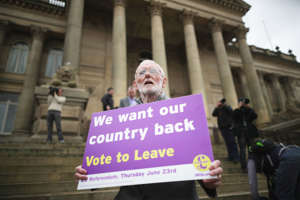 His colleague Alex Norris MP tweeted: "I've known Matt Pennycook for a long time.
"Exceptionally smart, rock solid integrity and Labour to his core.
"Very sorry to lose him as a Frontbench colleague but I know he'll make a significant impact for his constituents and Labour from the backbenches."
MSN UK is committed to Empowering the Planet and taking urgent action to protect our environment. We're supporting Friends of the Earth to help solve the climate crisis, please give generously here or find out more about our campaign here. ​