New blow for PM as MPs - and Trump - trash Brexit plan

Sky News
12/07/2018
Theresa May has been hit with a fresh blow after Tory MPs - and US President Donald Trump - lined up to trash her long-awaited Brexit blueprint.
The publication of a government white paper on Thursday, detailing its proposals for the future EU-UK relationship, was met by fierce criticism from Leave-supporting Conservative backbenchers.
Mr Trump also delivered a headache for the prime minister, just hours before he arrived in Britain, as he questioned whether the government's Brexit policy represented what voters had wanted when they backed Leave in 2016.
The white paper, which details ministers' plans for the future economic and security partnership with the EU, as well as other UK-EU cooperative and institutional arrangements, was previously expected last month but was delayed amid cabinet infighting.
Its eventual publication on Thursday was branded an "utter shambles" by Labour as farcical scenes saw the House of Commons sitting suspended.

This allowed MPs to go and collect copies of the white paper, following complaints they had been unable to view the document they were supposed to be debating.
Britain's May presses Brexit plans, setting out vision for future ties: Provided by Reuters
After the interruption, new Brexit Secretary Dominic Raab told MPs the "principled and practical" proposals are "faithful to the referendum".

He said: "It delivers a deal that is good for the UK, and good for our EU friends."
Mr Raab also suggested the UK's payments to the EU as part of the so-called Brexit "divorce bill" could be withheld if Brussels reneges on any commitment to a future trade deal.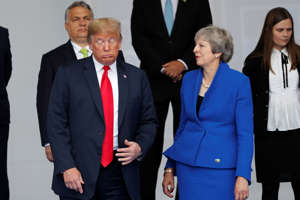 In addition, he appeared to confirm the white paper's proposals could yet be watered down when asked whether the document is the government's starting negotiating point or final position.
Mr Raab would only comment: "This is a negotiation."
In a foreword to the white paper, the prime minister also stressed the plans would "honour" the Brexit vote.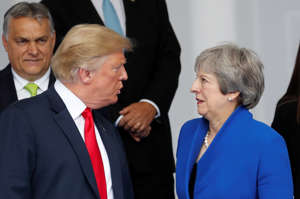 However, that view was challenged by a series of Tory Brexiteers, who poured scorn on the government's plan.
Former Conservative leader Iain Duncan Smith expressed "deep misgivings" about the proposals, adding he "voted to Leave, not half-leave".

Sir Bill Cash said he was "deeply worried" by the white paper, especially its proposals for a "common rule book" with the EU for goods and agri-food.
Andrew Bridgen, who has submitted a letter of no confidence in Mrs May, added he and "many" of his colleagues have "grave concerns" about the plan.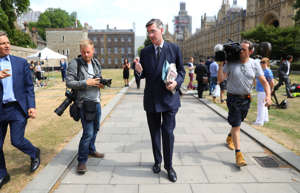 Jacob Rees-Mogg, who leads the influential European Research Group of Tory eurosceptics, said: "Taken as a whole this recreates many of the worst aspects of the EU the British people voted to leave.
"This does not respect the referendum result."
Prior to the government's publication of the white paper, an alternative white paper - reportedly drawn up by the Department for Exiting the EU (DExEU) - was obtained by the ConservativeHome website.
Downing Street's decision to push ahead with its own proposals rather than DExEU's prompted the resignation of David Davis as Brexit secretary earlier this week.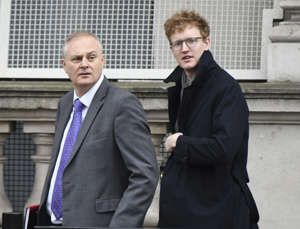 Stewart Jackson, Mr Davis' former special adviser, confirmed the leaked alternative document "was the plan and our policy" as previously announced by the prime minister at her Mansion House speech in March.
Mr Jackson, who alleges he has been stopped by Number 10 from continuing at DExEU under Mr Raab, asked on Twitter: "Who blocked it and why?"
Labour's shadow Brexit secretary attacked the "utter shambles" of the official white paper's publication as he branded the government's proposal for a facilitated customs arrangement with the EU a "bureaucratic nightmare and unworkable".
Highlighting how a supposed cabinet agreement on Brexit, forged at a Chequers away day last week, had "unravelled in two days" with the resignation of Mr Davis and ex-foreign secretary Boris Johnson, Sir Keir added: "When the details of this white paper are examined, there are very few reasons to believe this won't suffer the same fate."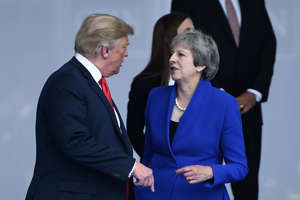 Prior to his flight to the UK, Mr Trump used a news conference at the NATO summit in Brussels to deliver an unhelpful Brexit intervention to Mrs May.
Describing Britain as a "hot spot right now with a lot of resignations", the US president said: ""I've been reading a lot about Brexit over the last couple of days and it seems to be turning a little bit differently where they're getting at least partially involved back with the EU."
"The people voted to break it up, so I would imagine that's what they'll do," he added.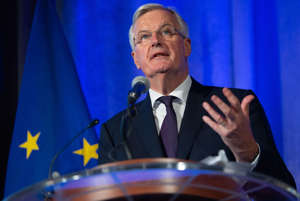 "But maybe they're taking a little bit of a different route, so I don't know if that's what they voted for."
The government's white paper received a warmer reception across Europe, with the EU's chief Brexit negotiator Michel Barnier saying he would now analyse the document with respect to the bloc's guidelines for Brexit.
Guy Verhofstadt, the European Parliament's Brexit coordinator, also welcomed the UK proposals but stressed they respect the "integrity of the union and internal market".