Theresa May has 'asked for David Cameron's advice on getting her Brexit vote through parliament'
Yahoo! News UK
17/12/2018
A special message from MSN:

While Christmas is a time of joy for most of us, that's not the case for the UK's most vulnerable children and young people. We've partnered with giving platform Benevity to raise funds for two charities - the NSPCC and The Children's Society – to try to help change that. You can help make a difference - please donate now.
Theresa May has turned to David Cameron for advice on getting her Brexit deal through parliament, it has been reported.
ITV journalist Robert Peston said a source had told him that the prime minister's team are consulting her predecessor on what to do about getting her EU withdrawal deal past the Commons.
Last Monday, Mrs May had to pull her "meaningful vote" when faced with the probability it would get voted down by MPs.
And now, according to Mr Peston, her team has turned to Mr Cameron for advice.
Brexit in-depth: All the latest news, analysis and expert opinion
"If you want a symbol of the catastrophe Theresa May faces over Brexit here it is: her predecessor David Cameron is advising her how to get some kind route out of the EU – that isn't the fast one over the cliff – through parliament," wrote Mr Peston.
Watch: May insists her Brexit deal is not dead - despite the EU refusing to make concessions (Independent)
"This is like the pope asking the chief rabbi on the true meaning of the Eucharist: when Theresa May became prime minister she defined herself by defenestrating all things and people of a Cameronish hue.
"But now the former prime minister has become her personal Brexit-crisis adviser, as she desperately tries to prevent the UK crashing out of the EU with a chaotic no deal."
Mr Peston added: "Mr Cameron's advice is conspicuously being taken, at this juncture by her ministers if not publicly by her.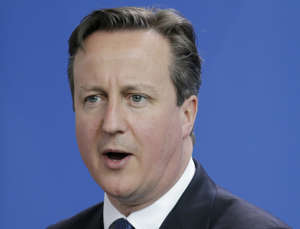 © Getty "Because what he told her – I understand – is that she should 'get on with getting parliament to work through the options'."
Mr Peston claimed Mr Cameron has said the prime minister "has to help parliament find an answer, recognising that she doesn't have a majority".
Last Monday, with the Commons in chaos after Mrs May cancelled her vote, Mr Cameron said he had no regrets about calling the 2016 Brexit referendum.
He said: "I made a promise in the election to call a referendum and I called the referendum.
"Obviously I'm very concerned about what's happening today but I do support the prime minister in her efforts to try and have a close partnership with the European Union.
"That's the right thing to do and she has my support."