Theresa May to force third vote on Brexit deal in defiance of John Bercow ruling, cabinet minister reveals

The Independent
19/03/2019
Theresa May will defy John Bercow and "find a way through" to stage a third vote on her twice-defeated Brexit deal next week, a Cabinet minister has insisted.
Stephen Barclay, the Brexit secretary, revealed the prime minister would attempt to get around the Speaker's shock ruling – that identical votes cannot be restaged after defeats – by arguing she had secured changes.
One option was to insist the EU agreeing an extension to Article 50 to delay Brexit day constituted a different motion, or to agree changes that satisfied the Democratic Unionist Party (DUP).
Related: How John Bercow lobbed a hand grenade in May's Brexit plans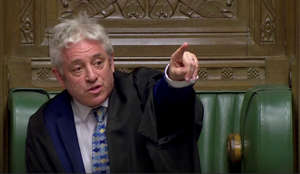 Related: 'Brexit destroyer': what the papers say as Bercow blocks third vote
"If we see a number of members of parliament changing their vote, if we see clarity in terms of an extension from the council, then these are the issues on which members of parliament, I'm sure, will find a way through," Mr Barclay said.
The comment suggests the government will – if a Brexit delay is agreed at this week's EU summit – simply being forward a third "meaningful vote" and challenge Mr Bercow to block it.
Brexit in-depth: All the latest news, analysis and expert opinion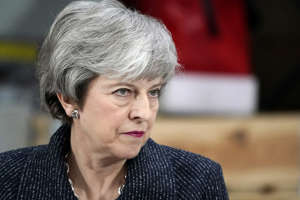 © Getty If he does, a vote would be staged to overturn the 1604 convention he invoked to prevent a motion that is "the same or substantially the same" as one MPs have already thrown out.
"If the will of the House is for a further vote then I'm sure the Speaker will look at that very closely," Mr Barclay told BBC Radio 4..
Asked again about possible changes to the deal, he referred to "discussions we are having with our confidence and supply partners", meaning the DUP.
Gallery: Facts to know about Brexit (Photo Services)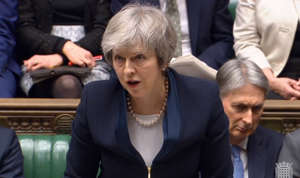 On Monday night, the solicitor general proposed the extraordinary step of suspending parliament and starting a new session, because the convention lapses after a new Queen's Speech.
But Mr Barclay, asked on Sky News if parliament could be prorogued to create a new session, replied: "No.
"The one thing everyone would agree on is that involving Her Majesty in any of the issues around Brexit is not the way forward, so I don't see that a realistic option."
However, the Brexit secretary – who voted against an Article 50 extension last week, after urging MPs to back it – refused to say he would support it next week, saying: "I don't think my constituents want to see a long delay."
Both supporters of a no-deal Brexit and a fresh referendum expressed delight at the Speaker's ruling, both believing it made their favoured option more likely.
But Mr Barclay stamped on those hoping for a crash-out Brexit, saying: "I think that is clutching at straws because House has already moved to take no deal off the table....I don't think that is a realistic option."
However, he ducked whether MPs would still retain a veto over an Article 50 extension, even if agreed by the prime minister with the EU on Thursday.
"International agreements are reached at council level, but obviously the government will always listen to the will of the House," the Brexit secretary said.