UK will be shut out of future decisions on trade rules with EU, admits new Brexit Secretary

The Independent
12/07/2018
© image/jpeg The new Brexit Secretary has admitted the UK will be shut out of future decision-making on trade regulations with the EU, under plans to be unveiled today.

Asked if Britain would not be "part of setting those rules anymore" for goods, Dominic Raab replied: "That's true."
However, Mr Raab – who replaced David Davis, after he quit in protest – dismissed the protests of hardline Tories that signing up to the "common rule book" would leave Britain powerless.
Related Video: What will it take for a smooth Brexit? (Provided by Al Jazeera)
He insisted there would be "consultation between both sides every step of the way" and that MPs would have the final say on whether to adopt new rules.
"We will have deep and enhanced dialogue and consultation – so we will have a chance to influence it – and, ultimately, parliament has that lock," Mr Raab said.
"It is not right to say that we will be a rule taker, in the sense that that's normally used."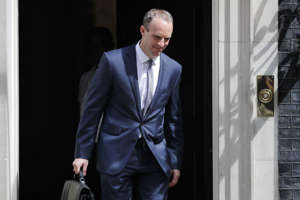 © Getty Britain's new Secretary of State for Exiting the European Union (Brexit Minister) Dominic Raab leaves 10 Downing Street in central London on July 9, 2018 following his appointment. - Raab was appointed as Britain's new Brexit minister after the resignation of David Davis. British Prime Minister Theresa May faced a crisis in her cabinet on July 9 after Brexit minister David Davis and one of his deputies resigned over a plan to retain strong economic ties to the EU even after leaving the bloc. (Photo by Tolga AKMEN / AFP) (Photo credit should read TOLGA AKMEN/AFP/Getty Images) Mr Raab also refused to say if the white paper was an opening offer to the EU, or the UK's red lines, saying: "I don't really want to get into all of that but we need to crack on."

The denial came as the long-awaited white paper, to flesh out the plan agreed by most of the cabinet at Chequers, was set to abandon plans for a tight relationship with the EU in financial services.
Philip Hammond, the chancellor, had pressed for "mutual recognition" - where the UK and EU would have accepted each other's rules – but Brussels had objected strongly.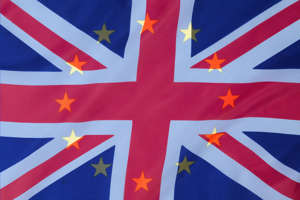 © Getty Brexit Symbolfoto (Photo by Bildquelle/ullstein bild via Getty Images) Now the white paper is expected to downgrade the ambition to an "equivalence" regime – even though that would appear to allow the EU to later strike out the UK's standards, if it wishes.

The plan was described by one person who has seen the paper as "cohabiting but without the same commitment as marriage", The Financial Times reported.
The white paper will confirm the UK is pulling out of the existing EU single market and customs union, so "taking back control of our borders, laws and money".
A proposal for a free trade area for goods will ensure "frictionless" borders, "protect jobs and livelihoods" and avoid the return of a hard border in Ireland, ministers will say.
They will also try to calm the anger of many pro-Brexit Tories by insisting the UK will retain "the flexibility it needs" to sign its own trade deals with the rest of the world.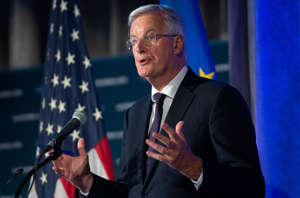 The "common rule book" is the key controversy in the Chequers plan for Brexiteers. When he resigned, Mr Davis warned Britain could only break free by accepting economic damage later on.
Warning parliament would be "under a sword of Damocles", he said: "This is painting something as returning sovereignty, returning control, to the House of Commons. In practice, it actually isn't doing so."
But Mr Raab brushed off the spate of resignations, telling BBC Radio 4's Today programme there were "lots of different views on this".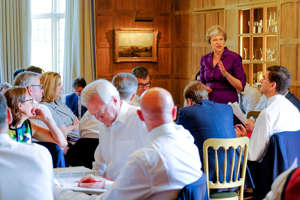 © Getty AYLESBURY, ENGLAND - JULY 06: In this handout from the Prime Minister's Office, Prime Minister Theresa May and members of her Cabinet meet at her country retreat Chequers on July 6, 2018 in Aylesbury, England. (Photo by Joel Rouse - Crown Copyright via Getty Images) He insisted the white paper would "reconcile" the promise to retain an independent trade policy with keeping frictionless trade and an open border in Ireland.

Asked if he was "in charge", Mr Raab replied: "The prime minister is in charge of the negotiations, I will be deputising for her.
He said he would Michel Barnier, the EU's Brexit negotiator – who has cast huge doubt on whether the EU can accept the Chequers plan – "shortly".