Coronavirus kindness: How to stay safe and help others
© Microsoft News For Good The latest government advice is to stay home to help save lives in the fight against coronavirus Microsoft News For Good's Kindness in Crisis campaign aims to bring Britain together and offer essential support and advice in troubled times. Here you will find the latest information guidance to keep safe, fully informed and empowered to help others.
We're currently supporting Age UK's emergency coronavirus appeal to help older people through the crisis. Please, donate what you can here. You can also provide emergency help for the UK's largest network of food banks here.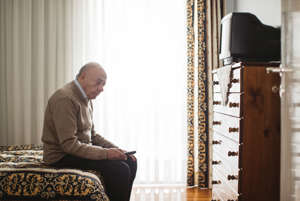 Stay at home: Prime Minister Boris Johnson has announced strict new measures to help tackle coronavirus. Police now have the power to enforce stay at home measures in the UK. Staying at home will help control the spread of the virus to the wider community, and particularly the most vulnerable. People are advised to only leave their home to shop for essential food and medical supplies. One form of exercise alone or with your household will be permitted.
The World Health Organization and the NHS offer the following advice to stay safe and protect against the spread of coronavirus:
Wash your hands with soap and water often – do this for at least 20 seconds. Always wash your hands when you get home or into work. Use hand sanitiser gel if soap and water are not available
Cover your mouth and nose with a tissue or your sleeve (not your hands). When you cough or sneeze put used tissues in the bin immediately and wash your hands afterwards
Avoid close contact with people who are unwell. Maintain at least 2 metres (6 feet) distance between yourself and anyone who is coughing or sneezing
Do not touch your eyes, nose or mouth if your hands are not clean
There is no need to panic-buy face masks, latex gloves or other extreme protective gear if you practice good hygiene and follow the guidelines above
More information from the NHS can be found here.
Self-isolate for 14 days if you have coronavirus symptoms:
A high temperature – you feel hot to touch on your chest or back
A new, continuous cough – this means you've started coughing repeatedly
If you live with others (and especially those who are high risk) then you should all stay home
Use the NHS 111 service if your symptoms get worse or do not get better after 7 days
Do not go to a GP surgery, pharmacy or hospital. You do not need to contact 111 to tell them you're staying at home.
Government advice
Schools across the UK are now shut until further notice, with only the children of key workers attending classes
Brits have been advised to stay at home and avoid all social gatherings under current measures. Gyms, retailers selling non-essential goods, restaurants and pubs have been closed. Food outlets will be allowed to offer takeaways without planning permission
However the government has advised against all non-essential world travel for a period of at least 30 days
Be kind. It's important to remember to also help others:
Microsoft News UK's Kindness in Crisis appeal has launched to help bring Britain together in these troubled times and support the most vulnerable. Find out more here.
Many mutual aid groups have sprung up around the UK as kind-hearted people reach out to the vulnerable in their community who may be struggling in self-isolation. Leaflets can be downloaded for free and put through neighbours doors' to offer support. Read more here.
Many charities are helping those in need too:
Age UK offers advice and support for older people here.
Trussell Trust, the UK's largest charity supporting UK foodbanks, also desperately need donations to help vulnerable people. Donate above or read their statement here.
It's okay not to feel okay. Coronavirus and your mental health:
Many will be feeling worried, stressed or anxious due to the uncertainty around coronavirus. It's important to talk about how you are feeling, to seek help and guidance.
Mind, the UK's biggest mental health charity, offers support and advice here.
Samaritans are open 24 hours a day to help listen and support anyone struggling. You can call 116 123 or email jo@samaritans.org 
Anxiety UK suggests practising the "Apple" technique to deal with anxiety and worries.
Acknowledge: Notice and acknowledge the uncertainty as it comes to mind.
Pause: Don't react as you normally do. Don't react at all. Pause and breathe.
Pull back: Tell yourself this is just the worry talking, and this apparent need for certainty is not helpful and not necessary. It is only a thought or feeling. Don't believe everything you think. Thoughts are not statements or facts.
Let go: Let go of the thought or feeling. It will pass. You don't have to respond to them. You might imagine them floating away in a bubble or cloud.
Explore: Explore the present moment, because right now, in this moment, all is well. Notice your breathing and the sensations of your breathing. Notice the ground beneath you. Look around and notice what you see, what you hear, what you can touch, what you can smell. Right now. Then shift your focus of attention to something else - on what you need to do, on what you were doing before you noticed the worry, or do something else - mindfully with your full attention.
The Silver Line is a free confidential telephone helpline offering information, friendship and advice to older people in the United Kingdom, available 24 hours a day. Call them ANYTIME on 0800 4 70 80 90
Campaign Against Living Miserably (CALM) is also doing outstanding work supporting people in the UK through these utterly weird times. Their advice and support services can be found here.
____________________________________________________
More on coronavirus: All the latest coronavirus news, views and analysis
Virus killer: Why soap is the ultimate weapon in the global pandemic (Guardian)
How to self-isolate: Key steps to prevent the infection spreading (Vox)
____________________________________________________
Latest travel advice for people travelling back to the UK from affected areas, including whether to self-isolate. Don't go to the GP or hospital, stay indoors and call NHS 111. In parts of Wales where 111 isn't available, call NHS Direct on 0845 46 47. In Scotland, anyone with symptoms is advised to self-isolate for seven days. In Northern Ireland, call your GP.