Prince Charles launches video appeal for 'army' to harvest fruit and veg: 'It will be hard graft'

The Independent
19/05/2020
An "army" of workers is required to harvest Britain's fruit and veg during the Covid-19 pandemic, Prince Charles has said, in a video promoting the "Pick for Britain" campaign.
In a clip posted to the official Clarence House Twitter account, the heir to the throne said the job "will be hard graft" but "hugely important" if the nation's crops are not to be wasted.
Due to travel restrictions imposed as a result of the pandemic, the UK faces a shortage of fruit and pickers most of whom have historically come from the EU.
Last month, career search engines such as Totaljobs reported record numbers of people researching farming jobs and it is thought many furloughed workers have been considering taking up jobs picking fruit to supplement their reduced wages.
Related: Coronavirus hits UK (Photos)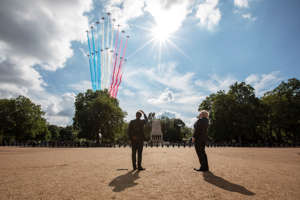 However, the Prince of Wales says more workers are needed to ensure the UK's food supply in the coming months as he urged people to "Pick for Britain".
____________________________________________________
More on coronavirus:
Download the Microsoft News app for full coverage of the crisis
Lockdown laws: What has changed? (PA)
How to stay safe working, travelling and shopping (Sky News)
____________________________________________________
"At this time of great uncertainty, many of our normal routines and regular patterns of life are being challenged. The food and farming sector is no exception," said Prince Charles.
"If we are to harvest fruit and vegetables this year, we need an army of people to help. Food does not happen by magic; it all begins with our remarkable farmers and growers."
Prince Charles, 71, invoked World War Two memories as he called on thousands of Britons to do their bit for the "national effort".
Organisations that are helping out during the pandemic (Photos)
"If the last few weeks have proved anything, it is that food is precious and valued, and it cannot be taken for granted," he said.
"This is why that great movement of the Second World War – the Land Army – is being rediscovered in the newly created 'Pick for Britain' campaign.
"It will be hard graft but is hugely important if we are to avoid the growing crops going to waste."
Pick for Britain says it helps to bring workers and employers together to ensure the UK can continue to deliver the best quality British fruit and veg for everyone to enjoy.
"There are a wide range of roles across the country and they can vary dependant on the type of business," states Pick for Britain's website. "There's no mistaking picking can be hard work and can involve being outdoors through all weather conditions.
"Some of the work will depend on the weather, so flexibility in term of hours you work will be required. A good level of fitness is usually required.
"All workers receive induction, training and a full health and safety briefing. You will be part of a supportive team, often working outside in the fresh air and you are bound to make new friends."
_______________________________________________
Stay at home as much as possible to stop coronavirus spreading - here is the latest government guidance. If you think you have the virus, don't go to the GP or hospital, stay indoors and get advice online. Only call NHS 111 if you cannot cope with your symptoms at home; your condition gets worse; or your symptoms do not get better after seven days. In parts of Wales where 111 isn't available, call NHS Direct on 0845 46 47. In Scotland, anyone with symptoms is advised to self-isolate for seven days. In Northern Ireland, call your GP.