London police chief faces calls to resign after locking himself in his car as Westminster terror attack unfolded around him

Daily Mail
10/10/2018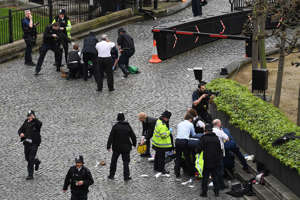 © PA File photo dated 22/03/17 of emergency services at the Palace of Westminster, London The Scotland Yard chief who locked himself in his car as one of his officers was murdered in the Westminster terror attack faced calls to resign yesterday.
A former firearms officer described Deputy Commissioner Sir Craig Mackey's position as 'untenable'.
Ex-police marksman Andy Redhead claimed that the policeman, who was acting commissioner on the day of the attack, had lost the 'respect' of other officers after failing to intervene.
Download the all-new Microsoft News app to receive up-to-the minute news from the world's best sources – available now on iOS and Android
The call for Sir Craig, 56, to quit came after he gave evidence to the inquest into the death of terrorist Khalid Masood at the Old Bailey. 
He had been visiting Policing Minister Brandon Lewis at the Houses of Parliament moments before the attack on March 22 last year.
Sir Craig witnessed Masood's subsequent stabbing of PC Keith Palmer, 48. He described the terrorist as a 'clear threat' but chose not to get out of his car and become involved.
Instead, he locked the car doors and took orders from a police constable, who told him to 'make safe' and 'go'.
Speaking on Nick Ferrari's LBC Breakfast show, Mr Redhead said: 'I think he should reconsider his position.' 
Video: Pc Keith Palmer's death ruled as 'preventable' (PA)
Mr Ferrari then asked: 'What could he have achieved in a short-sleeve white shirt?' Mr Redhead replied: 'Do something is better than do nothing. The primary function of a police officer is to preserve life.'
Sir Craig told the inquest: 'I was in shirtsleeves, with no radio. We had no protective equipment. The way that the male came in, he was clearly a threat.'
He added: 'The attacker had one of those looks where, if they get you in that look they would be after you.' Sir Craig earned more than £270,000 a year as acting commissioner and is due to retire in December.
Last night a Metropolitan Police spokesman said: 'It was evident that there were officers already present with the necessary skills to neutralise the threat and to administer advanced first aid.' The inquest continues.