Extinction Rebellion: arrests as activists shut down roads in Westminster

The Guardian
07/10/2019
Watch: Yoga, dance and song on Westminster Bridge during Extinction Rebellion blockade (Storyful)
A special message from MSN:

Now is the time to take urgent action to protect our planet. We're committed to stopping the devastating effects of the climate crisis on people and nature by supporting Friends of the Earth. Join us here.
Extinction Rebellion protesters have shut off large parts of Westminster as they began a planned two-week shutdown of central London.
The Metropolitan police said 135 people had been arrested. Westminster Bridge, Lambeth Bridge, Trafalgar Square and Whitehall were all blocked off as throngs of people demonstrated about the lack of meaningful action to tackle the climate crisis.
Related: Boris Johnson tells police to 'use full force of law' against Extinction Rebellion
In Trafalgar Square a hearse was parked carrying a coffin that said: "Our future." The driver had used a D-lock to attach himself to the steering wheel while other protesters attached themselves to the bottom of the vehicle and some lay in the road.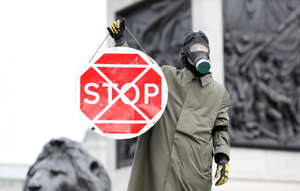 © Reuters Extinction Rebellion protester Yards from Downing Street, protesters blocked off Whitehall and the Embankment was shut off for about four hours outside the Ministry of Defence (MoD) by activists who attached themselves to cars before being removed by police using buzzsaws.
Among those arrested on Monday on Victoria Embankment was 81-year-old Sarah Lasenby, a Quaker and retired social worker from Oxford. She said: "For 21 years my main concern has been to help get rid of UK nuclear weapons. I am still keen to do this but once I came across XR I was so relieved to have something I could do about the ghastly state we have got our planet in.
Related: Places around the world already affected by climate change (Photos)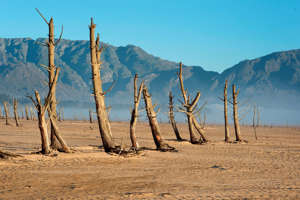 "The whole thing is so urgent that it is imperative the government should take serious actions and put pressure on other states and global powers to radically reduce the use of fossil fuels even if this means we need to reduce our comfort at home and so much flying."
Marie, 32, who did not wish to give her surname, was in Trafalgar Square at her first ever protest. She said she had been partly moved to attend because she works in fashion, which she said was one of the heaviest polluting industries.
She said: "The atmosphere here is very nice, it's people of all different ages and backgrounds. If you ask anyone what they want for their future they'd say they want a brighter future for their children. We need as many people as possible to have a voice. The system is not functioning. Infinite growth is a system and philosophy that needs to change. We consume too much."
____________________________________________________
More on our Empowering the Planet campaign:
Make a donation to help our cause
Sign our petition to help prevent plastic in the ocean
Learn how you can ask UK parliament to stop climate change
____________________________________________________
Another protester, a 55-year-old woman from Brighton who gave her name only as Venetia, was among those sitting in the road outside Downing Street.
She said: "It's a climate emergency. The need is so strong; what can be more important than the future of all life in this planet? Action must be taken to have a chance of mitigating the effects of the climate crisis."
Unlike in April, when central London was shut down for two weeks, the police response was much quicker. Officers, including from the territorial support group, were conspicuously deployed even before protests began. They lined the streets, stopping and searching people on Whitehall and outside the underground station, particularly casually dressed people and those with rucksacks or bags.
Officers dragged away at least three protesters from Westminster Bridge, including one who had attached himself to a tipi structure and had to be extricated using tools.
Related: Climate change protests around the world (Photos)
Officers also tried to drag away people involved in the sit-in near Downing Street and people attaching themselves to the bottom of the hearse in Trafalgar Square.
Despite the gravity of the subject they are highlighting there was a carnival atmosphere at the demonstrations, with bands playing on Whitehall and Trafalgar Square.
But there were signs that relations between police and protesters had deteriorated since April, with chants of "f*** you" aimed at officers on Westminster Bridge.
MSN UK is committed to Empowering the Planet and taking urgent action to protect our environment. We're supporting Friends of the Earth to help solve the climate crisis - please give generously here or find out more about our campaign here.