Extinction Rebellion funded by charity set up by one of Britain's richest men

The Telegraph
10/10/2019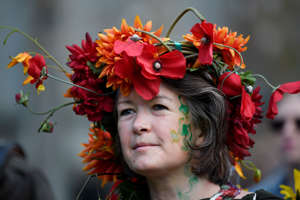 A special message from MSN:

Now is the time to take urgent action to protect our planet. We're committed to stopping the devastating effects of the climate crisis on people and nature by supporting Friends of the Earth. Join us here.​
One of the UK's wealthiest men is a major financial backer of Extinction Rebellion, The Daily Telegraph can reveal.
Sir Christopher Hohn, who is worth £1.2 billion, gave £50,000 to the group, because there is an "urgent need" for people to wake up to climate change.
Video: Arrests as Extinction Rebellion activists disrupt London airport (AFP)
None of its money was spent on civil disobedience, it was said on Thursday night. 
© Getty Christopher Hohn The donations emerged as police said more than 1,000 people had been arrested for taking part in the "international rebellion" which has brought chaos to parts of London since Monday.

On Thursday, activists began a planned three-day shutdown of City Airport.
Mr Hohn told The Telegraph: "I am a personal funder of Extinction Rebellion. I recently gave them £50,000 because humanity is aggressively destroying the world with climate change and there is an urgent need for us all to wake up to this fact."
____________________________________________________ 

More on our empowering the planet campaign:
Make a donation to help our cause
Sign our petition to help prevent plastic in the ocean
Learn how you can ask UK parliament to stop climate change
____________________________________________________
​Other major donors include the Climate Emergency Fund, a collection of US philanthropists including oil heiress Aileen Getty. 
British rock group Radiohead have also given £300,000.

Despite some public criticism of the group's tactics and the disruption that they are causing their finance team revealed that since Saturday their crowd funding campaign had received massive support. 
Andrew Medway, a former trader at HSBC Holdings Plc and Lloyds Banking Group Plc, is in charge of donations for Extinction Rebellion and has revealed that the group has raised £2.5million since it was launched in October 2018.
© Henry Nicholls/Reuters Former Paralympic athlete James Brown lies on top of a British Airways plane at London City Airport More than half of their donations have come through an online crowd funding campaign, Mr Medway said, and they have seen more then 6,000 people donate a total of more than £600,000 this week. 

Extinction Rebellion's accounts show Furka Holdings, a Swiss asset management company, has also donated £50,000.
The company is run by British businessman Alasdair Breach, who is also Independent Non-Executive Director of Bank of Georgia Group.
When Ms Getty's donation to the cause was made public in September, the granddaughter of the oil tycoon J Paul Getty said she hoped that other "high net worth individuals" would follow in her footsteps.
Gallery: Climate change protests around the world (Photo Services)
Any charity donating money to other organisations has a strict set of guidelines that they have to adhere to.
The Charity Commission states that any money given other organisations "can only be used in line with your charity's purposes". The charity also has to be able to demonstrate that they have some control over how the money is used.
Mr Medway said that the grant from CIFF, which was made before their first major protest in April, was only made after "detailed discussions" about what it would be spent on.
There are 100 entries in Extinction Rebellion's latest accounts detailing where the money has gone.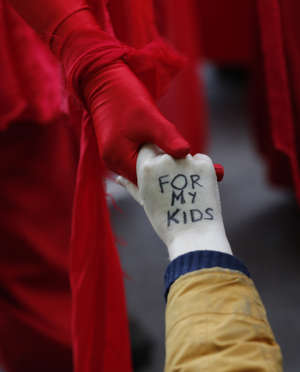 © ASSOCIATED PRESS Climate protestors of the group Extinction Rebellion hold hands near Downing Street in London, Wednesday, Oct. 9, 2019. Some hundreds of climate change activists are in central London during a third day of world protests by the Extinction Rebellion movement to demand more urgent actions to counter global warming. (AP Photo/Frank Augstein) They show that money from CIFF was spent on "media and messaging" and "talks".

Mr Medway said that this would likely include volunteer living expenses and digital advertising campaigns highlighting the issues of climate change.
 "CIFF gave us a restrictive covenant about what they money could be spent on," he said. "We have provided detailed receipts."
Sir Christopher, the son of a Jamaican car mechanic, founded CIFF in 2002 with his ex-wife Jamie Cooper.
The couple's 2013 divorce ended in what was then thought to be the largest ever payout of £337m .
Then in 2017 a High Court judge ordered that CIFF should pay £282m to a new cause set up by Ms Cooper , Big Win Philanthropy.
On their website CIFF states: "Climate change poses the single biggest threat to the future of today's children.
"Science tells us that climate security requires the global economy to be largely free of carbon pollution by 2050."
The charity has donated more than £200million to help fight climate change, which Sir Christopher describes as "the defining issue of our generation."    
Neither Sir Christopher nor the charity responded to a request for comment.  
A Charity Commission spokesperson said: "The public care deeply that charities can show good stewardship of funds and remain true to their values in all that they do.
"Our guidance is clear that charities must ensure any funds given to other non-charities are used solely in line with their charitable purposes and put sufficient controls in place to ensure that this is the case."
MSN UK is committed to Empowering the Planet and taking urgent action to protect our environment. We're supporting Friends of the Earth to help solve the climate crisis, please give generously here or find out more about our campaign here. ​