Two gay men exiled from St Vincent challenge old British colonial laws criminalising homosexuality

Evening Standard
24/08/2019
Two gay men exiled from their Caribbean country have filed court proceedings to challenge the homosexuality laws inherited from British colonial rule.
Javin Johnson, 22, and Sean Macleish, 53, are asserting their dignity and autonomy have been stripped by the anti-gay laws in their native country, St Vincent and The Grenadines.
Mr Johnson, who was granted asylum in the UK in 2017 and lives in Woolwich, left St Vincent aged 16 in a bid to live somewhere which was "more accepting of my sexuality".
Meanwhile, Mr Macleish, who works as a cytotechnologist in Chicago, said he stopped going back to visit his family in 2005, when he felt he was not welcome with a gay friend.
Mr Macleish said: "There is no LGBT organisation or community in St Vincent and few people are openly gay because you could face a lot of negative repercussions."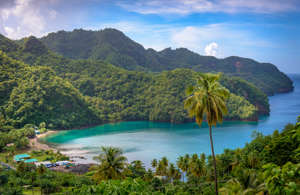 Both men filed their case last month after being advised by barristers Jeremy Johnson and Peter Laverack, alongside solicitors from Hogan Lovells.
A representative for the lawyers explained that Commonwealth Caribbean nations inherited these laws during British colonial rule but continue to criminalise homosexuality today.
Mr Johnson's and Mr Macleish's court challenges come in the wake of Jason Jones' successful case against Trinidad and Tobago's anti-gay laws.
A similar challenge was also filed in Dominica and other challenges are already afoot in Jamaica and Barbados.
The St Vincent challenges will be heard together in the High Court in the Vincentian capital, Kingston, in October.
Gallery: Stars who have come out as LGBT in 2019 (StarsInsider)
Mr Johnson, who grew up in a countryside parish called Charlotte, travelled to Barbados as a teenager to take part in a female impersonation pageant.
"People were telling me 'do not come back to St Vincent' on Facebook after I promoted the show online," he told the Standard. "I guess that is when I came out in public."
"So I stayed in Barbados for a while because it was more accepting of my sexuality."
A year later, he went to Trinidad and then flew to London, saying: "I came to the UK so I could be myself, because they accept homosexuals there.
"I'm a make-up artist and in St Vincent if I wear make-up, people would say funny stuff. But here people complement me.
Gallery: 20 of the best signs that highlight just how much Pride means to the LGBTQ+ community (Liverpool Echo)
"I have a lot of gay friends in St Vincent but they are not out," he said. "They are afraid of being themselves after seeing how open gays have been treated. I still have friends who have been beaten."
Seeing old friends at home being abused on social media, Mr Johnson said he was "very interested" when a lawyer approached him about being a claimant.
He filed the challenge because he wants the laws "to protect people" and hopes "LGBT people can be free" in his home country.
"I want my friends to feel open about their sexuality and not worry about what the public think or their family," he said.
"I also want to be able to visit and no one harass me. I want to walk the streets too without someone bashing me or fighting me because the laws will be able to protect me."
Mr Johnson is unsure whether he will be able to attend the October hearing in St Vincent's High Court because of his asylum status.
If he does go, he will meet Mr Macleish for the first time. So far the pair have only ever spoken over Facebook messenger.
Gallery: Fascinating Photos From The Early Gay Rights Movement (Ranker)
Mr Macleish said he is "nervous" to go back with the risk of facing verbal and potentially physical abuse.
"But I'm prepared do whatever it takes," he said. "No one will be able to intimidate me enough not to do it."
Mr Macleish, who studied and now works in the US, has been campaigning against St Vincent's anti-gay laws for some time. He said it was "an honour" to get on board.
Every year, he would visit his family in St Vincent until he fell out with his brother in 2005 after asking to bring a fellow gay friend to stay.
"My brother and his wife said they felt the social pressure of homophobia and did not want to deal with what people would say. They said they did not want to expose my seven-year-old nephew to that.
"I was really hurt and flash forward my brother and I have no relationship. We do not speak. But my story isn't unique."
Mr Macleish said that a lot of the homophobia stems from the law which "sends a message that as a nation we are not going to be accepted or be part of society."
"My hope is that once it is removed it will start a movement to kick-start equality for others who also do not have it," he said. "The bigger picture for me is inclusion for everyone who has been marginalised.
"It would show that the government champions equality."
Since they filed the court proceedings, the two men have received death threats on social media with people saying things like "you should burn" and "if you come to St Vincent I will beat you".
"Some people say it's no issue because we do not prosecute anyone with this laws," Mr Macleish said. "But when you see the social backlash against challenging these laws, you know it has to happen."
The British Privy Council may have ultimate say on these colonial-era laws, as St Vincent and the Grenadines still sends its appeals to the old imperial court in London.
The Standard has contacted the country's government for comment.
Explore the issues faced by the UK's most vulnerable children and young people this summer and discover what you can do to help.