Celebrity interview: Anna Richardson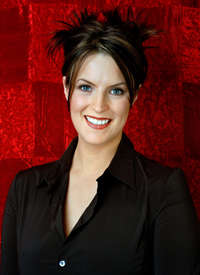 Anna Richardson is one of those effervescent, bubbly personalities you can't help but like. An interview with her feels like a girly chat with one of your old schoolmates. We talk spicing up 10-year-old relationships, why Botox is brilliant - and what diets really do work.
Anna is meeting us on behalf of Kumala Wines, the sponsors of Come Dine With Me, to promote date nights. Because apparently a romantic two-thirds of British couples take the time to indulge in a date night once a week to spend some quality time together. Aaah, who said romance was dead?
What's your idea of a perfect date?
Well, what I do with my other half (and I've been with him for 14 years, which is longer than most marriages!) is to make time to stay in once every three weeks. I will dress up, you know, have a wash, put some slap on and together we'll cook up a meal. We'll stay in, have a few beers and then watch a film - we both love watching films. It sounds boring but it works.
I'm 38 and the idea of a perfect date has changed over the years. When you're in your 20s you go out on wild nights, heading off to gigs or hitting the comedy circuit, getting really drunk and all that. But as you get older and wiser and a bit more, well, tired, frankly, you want to do things to cement your relationship and there become days when its lovely just to have a good meal, good food - and good sex!
Any top tips for spicing up the romance?
I do utterly accept that it can be difficult to keep the romance alive but it is the simple things that really work. It sounds clichéd, but two weeks ago we spontaneously whizzed off to a five star hotel in Bath. We both love doing exciting, spontaneous things - and it's important to make the time to do them. You know, have a decent meal and have sex with each other (because, let's face it, the more often you have it, the more often you want it). My other half and I also do things like leave little notes in each other's shoes or wallet, saying: 'Hello I'm here, I love you'.
You tried lots of different dieting tricks in Supersize vs Superskinny, what's the one thing that works for you?
There are three simple rules to dieting and one thing that's absolutely guaranteed to help you drop a dress size in two weeks is to cut out wheat, dairy and alcohol. If you do it for just two weeks you will drop a dress size.
Other than that, no carbs in the evening definitely works - it's a sure fire way to lose weight. I've just started filming series three of Supersize vs Superskinny and my challenge this year is to exercise my way to a better body. Let me tell you, I've had a serious workout!
When I did the second series of Supersize Superskinny I weighed 11 stone and I was overweight. I felt as if I'd let myself go. Since then I've lost two stone and the one thing that really worked for me and really made me change my diet was a single session of hypnosis. I'd recommend anyone going to see a hypnotist, it really does work.
What's your beauty regime like in the mornings?
I'm an absolute disaster in the morning. It takes me forever to get out of the front door. I spend an hour and three quarters showering, blow-drying my hair, sorting my make-up. I think it comes from my background in television.
But I don't do all the cleansing regime before bedtime. If I go to sleep with false eyelashes on I will wake up with them half-way down my face.
Any favourite beauty products you love?
I swear by Mac products - they really have the best foundation in terms of coverage, it's absolutely flawless and it's become my secret weapon. I also like Clinique which is very good. You know it's been thoroughly tested before you use it and it's got all the SPF good stuff. I'm coming up to 40 now so I know how important that is.
Would you ever consider Botox or surgery?
I love Botox! I started using it about a year ago and I'm so impressed! I'm like a drug addict - a proper Botox junkie!
I don't think I'd consider surgery though because on series one of Supersize vs Superskinny, I tried a 'lunchtime lipo' to get rid of my bingo wings. It's meant to be a great procedure with minimal bruising. It's like liposuction but instead of just extracting the fat, with lunchtime lipo they inject a substance that melts the fat and then the body is supposed to metabolise it.
When I tried it though, they used an anaesthetic which caused my blood pressure to drop too low and I had an unbelievably painful reaction to it. So I don't think I'll be trying surgery again.
What are your favourite items in your wardrobe?
I absolutely love clothes and I'm really into shopping, I always have been ever since I was a kid. I'm well into my vintage and love going to Portabello Road and Shoreditch Market. I love the quirkier designers like Luella and the smaller, quirkier labels.
I'm also a big fan of the 80s and love the rock chic look, possibly because I am veering headlong into a midlife crisis and am trying to be Kate Moss.
You've got £500 to go on a shopping spree, where would you spend it?
£500 isn't enough! I'd go to Liberty because it's smaller and more manageable than the huge stores and it has amazing labels and brands that have been very carefully selected by top buyers.
And if the sky was the limit - what would be on your must-have list?
I'd move to LA, get a personal stylist to dress me every day and I'd be coiffed and manicured to within an inch of perfection, every single day, even when I'm just laying on my couch.
Going anywhere nice this year?
I've just come back from Ibiza and I'm going to be going back out there again in a couple of weeks for all the closing parties, it's my favourite place. You can party all night and then just relax on the beach all day. That's my idea of a perfect holiday.
To help couples create their own special 'Date Night', Kumala Wines have created a Date Night Kit on their website www.kumala.com which consists of recipes for the perfect night in and an e-invite that can be personalised for your partner.