Girl survives 13 degree body temperature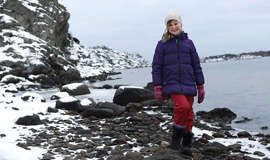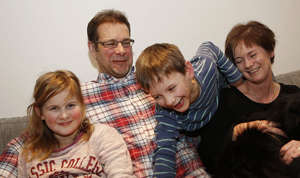 Stella Berndtsson is the only known person in the world to survive such a low body temperature.
The incident took place three years ago on the island of Lyr, outside Gothenburg, Sweden.
Stella goes missing
The thermometer stood at –12°C and Peter, 42, and Annika, 44, were in the midst of Christmas preparations when they realised that Stella, 7, was missing.
"She had drawn a treasure map and received permission to go out and play," says Annika.
Time passed and they became more and more worried and soon around 20 neighbours were involved in the search for Stella. At the rear of the house Peter discovered small footprints in the snow and followed them to the edge of a steep cliff a few hundred feet away from the house.
The panic turned into a complete sense of unreality, he says. He called Annika who in turn alerted the emergency services.
The search
Scrambling down the cliff, Peter discovered that the footprints continued along the shore, showing that Stella had survived the fall but suggesting that she had gone into the water.
A fisherman from the island, coastguard boats and three helicopters combed the water while a dazed Peter and Annika waited at home.
Then came the call that Stella had been found. A helicopter rescuer had spotted a pink jacket floating on the sea and she had been plucked out of the water. Peter says: "It was the death announcement we waited for. We knew of course that she must have been in the water a long time."
In the helicopter, cardiac compression was started on Stella and continued all the way to the hospital 90 kilometres away.
Peter says: "They did it even though they thought she was dead. And in a way she was. The boundary between the dead and the living is not crystal clear."
Vital signs
Twenty minutes later, staff at the Queen Silvia Children's Hospital in Gothenburg took over. At this point Stella's body temperature was just 13°C, her heart had stopped and she showed no signs of life.
Peter and Annika were told that the doctors would do what they could, but there was not much hope.
The plan was to warm up Stella's body very slowly to 32°C. Annika says: "She was lying there with all tubes in her body. She was so beautiful. Still and pale."
At four o'clock the next day Stella showed the first sign of life. "Her heart had begun to beat," explains Annika.
Then 12 hours later came the next sign of life. "She opened her eyes and closed them again," says Peter. "I have always thought that there are far worse things than death. But at that moment anything would be better than her death, even the possibility of her remaining in hospital for the rest of her life."
A miraculous recovery
Despite the progress, doctors were still very cautious. They warned that if Stella did wake up it was very unlikely that she would be the same girl as before.
Two weeks after the accident Stella said her first word. Annika recalls: "A nurse asked if she wanted her Popsicle with cola or strawberry flavour and she said strawberry."
Today, a 10-year-old Stella remembers nothing of the accident nor the first few months that followed it. Despite this she has gone on to make a miraculous recovery. During her time in intensive care she went from being paralysed to being able to turn her legs to the side and move her shoulders.
During the month she spent in hospital on a regular ward she took her first steps. After another full month of rehabilitation and physical therapy she could finally go home.
Today Stella has completely recovered. She has gone back to school, has learned to play the piano and takes care of her horse Fabian.