'Smallest ever' baby boy born the size of an onion breaks world survival record as he is discharged from Tokyo hospital

Evening Standard
27/02/2019
A baby born weighing just under 10 ounces - the same as a large onion - has become the smallest newborn boy in the world to leave hospital safely.
The tiny new arrival weighed 268g when he was delivered at 24 weeks at Keio University Hospital in Tokyo.
He was so small that he fitted into an adult's cupped hands.
Related: New parents face sleep deprivation for six years
But after five months of treatment, the boy now weighs 3.23kg, is feeding normally, and has been discharged from hospital.
The Japan Times reported doctors treated him at a neonatal intensive care unit by managing his breathing and nutrition.
He grew steadily and was eventually able to be breastfed.
Watch: Medical breakthroughs we can expect in the next 50 years (Insider)
Related: Baby removed from mum-to-be's womb for treatment - then put back in astonishing operation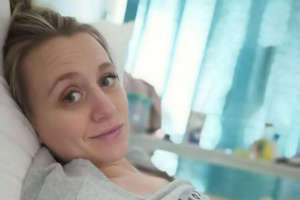 Dr Takeshi Arimitsu said: "I want people to know that babies can return home vigorous even if they are born small."
The previous record holding boy was born weighing 274g in Germany in 2009.
NOW SEE: Celebrity babies of 2019 (Photos)