122 arrested as Extinction Rebellion activists chain themselves to lorry on day two of climate protests

Evening Standard
16/04/2019
Watch: Nick Ferrari grills protester strapped under lorry (LBC)
The number of people arrested in two days of climate change protests in London rose to 122 today, as environmental activists chained themselves to a lorry on Waterloo Bridge.
Extinction Rebellion activists occupied the bridge overnight, stationing themselves under the lorry with blankets and sleeping bags, where they say they will stay for as long as possible.
Blythe Pepino, 34, locked herself to the underside of the lorry, and said the protesters have been "put in a position" where that is the sort of drastic action they must take.
Ms Pepino, from Hereford, told LBC's Nick Ferrari: "It's absolutely awful that we are having to be in this situation in order to get the message out that there is a security crisis for the people in this country.
"It's here, it's happening, and the government is not managing this situation.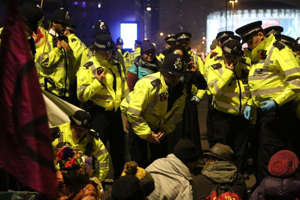 "I'm horrified that we have to be doing this, it's really horrible. I'm quite uncomfortable actually, I'm attached with a lock to the bottom of the lorry because the lorry was really important to stop the bridge being retaken.
"Yes, we do understand that disruption is horrible for the people of London, but we've been put in a situation where we have to create this disruption to get our point across.
"If people had been listening to what climate activists and the scientific community had been saying for the past 30 years then perhaps we would have been able to handle this in a more managed way."
She added: "The purpose is to maintain the disruption on the bridge to bring the Government to the table and talk about the climate crisis.
"I think we'll be taken more seriously over time because we're not planning on going away.
"Legal marches come and go and there's not much action or coverage on it, civil disobedience is the only way to bring urgency."
Five of those arrested - three men and two women - were held on suspicion of criminal damage after protesters vandalised Shell's headquarters on Monday.
Extinction Rebellion said it aimed to cause more than £6,000 of damage so they could be tried by a jury in Crown Court.
The campaign group said that "over 100 brave rebels" had been arrested, some willingly.
Watch: Waterloo Bridge in London blocked by protesters (Newsflare)
Ben Moss, 42, from Islington, also glued himself to the bars of the lorry at midnight on Tuesday morning.
He said: "We're in an extreme situation, we have to take action, this is my personal action to the moral issue of the climate crisis and ecological collapse.
"I'm doing this because I want the Government to do something.
"I've got a week off work, if more is necessary I can make my excuses, I'm a director of a company, I work at a co-operative, but not everyone can come and do this."
NOW SEE: Climate demonstrations around the world (Photos)
He added: "I want to give this the time necessary, we need action, this will create attention."