Amber Rudd admits Home Office set local targets for deportations

The Guardian
26/04/2018
© Reuters Amber Rudd answers an urgent question in the House of Commons. Amber Rudd has admitted the Home Office set strict local targets for removing migrants who were in the UK illegally, having previously told MPs her department did not set targets. 
The home secretary was hauled back in front of MPs in the House of Commons to answer an urgent question from Labour's Diane Abbott, after Home Office documents revealed targets were set for voluntary deportations.
Video: Amber Rudd: I never agreed on immigration removal targets (Provided by Press Association)
Rudd said the Home Office had been "using local targets for internal performance management" but said she would review them.
"I have never agreed there should be specific removal targets and I would never support a policy that puts targets ahead of people," she said.
"These were not published targets against which performance was assessed. But they were used inappropriately. I am clear they will have to change."
Rudd said she had requested a full briefing on how performance was assessed, including the use of targets, and said she would update MPs afterwards.
"I do not want us to be run by a target culture. I want to make sure the individual is at the heart of any decision," she said.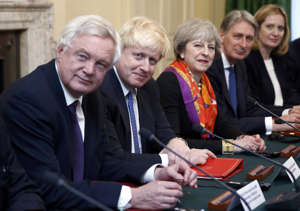 © Associated Press Britain's Prime Minister Theresa May, center, sits in the cabinet room of 10 Downing Street, London with David Davies Secretary of State for Exiting the European Union, left, Foreign Secretary Boris Johnson, second left, Chancellor of the Exchequer Philip Hammond and Home Secretary Amber Rudd, right, on Monday Nov. 28, 2016. (Peter Nicholls/Pool via AP) Asked by Labour MP Rachel Maskell who was running the department if Rudd did not know about the targets, the home secretary said: "I accept the criticism on the issue ... that's why I'm in the house today setting out the changes I'm going to make ... to continue to develop the confidence of everybody involved."

Abbott said the revelations were part of a long-running saga of Home Office mistreatment of migrants, including the Windrush families. "Isn't it time the home secretary considered her honour and resigned?" she said.
Rudd's appearance in the Commons came on the heels of an appearance at the home affairs select committee, where she was asked whether her department had regional targets, after an immigration union official claimed they existed.
Rudd said she was not familiar with the suggestion that regional targets were in place. "We don't have targets for removals … If you are asking me if there are numbers of people we expect to be removed, that's not how we operate," she said.
The Home Office immigration chief, Glyn Williams, also told MPs that targets did not exist.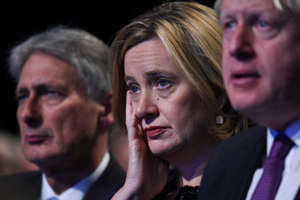 © Getty Britain's Home Secretary Amber Rudd (C) listens to the speech by Britain's Prime Minister Theresa May on the final day of the Conservative Party annual conference at the Manchester Central Convention Centre in Manchester, northwest England, on October 4, 2017. / AFP PHOTO / Oli SCARFF (Photo credit should read OLI SCARFF/AFP/Getty Images) However, an inspection report from 2015, seen by the Guardian, reveals that the Home Office set a target in 2015 of 12,000 voluntary departures of people regarded as having no right to stay in the UK. It is not clear whether the target is still in force.

The figure was a 60% increase on the previous year, prompting concerns that immigration officials may have been under so much pressure to meet the target that legal migrants who struggled to prove their status could have been caught up in the crackdown.
In the exchanges after Rudd's statement, several Conservative MPs stood up to give her support. Nicholas Soames said all Tory MPs were backing Rudd to stay in post, and Philip Davies, another Conservative backbencher, said people overall wanted tougher action against people in the country illegally.
Yvette Cooper, the Labour chair of the Commons home affairs committee, said it was "deeply disappointing that the home secretary did not know the facts" when she spoke to the committee on Wednesday.