Boris Johnson Says Tories Face 'Extinction' If They Fail To Deliver Brexit

HuffPost UK
04/06/2019
Tory leadership frontrunner Boris Johnson has warned his party it faces "extinction" unless it delivers Brexit and takes on Nigel Farage.
The former foreign secretary, who turned down a meeting with US President Donald Trump, claimed he could "lift the party" and defeat Jeremy Corbyn as he set out his stall to be the UK's next prime minister.
The ex-London mayor, whose support among colleagues is growing, told MPs from the party's moderate 'One Nation' wing the Tories would "not be forgiven" if it failed to take the UK out of the EU on October 31.
Video: Boris Johnson turns down Trump meeting (Fox Business)
"We are looking at a very difficult situation and we must get ready, eventually but not immediately, to beat Jeremy Corbyn and put Farage back in his box," he told the crunch hustings in Westminster on Tuesday. 
"We are facing an existential crisis and will not be forgiven if we do not deliver Brexit on October 31. 
Brexit in-depth: The latest news, analysis and expert opinion
"I believe I am best placed to lift this party, beat Jeremy Corbyn and excite people about conservatism and Conservative values." 

Strongly rejecting the prospect of a second referendum, he added: "We need to realise the depth of the problems we face - unless we get on and do this thing, we will be punished for a very long time. There is a very real choice between getting Brexit done and the potential extinction of this great party - but I believe I can take on Farage and win back the voters being won over by him."
The One Nation caucus, which counts influential figures such as Amber Rudd, Damian Green and Nicky Morgan among its ranks, also heard from Home Secretary Sajid Javid, International Development Secretary Rory Stewart and ex-Commons leader Andrea Leadsom. 
It comes as the Brexit Party was on course to win its first Westminster seat in the Peterborough by-election on Thursday with the Tories haemorrhaging support to Farage's new political project. 
Javid, who would be the UK's first PM from a BAME background, appealed to his colleagues not to "make the wrong choice" and opt for "a leader who thinks the way to lead is to exploit divisions" in what appeared to be a clear swipe at Johnson, who has repeatedly been accused of Islamophobia. 
"If we don't look like change, voters will go for change in the form of Corbyn," he said. "I'm not from Conservative Party central casting." 
He added: "We will not beat the Brexit Party by becoming the Brexit Party." 
Gallery: Brexit timeline (Photo Services)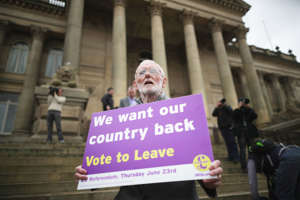 Ex-Education Secretary Morgan, who chairs the group, described Johnson as reflecting "the seriousness" of the Brexit crisis and taking a more "subtle" tone.
Speaking after the hustings, which were controversially closed to journalists, Morgan said: "We all know that the stakes are very high.
"When candidates said 'don't deliver Brexit, this is a threat to the future of the Conservative Party', yes I think that is recognised in the room." 
It comes as the 1922 committee of backbench Tories changed the leadership rules to eliminate those with little support, after the race for the top job attracted some 13 candidates. 
MPs Kit Malthouse and James Cleverly dropped out on Wednesday, leaving the number remaining at a sizeable 11 - a number MPs must reduce to two for the party membership to choose between. 
The new rules mean candidates must have at least 16 MPs backing them at the first ballot of MPs while the threshold for the second ballot was raised to 32. 
It means the candidates will be able to whittle down the number more quickly and that the UK will have a new PM by Monday July 22 at the latest. 
Few believe anyone can beat Johnson, who polls show is the clear favourite with Tory members.
Speaking after the hustings, Johnson supporter and ex-defence secretary Gavin Williamson told reporters: "What all MPs are beginning to realise is that we have got to deliver Brexit and it is becoming increasingly clear to colleagues that he is the one to deliver it." 
He added: "You see a dawning realisation among so many colleagues as you go around the corridors that Boris is the one who is going to be able to save the party." 
MSN are empowering Women In Sport this summer. Find out more about our campaign and the charity fighting to promote the transformational and lifelong rewards of exercise for women and girls in the UK here.