E.coli 'a factor' in deaths of Brit couple in Egypt

Sky News
12/09/2018
E.coli was a factor in the deaths of a British couple on holiday in Egypt, the country's public prosecutor has said.
John and Susan Cooper, from Burnley, Lancashire, died on 21 August while on holiday at the Steigenberger Aqua Magic Hotel in Hurghada with their daughter and her child.
An inspection of the couple's hotel room revealed there were no toxic or harmful gas emissions or leaks but prosecutor Nabil Sadek said forensic tests showed Mr Cooper, 69, suffered acute intestinal dysentery caused by E.coli.
Download the all-new Microsoft News app – available now on iOS and Android
His wife, 63, had suffered haemolytic-uremic syndrome (HUS), likely because of E.coli.
Video: "E-coli was a factor in the deaths of two British tourists in Egypt, prosecutor says" (Evening Standard)
There was no evidence of criminal involvement in their deaths and tests on air and water at the hotel found nothing unusual, Mr Sadek said.
Travel company Thomas Cook commissioned specialists to examine the hotel after the deaths, with tests showing normal carbon monoxide levels near the couple's room and normal levels of chlorine in the swimming pool.
However, tests on the food and hygiene standards "identified a high level of E.coli and staphylococcus bacteria", the firm said.
Thomas Cook said in a statement that it noted the chief prosecutor's announcement following post-mortems.
"We have not yet seen the full report and we will need time for our own experts to review it," the travel firm said.
"We are deeply saddened by the tragic deaths of John and Susan Cooper. "We will continue to offer every support to their daughter Kelly and the rest of their family."
Thomas Cook evacuated 300 guests from the hotel as a precaution after the deaths. Mrs Ormerod has previously said she found her parents seriously ill in their room.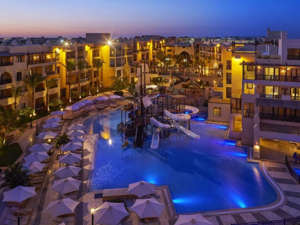 © Sky News The Steigenberger Aqua Magic Hotel in Hurghada. Pic: Steigenberger She said: "As I opened the door, I could see that my dad was extremely ill and he was staggering back to the bed."

Her father said he felt "really, really poorly" while her mother was lying on the bed, she said. Doctors were called and attended to Mr Cooper first as his condition was worse.
Mrs Ormerod said: "They tried basically to save his life and they couldn't - they did CPR on him but nothing could help him, nothing could save him.
"Mum had no idea what was going on - she was oblivious to what was actually happening because she was so poorly."
Mrs Cooper was taken to hospital, where she later died.