Fugitive taunts police appealing for his capture on Facebook: 'You ain't looking good enough!'

The Independent
06/12/2018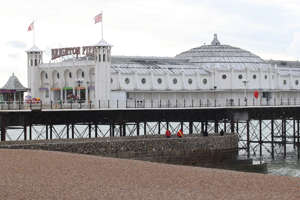 © Trevor Goddard/Getty Images Avis has links to Brighton

A special message from MSN:

While Christmas is a time of joy for most of us, that's not the case for the UK's most vulnerable children and young people. We've partnered with giving platform Benevity to raise funds for two charities - the NSPCC and The Children's Society – to try to help change that. You can help make a difference - please donate now.
A wanted criminal has taunted police by openly commenting on their Facebook appeals for information leading to his arrest. 
Officers are seeking Harry Avis after he broke the terms of his early release from prison. So Sussex Police put out a message on their Facebook page last week offering £1,000 for information which led to his arrest.
Within 45 minutes of the post going up, the 20-year-old himself commented underneath. He wrote: "I'm not hiding! You just ain't looking good enough!"
The force replied: "Hi Harry. So good to hear from you. Hope you are well. We're good at hide and seek. We've played this game before. Fear not, we have the eyes and ears of our lovely Facebook followers who I'm sure will step in to help us."
Avis mocked their response and said if their followers had wanted to help he would already be back in custody.
He also added several pig emojis to the message. The exchange was quickly spotted by other users of the social media site, many of whom praised the criminal's quick wit.
"Harry Avis hide and seek champion", one person commented, while others called him a "legend".
Others suggested putting bets on how long he could evade recapture and joked: "Harry Avis you have made my year".
One person asked Avis, who has connections to Brighton, to give them a clue to his location, to which the fugitive replied: "Well it's sunny with sun loungers".
Some users started up a guessing game with suggestions from Tenerife to Blackpool.
After a comment that it was "not sunny in Whitehawk" – a suburb on the outskirts of Brighton near the Marina – Avis said it had "got boring there".
Flush with his new-found fame, the lawbreaker told Sussex Police he now had "more fans than you lot".
But the person behind the force's Facebook account simply replied: "Hi Harry, we think the incentive will work a treat and we will wait patiently for it to pay off. See you soon."
Not everyone was impressed with the taunts. One person hoped he would be "made an example of" when he was caught, while others criticised those who were cheering Avis on.
"People claim they want the police to catch criminals yet when they try and spread the word you think it's hilarious to laugh and joke at the police expense," one commenter fumed. "Let's hope he doesn't break into any of the homes of the people finding him funny."
The Brighton man was convicted last year of breaking into a family's home while they slept and then stealing their already-wrapped Christmas presents before driving off in their car.
Then 18, he was already wearing an electronic monitoring tag following a previous spell in prison.
In 2015 he had been jailed for leading a gang which committed a string of burglaries across towns on the South Coast.
Detective Inspector Ian Still said: "We are offering the reward for information which leads to the arrest of Harry Avis. We want to hear from anyone who knows where he is or has any information about his whereabouts."