Glamorous Russian classical harpist suspected of being one of London embassy's 23 spies
Mirror
19/03/2018
A classical harpist is believed to be among the suspected Russian spies to be booted out of Britain.
Nina Mishchenko was named by the Foreign Office as one of the attachés who has no defined role at the Russian embassy.
The 30-year-old, who is single and appears to have no known diplomatic experience, is one of the 23 Russians who will be told to leave the country, according to the Sun.
More on MSN:
Putin: Nonsense that Russia behind spy poisoning (Sky News)
Boris says Russia is 'not fooling anyone' (The Independent)
Ex-spy exposed to nerve agent through car ventilation (Press Association)
Theresa May announced the diplomatic crackdown after former spy Sergei Skripal, 66, and his daughter Yulia were poisoned with a nerve agent in Salisbury. 
Miss Mishchenko has put on several musical performances in London since arriving in the UK early last year.
In an interview with Art Around the Globe in February, Miss Mishchenko described her love of the Westminster Abbey Choir.
She said: "I consider the language of music to be universal. It helps people to understand each other better. It does not need any interpreter. I had the good fortune to attend a concert in Moscow by the boys of Westminster Abbey Choir in the House of Music.
"It was sheer magic. The audience held its breath while listening. The skill of the British ensemble, the Swingle Singers, has captivated audiences for over ten years. I know, too, how interested the British are in Russian music and literature."
She added that she comes from a musical family and her grandfather is a Merited Artist of Russia, her sister an orchestral soloist and her mother a musician working in the theatre.
Harp and flute concert by Rimma Ishniyazova and attaché Nina Mishchenko at @rsgovuk https://t.co/VpdGkR8WXB

— Russian Embassy, UK (@RussianEmbassy) June 16, 2017
Miss Mishchenko's performances have been promoted by the Russian Embassy and she has played in Kensington, Richmond and Loughborough since June. 

Russia's ambassador in London was hauled into the Foreign Office last week and handed a list of names, moments after the National Security Council agreed to boot out 23 diplomats. 
Poisoning of ex-spy puts spotlight on Moscow's secret military labs
The 23 are thought to be diplomats who have been accused of being spies by British intelligence.
In retaliation Moscow said it is expelling the same amount of British diplomats from Russia.

The diplomats are now recognised as persona non grata in Russia and have a week to leave the country, the Kremlin said as relations hit a post-Cold War low.
Putin has repeatedly denied claims Russia ordered the nerve agent attack on Skripal and his daughter. The pair are still in a critically ill condition in hospital after the attack on March 4.
Moscow announced that it will no longer allow the UK to open a consulate in St Petersburg and terminate the British Council's activities in Russia.

A Russian senator has claimed UK spies were working undercover out of the British Council's base in Moscow.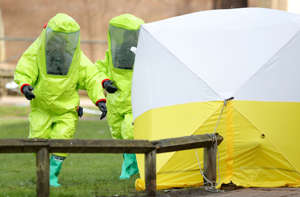 The tit-for-tat measures were "in response to the provocative actions of the British side and groundless accusations" of state involvement in the poisoning, said Russia's Foreign Ministry.
The Kremlin warned it could take further action if Britain takes additional "unfriendly" measures against Russia.