Grenfell Anniversary: Thousands Of Faulty Fire Doors Still In Use After Councils Delay Replacement

HuffPost UK
13/06/2019
Councils are delaying the replacement of thousands of faulty fire doors that were planned to be removed in the aftermath of the Grenfell tower blaze at the same time as a row brews over who should pay for remediation work.
HuffPost UK has learned Kensington and Chelsea council, the authority responsible for the doomed tower, has been forced to put back plans to replace all 4,000 fire doors in its entire social housing stock because of a lack of reliable products on the market and a stalemate involving industry and government.
The borough announced last May it was to spend £3.5m on the improvement scheme after widespread problems emerged with fire doors. But the authority now says it has been unable to start the work and anticipates it will take another three years to complete.
_______________________________________________________________________________
Read more on the second anniversary of Grenfell:
Grenfell-style cladding still on more than 300 tower blocks (Huffington Post)
We're sleepwalking towards another Grenfell, warn firefighters (Sky News)
'Looking for answers': No closure for victims' families (Financial Times)
_______________________________________________________________________________
Meanwhile, council bosses are concerned they will not receive compensation for the replacements despite being sold defective products. It is the latest stand-off over fire safety as scores of tower blocks remain covered in Grenfell-style cladding as the two-year anniversary of the disaster is marked on Friday.
Issues with fire doors were first identified by the Metropolitan Police in March last year during its investigation of the Grenfell tower block, where 72 people were killed.
The government has said all Manse Mastador doors – the kind used in the tower and blamed for helping spread the blaze – across the country must be replaced, but insists the "risk to public safety remains low". 
In pictures: The Grenfell Tower fire (Photos)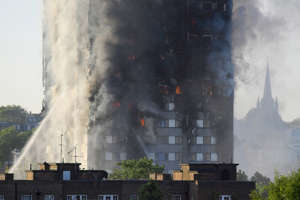 In total, products made by five different companies were taken off the market as tests found certain types of "composite" doors – made with glass-reinforced plastic, rather than timber-based – only withstood fire for 15 minutes, which was just half the amount of time they were supposed to last.
The 30-minute threshold is significant, as this is the minimum time required in building regulation.
It is not known exactly how many faulty doors are still in use across the UK, but a HuffPost UK investigation earlier this year revealed that at least 25,000 faulty doors made by the five companies in question were fitted in public housing.
Watch: Grenfell United project safety warnings onto tower blocks two years on from fire (The Independent)
The Local Government Association told HuffPost UK councils had been "failed" by the fire door and testing industries, which have left them with "thousands of doors they bought in good faith" that fall short of the required standard.
The government in July pledged the door industry would develop a programme to replace faulty models, but an 'action plan' has yet to emerge.
Kensington and Chelsea council last year said it was replacing all the doors in its properties - not just Manse products - "as a matter of urgency". But minutes from a council meeting in December show this was halted after manufacturers withdrew doors from the market and questions were raised over the testing regime. A £250,000 contract for a small number of replacements is underway, but a larger £5m deal has yet to be agreed.
Watch: Next PM should be on the right side of history, says campaigners (Press Association)
A council spokesperson said it hoped to replace the first 1,200 to 1,500 doors by April 2020, and said the safety of residents is "our top priority".
He said: "As things stand most fire door manufacturers have only just begun producing doors which meet national regulatory standards and demand for those that do far outstrips supply.
"Although we have now been able to secure buying fire doors that meet the high standards which are now expected, the timescales are longer than people would expect, unfortunately we have been restricted by the supply and choice available and therefore must plan within the timescales we have. 
"We will only fit fire doors that meet the highest standards and we would encourage all manufacturers to meet these as quickly as possible and allow landlords throughout the country to upgrade their fire doors as speedily as possible."
Other councils are pressing ahead with remediation works despite a lack of products, but many are frustrated by the lack of clarity from the government over how they will be compensated.
Councillor Darren Rodwell, executive member for housing a planning of London Councils, which represents local authorities across the capital, said it was "not good enough" that the remediation plan had yet to be published.
Watch: US companies sued Grenfell fire (Reuters)
He also hit out at the prospect of local authorities picking up the bill for "manufacturers' safety failings and for shortcomings in government regulation".
He said: "Boroughs have worked extremely hard to make sure Londoners are safe – and feel safe – in their homes.
"However, we're still waiting for a national remediation plan with details on how we will be compensated – and this isn't good enough."
Watch: How the Grenfell Tower fire happened (The Independent)
The councillor added London boroughs had seen a reduction to their core funding of 63% since 2010, and that it was "unfair to expect local authorities to pick up the bill for manufacturers' safety failings and for shortcomings in government regulation".
"Even though we're currently in an unpredictable political climate, it's essential that ministers focus on making more progress on this issue," he continued.
Lord Porter, chairman of the Local Government Association, argued that councils are struggling to confirm that the fire doors that have come back on to the market meet their requirements, and called for the dispute over who pays for the "significant bills to fix a problem not of their own making" to be urgently resolved.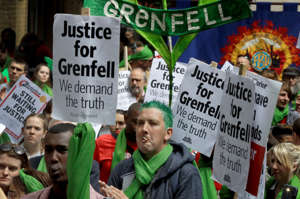 © Associated Press Thousands marched on the first anniversary of the fire to demand justice for victims

He told HuffPost UK: "Councils have been failed by the glass reinforced plastic (GRP) composite door and testing industries, which have left them with thousands of doors they bought in good faith that do not meet the building regulation requirements.
"The remediation plan developed by the industry could only ever replace a small proportion of the GRP composite doors that may have to be replaced, and councils are struggling to confirm that the fire doors that have come back on to the market meet their requirements.
"The industry has told us it followed advice from the test houses which has now been found to be incorrect, yet there appears to be no acknowledgement by the test houses of this, no expectation that they have a responsibility to councils and residents affected by this failure and no indication that lessons have been learned."
Watch: May claims Grenfell success in resignation speech (The Independent)
The fall-out over fire doors follows a lengthy row over flammable cladding covering tower blocks. Minsters have pledged £200 million to remove Grenfell Tower-style dangerous material from around 170 private high-rise buildings across England after losing a stand-off with some freeholders and developers, who were refusing to remove the covering. But residents fear the money does not cover the cost and does not include all types of flammable material.
A Ministry of Housing Communities and Local Government spokesperson said: "Nothing is more important than making sure people are safe in their homes.
"We have been clear that manufacturers must take responsibility for replacing defective fire doors as soon as possible."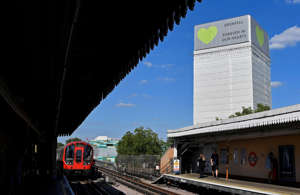 © Reuters The Grenfell Tower Inquiry is ongoing

Andrew Fowlds, chair of the Association of Composite Door Manufacturers, ACDM, which represents a number of manufacturers of composite fire doors in the UK, said a pilot scheme for identifying doors which do not comply with building standards will begin in June.
He added the industry was waiting for fire testing houses to decide the methodology for assessing doors, and until then composite doors could not claim compliance unless they had an independent assessment.
He said: "Until this situation is resolved no remediation work can take place.
Watch: 'There is a stench of complacency about the handling of Grenfell' (The Independent)
"The manufacturers of GRP composite fire doors will be able to resume supply as soon as the test houses formally respond and agree the methodology of assessment.
"We are some way off of agreement on who should pay for remediation. However, the ACDM continues to cooperate fully with the MHCLG and LGA to resolve the issue effectively and as quickly as possible."