Hunt for Madeleine McCann could be shelved within THREE WEEKS fear the missing girl's parents as funding runs out with no new leads to chase

Daily Mail
11/09/2018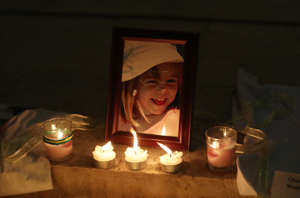 © PA Candles are placed next to a photo of Madeleine McCann inside the Church of Nossa Senhora da Luz in Praia Da Luz, Portugal, where a special service was held to mark the 10th anniversary of her disappearance. The parents of Madeleine McCann fear the costly police hunt into their daughter's disappearance could be shelved within three weeks by the new Home Secretary. 
As funding is set to run out at the end of this month it has been revealed that detectives have still failed to unearth any significant clues during their latest trips to Portugal. 
Maddie was snatched as a toddler from the family's holiday apartment in Praia da Luz in Portugal in May 2007.   
Download the all-new Microsoft News app – available now on iOS and Android
As yet no fresh request has yet been made for more money from the Home Office, as another 'D Day' looms for embattled Kate and Gerry.
A source close to the couple from Rothley, Leicestershire, said today: 'They have been here before. They simply have no idea if the search will abruptly come to an end or will carry on. It is a daunting prospect they face once more.' 
Police officers on the scaled down Operation Grange inquiry have secretly continued to visit the Algarve searching for possible clues to Maddie's whereabouts but are believed not to be any step closer to finding her abductor.
The source added: 'Kate and Gerry are grateful to the Metropolitan Police for everything they have done over the years and hope of course that the inquiry into their daughter's abduction will continue if more funds are requested and made available.'
© Provided by Associated Newspapers Limited As yet no fresh request has yet been made for more money from the Home Office, as yet another 'D Day' looms for embattled Kate and Gerry, pictured in 2011 The probe into Maddie's abduction was granted £150,000 more funding by the Home Office in March.
More than £11million has been spent so far on the probe to find the missing girl, who vanished 11-and-a-half years ago, and the investigation has repeatedly come under fire.   
Since being launched  in May 2011, officers have sifted (and translated) 40,000 documents produced by Portuguese police who conducted the initial investigation, and by the eight teams of private detectives who have worked on the case.
Some 600 'persons of interest' have been examined and 'sightings' of Madeleine — in Brazil, India, Morocco and Paraguay, on a German plane and in a New Zealand supermarket — assessed.  
The Portuguese investigation of Madeleine's disappearance was criticised by the British authorities as being not fit for purpose.
Detectives believe she was stolen by child traffickers, sex fiends or during a burglary gone wrong.
© PA A pink balloon outside apartment 5A on Rua Dr Agostinho da Silva in Praia Da Luz, Portugal, where Madeline McCann went missing from 10 years ago on May 3rd. In May, her parents posted a poignant tribute to mark their daughter's 15th birthday - telling her: 'We love you and we're waiting for you and we're never going to give up.' 

Gerry and his wife Kate wrote 'Happy 15th Birthday Madeleine!' on the official Find Madeleine Campaign Facebook page.
The message accompanied a cherished last photo of her as a three-year-old, smiling under a wide-brimmed sun hat and is posted alongside a green and yellow ribbon symbolising hope, strength and solidarity. 
Gallery: 20 famous cold cases that are still unsolved (Espresso)