Jacob Rees-Mogg boils over in live BBC interview after questions over his promotion of far-right German AfD leader

The Independent
03/04/2019
Tory MP Jacob Rees-Mogg lost his customary cool during a live BBC interview after being confronted over his promotion of a far-right German leader.
The anti-EU Conservative had prompted anger after approvingly quoting the leader of the AfD, senior figures from which have called for refugees to be shot.
Asked on the BBC's Today programme about his decision to shine attention on the AfD remarks, he replied: "Well I think this is typical of the BBC's obsession - dare I say it the Today programme obsession."
Related: Minister resigns over PM 'cooking up a Brexit deal with a Marxist'
Challenged again, he told the presenter Mishal Hussain: "Hold on. You must be patient, and not interrupt because the answer needs to be given properly. The BBC does have this obsession."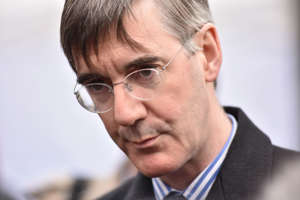 © Getty Referring to what he said was a "slur" made by another BBC presenter about the European Research Group, of which Mr Rees-Mogg chairs in the Conservative Party, he continued: "When I quote someone and it's not my view, that's a great shock, and that seems to be typical of the Today programme's leftie approach."
Jacob Rees-Moog utterly loses it with @MishalHusainBBC and @BBCr4today for her persistent questioning over his AfD tweets, branding it "an obsession" and "typical of its leftie approach".

— Tom Newton Dunn (@tnewtondunn) April 3, 2019
It follows widespread criticism of Mr Rees-Mogg last week, with the Labour MP David Lammy claiming he was "promoting Germany's overtly racist party", adding: "Our country's proudest moment was defeating the far-right.
"Now we are supposed to sit back while xenophobes, nativists, nationalists and isolationists do their best to tear Europe apart again. We must not let them win."
Leave vs Remain: Images of a divided nation (Photos)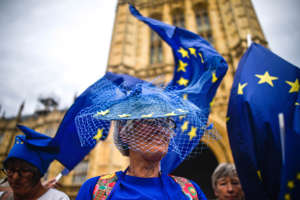 In the video the AfD leader goes on a rant about Germany's handling of Brexit stating: "The nonchalance, the indifference displayed by Brussels and Berlin [to Brexit] in the face of such an enormous event verges on a pathological denial of reality."
© Provided by Independent Digital News & Media Limited In a segment highlighted by the Tory MP, she says: "Is it any wonder the British see bad faith behind every manoeuvre in Brussels?"
Founded in 2013, the AfD has provoked outrage in Germany with its stance on race and religion, and came under heavy criticism last year for posters which called for "Islam-free schools".
In January this year, members of the far-right party also staged a walkout from the Bavarian parliament during a service remembering Holocaust victims.
The former head of Germany's Central Council of Jews Charlotte Knobloch had told MPs the AfD based its policies on "hate and marginalisation", and said the party had "downplayed the crimes of the Nazis and has close connections to the extreme right".
Speaking on LBC on Monday, Mr Rees-Mogg claimed he was "not supporting the AfD" and that his social media post was "just pointing out that there is something worth watching".
"I don't think retweeting is an endorsement of things that other people stand for, it's just pointing out that there's something interesting that's worth watching," he added.