Nature officials grant licences to shoot some of Britain's most endangered birds

Indy 100
17/12/2018
A special message from MSN:

While Christmas is a time of joy for most of us, that's not the case for the UK's most vulnerable children and young people. We've partnered with giving platform Benevity to raise funds for two charities - the NSPCC and The Children's Society – to try to help change that. You can help make a difference - please donate now.
Wildlife lovers are in uproar after officials in charge of nature-protection gave gun owners permission to shoot dead some of Britain's most treasured and rarest bird species.
Welsh conservation chiefs gave the go-ahead for the slaughter of dozens of breeds including kestrels, curlew, linnets, sparrows and fieldfares. More than 1,000 birds may have been killed under the permits.
The revelation comes days after nature fans posted furious objections over similar licences granted in England to kill thousands of endangered birds from dozens of breeds – ranging from skylarks and lapwings to rare species such as meadow pipits and oyster-catchers.
They also included garden favourites wrens, robins and bullfinches.
Many of the species are on the RSPB red and amber lists, meaning they are of the highest or critical conservation priority. They may be globally threatened with extinction, in severe decline or rare breeders.
Environmentalists condemned the decisions as "appalling", a "horror story" and "wanton, mindless destruction".
But officials said the permits were handed out for air safety, public health and safety and to prevent serious damage to livestock.
Natural England, which says it promotes nature conservation, issued permits over the past three years between 2015 and 2018 to shoot at least 40 species, including the skylark, blackbird, great tit, bullfinch, robin, wren, red kite, moorhen, mute swan, kestrel, peregrine falcon and golden plover.
Natural Resources Wales, which states that it "maintains and enhances biodiversity", issued 73 licences to kill at least 20 species, including the linnet, redwing, song thrush, mistle thrush, meadow pipit, lapwing and skylark.
It is not clear how many birds actually have been shot dead under the licences but the Welsh permits, covering January last year to September this year, allowed for as many as 2,348 individual creatures.
The figures came in response to requests under Freedom of Information laws, and were published by wildlife blogger Jason Endfield, whose readers were outraged by the revelations.
"One of the saddest statistics from the list is that of two licences to kill a total of 100 linnets for being a threat to air safety," he wrote.
Video: Critically Endangered Parrots Prepare to Board Plane for 'Assisted' Annual Migration (Storyful)
"While we all appreciate that ensuring the safety of air traffic is essential, one has to wonder whether permitting the extermination of 100 linnets is entirely necessary, or indeed appropriate, to maintain public welfare.
"One of the linnet licences resulted in no reported birds being taken but the outcome of the second licence, allowing for a further 50 birds to be killed, is not confirmed."
Linnets, long treasured because of their delicate song, are now globally threatened with extinction in their farmland habitats.
Although some licences ultimately resulted in no reported deaths, Mr Endfield said the actual number of species targeted is likely to be much higher because other species, such as ravens, would have come under licences not covered by the FOI request, which centred on endangered breeds.
Welsh conservation officers, who charge a £100 administration fee for issuing licences, gave permits to kill up to 617 herring gulls, 499 lesser black-backed gulls – mostly to "preserve public health or public or air safety" – and 1,022 starlings for reasons incluing preventing "serious damage to cattle feed".
"Another reason given as justification for culling both starlings and various species of gull was (bizarrely) to prevent 'serious damage to livestock' including chickens, cattle and lambs.
"How, one might ask, does a starling carry out serious damage to a cow?" wrote Mr Endfield.
He requested the information as part of a campaign to stop the cull of English ravens and says he discovered Natural England had allowed 60 ravens to be culled, with 45 actually being shot to date.
Gallery: Species that have gone extinct in our lifetime (Photos)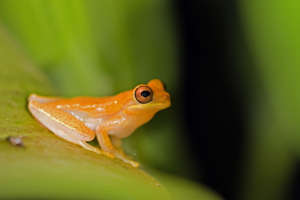 "The news that so many of our most treasured species of birds have been shot is appalling and fills me with dismay," he said.
"While the specific reason for each of the licences being issued is not known, can there be any justification for shooting a bullfinch? Or a wren, for heaven's sake?
"Who in their right mind requests permission to shoot a skylark? And for what possible reason?
"The long-term survival of our struggling birds appears to be in serious doubt while these public bodies are in charge of 'protecting' our precious wildlife.
"Unless this changes, we will surely see many more extinctions reminiscent of the passenger pigeon's infamous demise during the 19th century when a population of 5 billion was reduced to zero in a hundred years because humankind found reasons to 'control' these beautiful creatures.
"An urgent and widespread shift in attitude towards wildlife is needed.
"The issuing of licences to kill threatened birds – just because they are are in conflict with human activity – needs to stop. Otherwise, they will be gone. For ever."
Curlews, buzzards, red kites and peregrine falcons were permitted to be shot to preserve air safety; wrens, robins, blackbirds for public health or safety, and starlings and moorhens to protect agriculture.
Licences are issued for a limited time and specify a maximum number of birds to be killed. Licence-holders must report back within 14 days after the expiry of the licence.
Naturalist Mark Avery, former conservation chief of the RSPB, said some of the decisions seemed odd.
"It's hard to imagine a robin damaging livestock, for instance, and 40 curlews and 1,022 starlings in Wales seems a lot," he told The Independent.
He said although the culls were unlikely to threaten populations, lists of licences and the reasons behind them should be published annually so they can be scrutinised by the public. "More openness would make applicants more careful."
Natural England said licensing enables conservation work to take place such as the tracking and ringing of birds and the reintroduction of species such as corncrakes in Cambridgeshire and curl buntings in Cornwall.
Wales too..... Natural Resources Wales issued licences to kill more than 2,000 Red and Amber list birds, including Linnets, in less than 2 years... https://t.co/NTE5rM7KDn #NaturalResourcesWales #licencetocull #wildlife #environment #birds pic.twitter.com/CLmfppKugX

— Jason Endfield (@JasonEndfield) December 12, 2018
Larger birds can cause collisions as planes land or take off, potentially leading to very serious accidents, a spokeswoman insisted.

Some permits are given to prevent damage to livestock or agriculture or conserve plants or other wild birds.
James Diamond, of Natural England, said: "All wild birds are protected by law. However, for almost 40 years licences have been issued for bird control under the Wildlife and Countryside Act 1981 in certain circumstances, such as to protect the public.
"This could be where a bird is trapped in food preparation premises or is posing a threat of bird-strike at an airport.
"These licence applications are carefully considered by our experts – including our ornithologists where necessary – and are only granted when all other measures have been explored.
"The number of birds that may be killed is strictly limited and won't harm the conservation status of any species."
Natural Resources Wales said its duty was to "maintain and enhance biodiversity and build ecosystem resilience". 
Good grief, why shoot robins? Moorhens? Bullfinch? How on earth is this approved!

— Jean Haines (@JeanHaines) December 12, 2018
A spokesperson said: "We champion the environment of Wales, and work hard to provide opportunities for our precious birds to thrive.

"But on some occasions, and only when all other avenues of scaring or deterring have failed, we issue licenses to kill birds for specific purposes.
"In doing so we carefully balance the needs of conservation with other public interests such as protecting human health, public safety, minimising damage to crops and livestock and protecting fisheries.
"For example, we might issue a licence where birds have entered a food processing plant, creating a public health issue. Airports also apply for licences to shoot birds to reduce the risk of air strikes.
"It's vital to emphasise that, in every case, we only issue a licence as a last resort when all other methods have failed to resolve the problem.
"We are confident that all activities carried out under these licences do not affect the conservation status of any of our native species."