Putin opens bridge to Crimea, Russia's first road link with annexed peninsula

The Telegraph
15/05/2018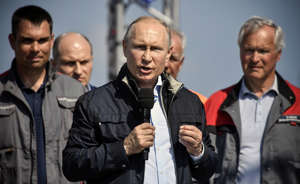 © Reuters Russian President Putin takes part in a ceremony opening a bridge, which was constructed to connect the Russian mainland with the Crimean Peninsula across the Kerch Strait Vladimir Putin has opened a bridge that will serve as Russia's only road link to Crimea, demonstrating Moscow's control over the annexed peninsula and easing its residents' isolation.
To christen the bridge, which at almost 12 miles is said to be the longest in Europe, Mr Putin got behind the wheel of an orange Kamaz, Russia's largest truck, and drove across to Crimea.
"I congratulate you on this historic holiday," the president told workers on live television at the other end. "It's historic because in different epochs, back in the times of our father the tsar, people dreamed about building this bridge. Finally thanks to your talent and work, this project, this wonder, has been completed."
Mr Putin added that the bridge would accommodate 14 million people a year, bringing Crimea and Russia "closer to each other" and allowing the peninsula to grow at a "new economic tempo". 
With almost 4 miles over open water, the bridge is one of Russia's most complex engineering projects. The four lanes of automobile traffic that open to the public on Wednesday will be joined next year by a railway, at a total cost of £2.7 billion. 
Mr Putin, whose approval ratings have remained above 80 per cent since the annexation of Crimea from Ukraine in 2014, personally oversaw the project. 
The bridge marks a symbolic victory for him and a popular move for Crimea, where residents largely supported annexation but have suffered high prices for food and goods after trade from Ukraine was cut off. 
A company belonging to Arkady Rotenberg, Mr Putin's childhood judo sparring partner, was tasked with completing the national prestige project. 
Putin is getting behind the wheel of a giant orange truck to drive across the newly opened bridge to Crimea pic.twitter.com/jkfLgBGch5

— Alec Luhn (@ASLuhn) May 15, 2018
Spanning the notoriously windy Kerch strait was not only a geopolitical victory, but also a feat of engineering. The Soviet bridge over the strait, which was built on the basis of construction begun by Nazi forces, had to be dismantled after it was damaged by ice in 1945.

The new bridge has 595 supports, and some of its piles run 350 feet deep. Up to 15,000 workers toiled for 27 months to complete it.
Its massive twin central arches were were built on shore and then moved into place by boats.
Previously, the main connection with Russia was a ferry over the stormy Kerch strait. Trucks will now be able to travel from the mainland to Crimea in 20 minutes, rather than waiting hours or even days for a spot on the ferry. 
State television claimed that the bridge would increase Crimea's GDP growth by two to three per cent and cut the price of goods for residents by up to 15 per cent. 
Crimean authorities have been drawing up new maps and preparing for a tourist influx that according to state estimates will reach 6.4 million in 2018. 
In broadcasts reminiscent of the propaganda around Soviet national building projects, state television trumpeted that the "project of the century" had been opened half a year ahead of schedule. 
Host Andrei Kondrashov, who interviewed Mr Putin in a fawning documentary released before he was re-elected in March, called the bridge "simply beautiful" and said the  workers "would have been awarded hero of labour orders in Soviet times".
"The logistic problems will be solved in a moment. Crimeans will immediately feel the effect of the bridge on their wallets," he gushed. 
Slideshow: These are some of the most incredible bridges in the world (EasyVoyage)