Sergei Skripal poisoning: Investigators 'know more' about substance used against Russian spy and daughter, Home Secretary says

The Independent
07/03/2018
© Provided by Independent Digital News & Media Limited Investigators may have identified the previously unknown substance used to attack a former Russian spy and his daughter as the investigation continues to widen.
After chairing a meeting of the Government's emergency Cobra committee, Amber Rudd said: "We do know more about the substance and the police will be making a further statement this afternoon in order to share some of that."
Also on MSN:
Hunt for 'blonde' woman seen on CCTV minutes before spy collapsed
Royal family 'could pull out of Russia 2018 World Cup if spy poisoning link proved'
'Traitors will kick the bucket': Putin's swore revenge on poisoned Russian spy
The Home Secretary would not comment on speculation that Sergei and Yulia Skripal were targeted by Russia, adding: "We've taken all the action necessary to ensure the public are safe and I'd like to reassure them."
Video - Sergei Skripal: What we know so far (PA)
Police have cordoned off a new area linked to the case at a business park in Amesbury, around a 20-minute drive from where they were found collapsed on a bench in Salisbury.
Investigators are still working inside a Zizzi restaurant and The Mill pub nearby, where the pair are believed to have eaten and drank before falling ill on Sunday.
They remain in a critical condition in intensive care as experts race to work out how they were poisoned and who by.
Cobra is normally convened in response to terror attacks or crises that have major implications for Britain. It came after an angry response from the Russian government over threats of sanctions if it is implicated in the attack.
The Russian foreign ministry said allegations were being used to "whip up an anti-Russian campaign" in Britain, amid comparisons to the assassination of former Russian spy Alexander Litvinenko.
He was poisoned using radioactive polonium put in a cup of tea in 2006, but the substance used against Mr Skripal and his 33-year-old daughter has not been publicly named.
The chilling dossier of mysterious deaths on British soil that American spies blame on the Russians
Salisbury MP and city minister John Glen suggested the secretive and controversial Defence Science and Technology Laboratory in Porton Down, where chemical warfare agents including the nerve agent VX were developed, is involved in examinations.
"Fortunately just down the road in my constituency at Porton Down Defence Science and Technology labs exists and they will have taken the substance and will be trying to evaluate what they can, no doubt," he told the BBC.
Mr Skripal, 66, and his daughter were found unconscious on a bench in Salisbury's Maltings shopping centre at 4.15pm on Sunday. Witnesses described them vomiting, twitching and being "slumped" together, while several members of the emergency services who helped them also fell ill and a quarantine was put in place in A&E.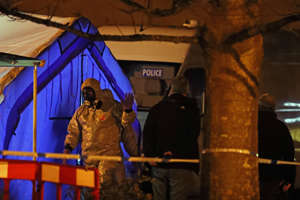 Police said the pair are still in a critical condition in Salisbury District Hospital as the investigation continues.
Part of Solstice Park in Amesbury, which houses an ambulance station alongside restaurants and shops, has been cordoned off "as a precautionary measure".
After reviewing CCTV showing Mr Skripal and his daughter's movements, officers are appealing for anyone who visited The Maltings shopping district, Zizzi restaurant on Castle Street and The Mill pub on Sunday afternoon to come forward.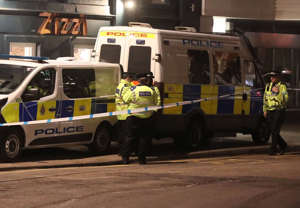 Assistant Commissioner Mark Rowley, the outgoing head of Counter Terrorism Policing, said: "The two people taken ill were in Salisbury centre from around 1.30pm. Did you see anything out of the ordinary? It may be that at the time, nothing appeared out of place or untoward but with what you now know, you remember something that might be of significance.
Wife of poisoned Alexander Litvinenko says former spy 'must have thought he was safe'
"Your memory of that afternoon and your movements alone could help us with missing pieces of the investigation. The weather was poor that day so there were not as many people out and about. Every statement we can take is important."
Counter-terror police have taken the lead on the investigation from Wiltshire Police because of their expertise and capacity, but the local force said it continued to work with Public Health England, the local NHS trust and local authorities while doing reassurance patrols in Salisbury.
Both Zizzi and the Mill remained closed on Wednesday after teams in protective suits and masks were seen working overnight.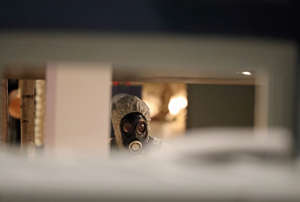 Olly Field, 30, saw Mr Skripal and his daughter on the bench after leaving a nearby gym around the time police were called at 4.15pm on Sunday.
"There was some blonde bird laying on an old man's shoulder doing this hand thing in the air," he added.
"I just thought they were strung-out on heroin. There's all sorts of homeless running around so I didn't think too much of it."
Experts told The Independent that their reported symptoms match those caused by toxins including ricin, sarin and the synthetic opiod fentanyl, which has caused numerous deaths after being mixed with heroin in the UK and US.
Suspicion has turned to the Russian government, which jailed Mr Skripal for "treason" in 2006, or former spies he betrayed while working for MI6 during his time a colonel in the GRU military intelligence service. He was given refuge in Britain after being exchanged in 2010 for Russian agents caught in the West as part of a Cold War-style swap in Vienna.
Boris Johnson, the Foreign Secretary, told MPs that although no culprit has yet been found, if suspicions of Russian state involvement are proven, "this Government will take whatever measures we deem necessary to protect the lives of people in this country, our values and our freedoms".
Branding Vladimir Putin's government a "malign and disruptive force", Mr Johnson said harsher international sanctions could be imposed if it is found to have had a hand in the attack on Mr Skripal.
The Russian Embassy characterised the reaction as "a new phase of the anti-Russian campaign" in Britain and denied involvement by the Kremlin's security services.
"Police or other British authorities have not provided the Embassy with any official information regarding this incident," a spokesperson said. "Media reports create an impression of a planned operation by the Russian special services, which is completely untrue."
Mr Skripal appears to have lived a quiet life in a semi-detached home in Salisbury, where he lived with his wife before she died aged 59 in 2012. His brother died in recent years and Mr Skripal's son, Alexander, then passed away suddenly aged 44 while in St Petersburg last year, leaving Yulia his only living child.
Liudmila Skripal's cause of death was given as endometrial cancer on the certificate, while Mr Skripal's cleaner told journalists Alexander died of liver failure.
Police are reconsidering their deaths in light of Sunday's attack, The Times reported.
Ms Skripal lived with her parents in Wiltshire after the 2011 spy swap and worked at a Holiday Inn in Southampton in 2014, according her Facebook profile.
She moved back to Moscow and started working for PepsiCo Russia, according to the page, which features a photograph of Salisbury's skyline viewed from the countryside.