Shamima Begum latest: Jeremy Corbyn says ISIS bride must receive 'support' and be brought back to the UK

Evening Standard
21/02/2019
Watch: Jeremy Corbyn says IS bride should be brought home (Evening Standard)
Jeremy Corbyn has said ISIS bride Shamima Begum must be brought back to the UK where she should receive state "support".
It comes after Home Secretary Sajid Javid took the decision to strip the 19-year-old of her British citizenship.
Begum fled the UK at the age of 15 to go and support the terror group in Syria.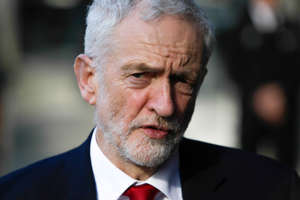 Mr Corbyn told ITV News on Thursday: "Because she was born in Britain she has that right to remain in Britain and obviously there are a lot of questions she has to answer but also some support that she needs.
"She has a right to return to Britain, on that return she must obviously face a lot of questions about everything she has done and at that point any action may or may not be taken.
"I think the idea of stripping somebody of their citizenship when they were born in Britain is a very extreme manoeuvre."
© Provided by Local News RSS EN-GB Shamima Begum has had her British citizenship revoked It came as Philippe Sands QC, an international human rights barrister from London's Matrix chambers, said that it appeared "crystal clear" that Ms Begum had been made stateless by Mr Javid's actions and did not hold Bangladeshi citizenship as the Home Office claimed.
Mr Sands said the case was a "humongous mess" and called on Mr Javid to reveal exactly who had given him the legal advice that Ms Begum's British citizenship could be lawfully removed.
Bangladesh's ministry of foreign affairs said on Wednesday she is not a Bangladeshi citizen and that she will not be allowed into the country.
Watch: Begum reads Home Office letter (Independent)
This came only hours after Mr Javid had appeared before MPs to defend his decision to strip Ms Begum, who left in February 2015 with two other Bethnal Green schoolgirls to live in Syria and marry Islamic State fighters, of her British citizenship.
The grounds are understood to be that her Bangladeshi parentage makes her a citizen of that country.
Today, however, Mr Sands insisted that Ms Begum had been made stateless in a breach of the law as he questioned whether Mr Javid had gained the approval of either Foreign Office lawyers or the "first class" Attorney General Geoffrey Cox QC before taking his decision.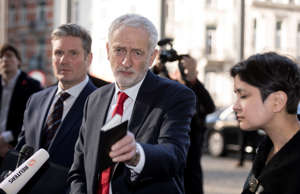 © Getty Jeremy Corbyn speaks to the media in Brussels
Mr Sands said: "The real question is one of fact and law: was she by this act going to be made stateless and the answer to that seems crystal clear.
"She may be entitled to apply for Bangladeshi nationality but presently she does not appear to have Bangladeshi nationality and there's a cardinal distinction between the two. So that raises a question: who on earth gave this advice?"
"Making a person stateless has huge consequences and we should not be playing around with people's futures, however difficult, unfortunate and even horrible are some of the things this young woman has said in recent days.
"It's very hard not to conclude that at the date the decision was taken, this individual had a single nationality. It's a humungous mess and frankly it is completely incompetent."
Mr Javid's decision to remove her nationality means that Ms Begum, who has just given birth to a boy in the Syrian refugee camp where she is living, will be unable to return to this country unless she wins a court battle to overturn the Home Secretary's order.
She has 28 days to lodge an initial appeal. If she does the case is expected to take as long as two years, meaning that she appears likely to be stranded in Syria at least until then.
Gallery: The Beckhams at LFW and other top pictures of the week (Photos)