Voter ID: Government announces plan to prevent UK citizens voting without photographic proof of identity at polling stations

The Independent
14/10/2019
The government has announced plans to prevent people from voting unless they can provide photographic identification, prompting accusations it is attempting to "rig the next election".
Under plans unveiled in the Queen's Speech, Boris Johnson's Conservatives will require voters to produce photographic ID at the ballot box for parliamentary elections and English local elections, in what critics have called a "dangerous and undemocratic" reform.
A trial of the scheme in local elections this year saw 800 people reportedly turned away from polling stations, leading Labour to urge the policy be "abandoned immediately". On Monday, shadow voting minister Cat Smith claimed the announcement was a "blatant attempt by the Tories to rig the result of the next general election".
LIVE: Queen's speech debate and fallout
© Provided by Independent Digital News & Media Limited Voter ID, intended to "tackle electoral fraud and protect our democracy", is among a number of electoral changes the government is seeking to introduce. Under the scheme, anyone who does not have photographic ID will be able to apply for a free document proving their identity.
But Darren Hughes, of the Electoral Reform Society (ERS), said "these plans will leave tens of thousands of legitimate voters voiceless".
In a statement, he said: "Ministers should focus on combating the real threats to our democracy, rather than suppressing voters' rights.
"When millions of people lack photo ID, these mooted plans risk raising the drawbridge to huge numbers of marginalised voters, including many elderly and black and minority ethnic voters."
On Twitter, the ERS called the voter ID "dangerous and undemocratic".
Another campaigner, Clare Collier from the Liberty charity, claimed that "the government has grossly inflated the risk of electoral fraud as an excuse to usher in ever-greater surveillance".
And Toby James, head of politics at the University of East Anglia, told The Independent that "electoral fraud, or suspicions of electoral fraud, are exceptionally rare".
Related: Boris Johnson - career in pictures (Photos)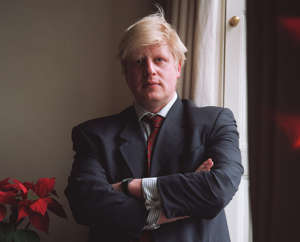 He said: "That [has been] a very consistent picture across all of our studies. The problem that occurs instead is people turning up wanting to vote but finding their name isn't on the electoral register."
"There is no evidence, really, to justify the introduction of voter ID requirements," Professor James added. "The problems are elsewhere. There's a very significant risk that this is going to lead to people not being able to vote."
In trials of such schemes, people have refused on principle to hand over their driving licence or passport, displaying a "philosophical resistance" to the idea, Prof James said.
© Getty The director of Age UK, Caroline Abrahams, said Mr Johnson's move towards voter ID was "crazy". In a statement, she told The Independent: "Many older people do not have any photographic ID so we sincerely hope the government is not going to legislate so this becomes a requirement before anyone is allowed to vote.
"It would risk disenfranchising millions of older people, among others, and so on the face of it seems a crazy idea to propose."
In 2017, a University of California study found that strict voter ID laws in the US tended to "skew democracy in favour of whites and those on the political right".
The Independent has contacted the Cabinet Office for comment, details on whether the new rules will be introduced through a bill or secondary legislation and about when the government hopes they will be in place.
Government briefings to right-wing newspapers over the weekend featured a proposed title for the legislation, the Electoral Integrity Bill, although there was no reference to it being a bill in details of the Queen's Speech released on Monday.
In a briefing note circulated in advance of the Queen's Speech, the government said its move was based on a 2016 review of elections by Eric Pickles.
In additional plans introduced on Monday, campaigners are to be banned from handling postal votes and a limit imposed on how many postal votes one person can hand in. Postal voters will be required to re-register every three years.
People will only be allowed to vote by proxy for two other electors at most, regardless of their relationship, while ministers will also try to make voting easier for people with disabilities.
Meanwhile, an "imprints regime" will be created to police online election material to "make it clearer to the electorate who has produced and promoted" it – following widespread controversy over the use of social media for targeted campaigns. In a related move, ministers will consult on measures to protect elections from foreign interference.
MSN UK is committed to Empowering the Planet and taking urgent action to protect our environment. We're supporting Friends of the Earth to help solve the climate crisis - please give generously here or find out more about our campaign here.