Westminster terror attack victim Aysha Frade was looking at phone 'completely unaware' of Khalid Masood's rampage, inquest hears

Evening Standard
12/09/2018
Mother-of-two Aysha Frade was looking at her phone and was "completely unaware" that terrorist Khalid Masood's hire car was about to mow her down during the Westminster attack , an inquest heard today.
Mrs Frade, 44, who worked at a nearby sixth-form college, was on her way to collect her children from school on March 22 last year. She had her back to the Hyundai Tucson when she was hit and thrown under the rear side of a bus on Westminster Bridge.
Download the all-new Microsoft News app – available now on iOS and Android
Today the inquest heard Mrs Frade had no idea what was about to happen, even though Masood had already hit five people, killing two of them.

Detective Constable Simon Osland took the Old Bailey through a video compilation of CCTV clips of Mrs Frade's final moments. Members of her family sat looking down in Court One as the footage was shown.
Gareth Patterson QC, representing her family, asked Dc Osland: "Having been focused on her phone it's clear, isn't it, that at no stage do you see Aysha turning round or doing anything else, any movement to suggest that she heard the car or was aware of what was going to happen?"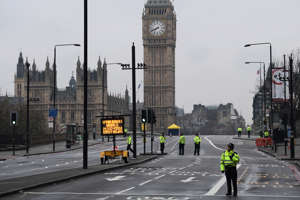 © Getty LONDON, ENGLAND - MARCH 23: Police officers stand on Westminster Bridge as it is closed following yesterday's attack. on March 23, 2017 in London, England. Four people have been killed and around 40 people injured following yesterday's attack by the Houses of Parliament in Westminster. (Photo by Carl Court/Getty Images) The officer replied: "She seemed completely unaware." Masood was driving at an average of 31mph when he deliberately knocked down Kurt Cochran, 54, Leslie Rhodes, 75, Mrs Frade and Andreea Cristea, 31, on Westminster Bridge before stabbing Pc Keith Palmer to death at the gates to the Palace of Westminster.

Video: CCTV Shows Westminster Attack Victim's Final Moments ( Newsweek)
Mr Patterson said there was hair on Masood's car, suggesting that Mrs Frade hit her head on the windscreen. She was then thrown into the road, with the number 53 bus braking, coming to a halt in five seconds. He said a pathologist had told him that she would have died instantly.
Bus passenger Rob English picked up Mrs Frade's phone from the road, and answered a call from her husband John. Mr English told him there had been a terrible accident and advised him to get to the bridge.