With 131,000 homeless children in Britain, only charities can help our most vulnerable families

The Independent
13/12/2018
Editor's note: The opinions in this article are the author's, as published by our content partner, and do not represent the views of MSN or Microsoft.
"A good day to bury bad news" is an infamous expression. Recently, though we have had "a bad day to bury good news", so to speak. On Monday, as everyone was understandably shocked and bewildered by the latest twists in the Brexit saga, the Government published its Rough Sleeping Delivery Plan. It received relatively little coverage, it is fair to say.
Yet it is good news, outlining as it does how the government will spend the £100m they have allocated to dealing with the issue. The aim remains to halve rough sleeping by 2022 and end it by 2027. The plan "includes a range of commitments, intended both to help those who are sleeping on our streets or currently at risk of doing so, and to lay the foundations for a system focused on prevention, early intervention, and a rapid rehousing approach to recovery."
Download the Microsoft News app for your Android or iPhone device and get news & live updates on the go.
Related: More than 24,000 will sleep rough this Christmas (HuffPost UK)
Whatever any government of any party does, there is always room for more, and for voluntary action to help combat homelessness. The need is great. According to Shelter, one in every 103 children in the UK will be homeless this Christmas: A total of 131,000 children are now estimated to be homeless — around 50,000 more than five years ago. Compared with the end of 2017, 3,000 more children are believed to be homeless — as well as the small number of children sleeping rough, this also includes those living in insecure temporary accommodation.
Charities have a part to play in ameliorating this situation, though they can never do as much as governments and local authorities. The further good news is that some innovative charities are indeed doing what they can. StreetSmart is one, where modest donations – £1 per head – levied from diners in restaurants go towards helping those less fortunate.
From a few restaurants in London, StreetSmart has gone national and raised more than £8.8 million over the last 21 years. As all of the operational costs are covered by Deutsche Bank every penny of every pound goes direct to helping those in need – 600 eateries now participate, and all are welcome to come forward.
© Provided by Independent Digital News & Media Limited brixtonsoupkitchen.jpeg The recent Shelter report suggests states that there are at least 320,000 individuals which are homeless across the UK; something desperately needs to be done. Shelter says 1 in 200 people are homeless. Read that back and take a moment to let it sink in: 1 in 200 people actually having no home and being out there on the streets or in temporary accommodation such as hostels and night shelters, it really brings it home and makes the need for something to be done, feel very pressing and urgent.
This is such a truly shocking figure that shouldn't be acceptable in a modern and civilised society such as ours, and not enough is being done to tackle this problem. We must do a lot more. Hence the need for charities such as StreetSmart.
All money raised by the StreetSmart campaign stays local and supports homeless people in the community. About 60 grass-roots projects across the UK are funded by the StreetSmart campaign each year.
One such charity that benefits is Brixton Soup Kitchen. Solomon Smith and Mahamed Hashi were the founders of Brixton Soup Kitchen.
Smith and Hashi, both born in Brixton, were initially sceptical about StreetSmart's involvement, fearing it was just another empty promise of support.
"My first thought was 'not another one' – as we'd had so many empty offers. But Glenn (director of StreetSmart) seemed different. He asked us: 'What do you need'," says Smith. We didn't believe it when the first £5,000 cheque arrived and we were able to purchase a van for the kitchen."
Of particular importance is the relationship between StreetSmart and Glass Door, which is London's largest winter night shelter. They are a safe space for homeless people at this time of year when the temperatures drop and it can be freezing outside.
They provide more than130 bed spaces a night; by doing so they are literally saving lives every day. StreetSmart has supported Glass Door for fifteen years. The shelter runs every Sunday during November to April and is made up of a network of fourteen churches, all of which will be under increasing demand as the weather plummets in the upcoming weeks.
Alicia Feetham at Glass Door, says: "StreetSmart means we can open our doors to more people who have nowhere else to turn. Thanks to their support, 15 homeless people will have a safe and welcoming place to sleep for a month this Christmas.
"StreetSmart's partnership is so valuable. People enjoying a meal with loved ones can donate, in turn meaning people can go to a Glass Door shelter and enjoy a meal with others. A simple act that can mean so much when you're alone and living in crisis."
High-profile supporters of StreetSmart include Harrods, SohoHouse, Cecconi's, Kettner's Townhouse, Dean Street Townhouse, High Road Brasserie, Electric Diner and Cafe Boheme. Their bosses are behind the campaigns. Carole Bamford, founder of Daylesford Organic has agreed to match whatever amount Daylesford customers raise for Streetsmart.
Another example is new "recruit" the Patty&Bun restaurants. Taking part for the first time in November alone they raised £9,765. They say: "We've loved being a part of StreetSmart alongside The Felix Project these last four weeks, staff and customers alike have really taken it to another level. It's such a wonderful charity, and we're hoping the relationship will continue into 2019 and beyond." (The Felix Project is a charity that collects surplus food from a range of suppliers and redistributes it to those in need).
Tom Collins, UK Director of Soho House adds: "We're really happy to be supporting The Felix Project again this year by joining the Streetsmart family of restaurants, homelessness in London is a cause that's close to our hearts, and this is part of a series of things we'll be doing to try and make a small difference."
The StreetSmart campaign is live now, and is looking for more participating restaurants – and for diners to visit the ones who are taking part. For a full list see: streetsmart.org.uk/restaurants.
Gallery: Best images of 2018 (Photos)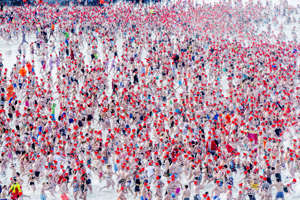 Marcus Roberts is a volunteer ambassador at The Felix Project