Air Force Captain Found 35 Years After Disappearing

Newsweek
11/06/2018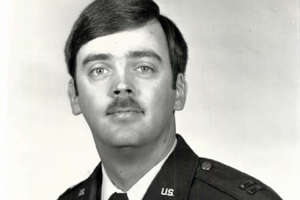 The Air Force Office of Special Investigations has said that a fugitive captain has been apprehended in California after being declared a deserter almost 35 years ago.
Capt. William Howard Hughes, Jr. was apprehended at his home in California without incident and is now awaiting pre-trial confinement, the OSI said.
According to a news release, Hughes admitted his identity during an interview with the U.S. Department of State's Diplomatic Security Service as part of a passport fraud investigation. Hughes had been claiming to be an individual named Barry O'Beirne but admitted that he was actually named William Howard Hughes, Jr. and that he had deserted the air force, the OSI said.
Hughes was last seen the New Mexico area withdrawing $28,500 from 19 separate banks. In July 1983, Hughes had been assigned to temporary duty in the Netherlands to work with NATO officers "on the operations of Airborne Warning and Control electronic surveillance aircraft" but never resurfaced after leaving for Europe.
He had been scheduled to return to the Kirtland Air Force Base in Albuquerque, New Mexico on August 1. He was officially declared a deserter by the Air Force on December 9 of that year.

According to the OSI, Hughes had "Top Secret / Single Scope Background Investigation clearance" at the time of his disappearance with access with U.S. Secret and NATO Secret information.
The Albuquerque Journal reported that in 1984, the Pentagon had said that though he had top secret clearance, he did not have clearance that could "compromise national security." An OSI spokesperson told the newspaper that there was no indication Hughes had given away any classified information.
Checks with law enforcement around the U.S. and abroad, alongside interviews with those who knew Hughes, did not provide enough information for the Air Force to find him at the time.
Hughes has claimed that he was depressed about his time in the Air Force and so decided to leave. Hughes was single when he disappeared and said he had lived in California as O'Beirne since.
His family did not appear to know about his disappearance with the Albuquerque Journal reporting that his sisters said at the time that they thought he might have been abducted. The family have now been notified.