Donald Trump would deport Melania if she divorced him, claims Omarosa

The Independent
19/08/2018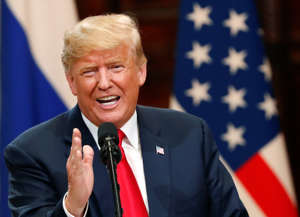 © reuters Former White House aide Omarosa Manigault Newman has claimed Donald Trump would find a way to deport his wife from America if she were to leave him. Former White House aide Omarosa Manigault Newman has claimed Donald Trump would find a way to deport his wife from America if she were to leave him.

In her new tell-all memoir of her time in the White House, Ms Manigault Newman claimed Mr Trump would find a way to invalidate Melania Trump's citizenship if she were to cause him "the ultimate humiliation".
According to The Mercury News, she argues the US president would find a way to deport Ms Trump to her native country of Slovenia if she chose to leave him during his presidency.
"Since Donald is fully aware of however she acquired her permanent citizenship, he could, if there were anything fishy around it, expose the methods and somehow invalidate it," Ms Manigault Newman wrote.
"He is a vindictive man, and I would not put anything past him."
Related: Omarosa Manigault: 'Trump Is Not Capable To Fulfil His Duties As President Of United States' (IBT)

The first lady reportedly got a green card via a programme specifically for people with "extraordinary ability", known as the elite EB-1 program or the "Einstein visa". The former fashion model became a US citizen in 2006.
The program is targeted to people like academic researchers, multinational business execs, and those with ongoing national and international acclaim.
"If Melania were to try to pull the ultimate humiliation and leave him while he's in office, he would find a way to punish her," Ms Manigault Newman wrote.
"This is a man who has said he could pardon himself from the Mueller investigation. Why not pardon himself over an alleged visa payoff?"
© REUTERS/Lucy Nicholson U.S. President Donald Trump and first lady Melania Trump dance while attending the Inauguration Freedom Ball in Washington, U.S.. Citizens can be "de-naturalized" and deported if they falsify or conceal significant information or will not testify before Congress.
In the last two months, the Trump administration began looking into removing citizenship from naturalized citizens who may have gained it by cheating or lying.
Ms Trump's spokesperson, Stephanie Grisham, responded earlier this week to claims in Ms Manigault Newman's book that Ms Trump could not wait for her husband's presidency to be over in order to divorce him.
Ms Grisham said the two women "rarely, if ever, interacted" during Ms Manigault Newman's time at the White House.
"It's disappointing to her that she is lashing out and retaliating in such a self-serving way, especially after all the opportunities given to her by the president," Ms Grisham said.

On the campaign trail, Mr Trump said his wife entered America legally and vowed she would hold a press conference to address accusations that she entered illegally but it never took place. Ms Trump herself has yet to address the issue.
Last week Mr Trump sparked outrage for calling Ms Manigault Newman a "dog" and a "crying lowlife" in a Twitter tirade.
His attack on her signified a step-up after days of ferocious attacks ahead of the release of her book Unhinged.
The book includes a gamut of explosive allegations, including suggestions that there are recordings of the president using the n-word during recordings of The Apprentice. Ms Manigault Newman came to fame as a contestant on the reality TV show before the president invited her to work in the White House.
"When you give a crazed, crying lowlife a break, and give her a job at the White House, I guess it just didn't work out," Mr Trump tweeted. "Good work by General Kelly for quickly firing that dog!"
Related slideshow: Donald Trump's most outrageous quotes