England fans clash with Portuguese riot police in Porto ahead of Nations League game

Evening Standard
05/06/2019
Trouble has flared in Porto after England fans clashed with baton-wielding riot police during the Nations League semi-final.
Footage posted on social media showed officers chasing England supporters who were watching the game between Portugal and Switzerland at a fan zone in the city centre.
Eyewitnesses claimed fans wearing England shirts - who are in the Portuguese coastal city ahead of England's game on Thursday - had launched drinks and bottles when Portugal scored.
In footage shared on Twitter, several objects can be seen flying through the air in the direction of the police, who then charge towards the fans carrying riot shields.
As the men were chased away, some of those watching the screening cheered and made swearing gestures at the fans.
Police later condemned the behaviour as "completely unacceptable".
Thousands of fans have made the journey to Porto ahead of England's UEFA Nations League semi-final match against the Netherlands on Thursday.
The game is taking place 35 miles away in the city of Guimarães.
The fan zone was reportedly cleared following the clashes, although disturbances continued later in a city centre square.
Will Burns, 36, from Wimbledon, who is attending the England game on Thursday, said he was "embarrassed" by the scenes in Porto.
He told the Standard: "Portugal scored and then England fans started throwing drinks followed by bottles.
"All the Portuguese families started running away, carrying their crying children. While England fans sang 'England 'til I die'."
He added: "Embarrassing to be English.
"We felt really angry and embarrassed. We are guests in this country and to see Portuguese families running away in their own city was horrible."
BT Sport football presenter Jake Humphrey also waded in, tweeting: "Stop. Embarrassing. Our. Country."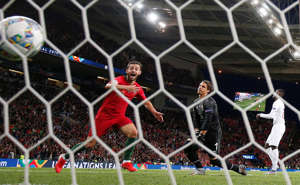 An England fan, who did not want to be named, added: "When I arrived at the square I saw England fans throwing bottles at the police, they responded by charging at the fans.
"A couple of bystanders were injured, including an old man who had a heavy cut to his forehead
"Police responded aggressively, but they were definitely reacting to being targeted by projectiles."
Matt Brown, who is in Portugal to watch England play, said he saw three police guards in a stand-off with a group of England fans.
The 26-year-old from Cardiff said: "The bottles were flying and glass was obviously smashing on the floor. They weren't being thrown with any precision."
UK police later condemned the "completely unacceptable" clashes.
Deputy Chief Constable Mark Roberts, National Police Chiefs' Council Football Policing lead, said: "This is the second evening in a row where disorder has occurred in Porto.
"Last night there were issues outside a bar, where bottles were thrown and minor damage was caused.
"It is completely unacceptable."
He added: "The behaviour of a small number of the England fans out here continues to tarnish the reputation of the genuine fans who are simply trying to enjoy the football."
However, one England fan account claimed Portuguese police were pepper spraying people "for no reason".
The trouble comes less than a week after the English Football Association called on England fans to behave themselves in Portugal, releasing a video to highlight the issue of anti-social behaviour.
The video, entitled "Don't Be That Idiot", acts out extreme examples of unacceptable behaviour but within a formal setting to emphasise the embarrassment caused. It ends with England manager Gareth Southgate saying: 'You're part of our team, make the country proud'.
MSN are empowering Women In Sport this summer. Find out more about our campaign and the charity fighting to promote the transformational and lifelong rewards of exercise for women and girls in the UK here.