From a teenager strangled to death with her stockings to a mutilated mother wrapped in carpet: The dark history of forest where murdered British backpacker was dumped

Daily Mail
10/12/2018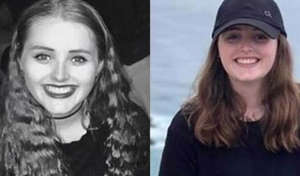 © PA Undated handout file photos issued by Auckland City Police of Grace Millane, 22 The forest where a murdered British backpacker's corpse was found has a dark history.
The body of 22-year-old Grace Millane was found by police in the Waitakere Ranges Regional Park, south-west of Auckland, on Sunday afternoon.
Her body was found shrouded in bushes and shrubs about ten metres from the road.
Download the all-new Microsoft News app to receive up-to-the minute news from the world's best sources – available now on iOS and Android
But in an eerie coincidence, it's the same stretch of road where an unsolved murder took place more than 40 years ago.
Auckland teenager Tracey Ann Patient died in 1976.
Ms Patient, a 13-year-old at the time of her death, was found strangled with her own stockings.
She was last seen on the evening of January 29, when she said goodbye to her sister Debbie on her way to a friend's house. 
She never made it.
'When she said "bye" - she was just walking up the road just slightly behind me, and I never turned around, I just went "oh, ok bye, see you later" and went off,' Debbie said in a video released by police to signify the 40 year anniversary of the murder in 2016.
The next morning, her father broke the news to Debbie and her younger sister Denise.
'Denise was on my lap and Dad came home. You could see he was really upset and Denise said: "When's Tracey coming home?" and my dad said: "She's not".'
More recently, the mutilated body of single mother Karen Stanley-Hunt was found in the bushland of Waitakere Ranges in 1998.
Her killer had battered her over the head with a crowbar six times, before bundling her in a carpet and dumping her corpse.
Her murderer was found guilty two years after the killing, turning out to be close friend Dean Wilson Phillips. 
It took the jury in the High Court at Auckland only eight hours to deliberate on a guilty verdict when Phillips was sentenced to life behind bars in 2000.
Crown prosecutor Aaron Perkins told the jury Phillips had played a 'cruel and callous deceit' on Ms Stanley-Hunt's family, according to the New Zealand Herald.
Two decades later, another death has been uncovered in the Waitakere Ranges, with police finding the remains of Ms Millane.
As police set up makeshift headquarters only metres from where the grim discovery was made, well-wishers laid wreaths of flowers on the ground.
A banner with a bright, red heart flaps in the wind, emblazoned with the words: 'Rest in peace, Grace.'
Locals are still shocked a day on from the finding, her body dumped more than 30km from where she was last seen alive.
Even still, the nature reserve is more than 10km from the nearest town. But the few who call the ranges their home took time out of the last two days to pay their respects.
A 26-year-old man appeared in court on Monday charged with Millane's murder. He was granted interim name suppression at the Auckland District Court.
TIMELINE OF MISSING BACKPACKER MURDER PROBE
November 20: Grace Millane arrives in New Zealand from Peru. She had been in nearly daily contact with her family.
November 30: Ms Millane posts her last tweet saying 'I think travelling has changed me I just brought some blue jeans.'
December 1: Ms Millane is seen at the CityLife Hotel, in Auckland, with a 'male companion'
December 2: The 22-year-old's birthday. Her family do not hear anything from her, which is unusual behaviour. Just before noon: A red Toyota Corolla hatchback is hired from a central Auckland rental firm
Video: New Zealand PM fights back tears as she issues apology to family of murdered Grace Millane (The Independent)
December 5: Her worried family file a missing persons report and pictured of Ms Millane are shared extensively online
December 6: Police release an image of Grace Millane leaving the hostel at 7.15pm on December 1
December 7:  Police said they had received dozens of calls to a hotline and more than 25 staff were working on the case, trawling through hours of CCTV footage to trace her movements
After arriving in Auckland her father, David Millane, makes an emotional plea for help finding his daughter. Police reveal they have spoken to the male companion and he is a person of interest. The man was not taken into custody and police said there was no evidence of foul play
December 8:  A 26-year-old man is taken into custody at a central Auckland address by police
December 9: Police announce they are searching an area on Scenic Drive, near the Waitakere Reservoir shortly after 4pm: Police find a body they believe to be Ms Millane in vegetation around 10m from the road
December 10: A 26-year-old man is charged with her murder and is granted an interim name suppression order