Gilets jaunes protesters 'destroy over half of speed cameras' in France

Indy 100
10/01/2019
Yellow vest activists have reportedly destroyed over half of France's speed cameras in protest against speed limits introduced last year.
Up to 65 per cent of the cameras have been smashed, set ablaze, blown up, painted or covered with the jackets, The Times reports.
The attacks began when president Emmanuel Macron's government cut the speed limit on country roads from 90kmph to 80kmph in July.
Attacks on the roadside cameras increased along with the rise of the "gilets jaunes" protest movement.
Watch: Police deploy water cannons and rubber bullets as gilets jaunes activists burn cars in Paris
In December, 250 of France's 3,275 speed cameras had been damaged beyond repair and 1,500 had been vandalised to the extent they no longer worked, The Local reported.
It could cost tens of millions of euros to repair the cameras and the state will lose money from the speeding fines it was forecast to make.
Related: The French gilets jaunes protesters, in pictures (Photos)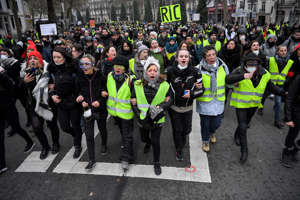 Around a dozen vandals have been identified by police.
Download the Microsoft News app for your Android or iPhone device and get news & live updates on the go.
Vandalising speed cameras is a crime in France and culprits could be fined up to £90,000 (€100,000) or face up to seven years in prison.
It comes as yellow vest protesters urged citizens to empty their bank accounts and spark a massive run on French banks.
Activists are issuing calls on social media for massive cash withdrawals from banks ahead of a ninth weekend in a row of planned protesters in Paris and across the country.
Protesters hope the move will force the government to listen to their demands, notably their call for more direct democracy through the implementation of popular votes to allow citizens to propose new laws.
Around 80,000 police will be mobilised next Saturday, French prime minister Edouard Philippe announced, after violent clashes hit Paris for the eighth weekend running last week.
He also said the government wants to sanction demonstrators who do not officially register their protests.