Huawei: China calls US charges 'immoral' as markets slide

The Guardian
29/01/2019
A special message from MSN:

The UK's most vulnerable children and young people face unimaginable challenges. We've partnered with giving platform Benevity to raise funds for two charities - the NSPCC and The Children's Society – to try to help turn things around for them. You can help make a difference - please donate now.
China has blasted the US government's indictments against Huawei as "unfair and immoral" after the Chinese telecommunications giant was charged with a series of alleged offences on Monday, in an escalation of hostilities between the world's biggest economic powers.
The US justice department charged Huawei and its chief financial officer, Meng Wanzhou, with conspiring to violate sanctions on Iran by doing business with Tehran through a subsidiary it tried to hide. Separately, it said Huawei also stole robotic technology from the US carrier T-Mobile.
In China's first official reaction to the charges, Wen Ku, a senior official at the ministry of industry and information technology, told reporters in Beijing on Tuesday the indictments were "unfair and immoral".
Its foreign ministry expressed "grave concern" and urged the US to end the "unreasonable suppression" of Chinese companies.
Huawei later said it was "disappointed" to learn of the charges and that its efforts to discuss them with US authorities were "rejected without explanation". "The company denies that it or its subsidiary or affiliate have committed any of the asserted violations ..., is not aware of any wrongdoing by Ms Meng, and believes the US courts will ultimately reach the same conclusion," it added.
Video: US charges China's Huawei with bank fraud (Reuters)
MSCI's index of Asia-Pacific shares outside Japan got off to a shaky start with losses accelerating as other regional markets opened. Benchmark indices in Australia and New Zealand were down 0.7% each while South Korea's Kospi was off 0.3%. Chinese shares opened in the red too, with the blue-chip index down 0.2%. Japan's Nikkei 225 index fell 1%, while Hong Kong's Hang Seng index was down 0.8%.
The charges against came just ahead of a two-day meeting between Chinese and US officials aimed at resolving the long-running trade war. Donald Trump will meet China's top economy envoy, Liu He, during the talks, which start in Washington on Wednesday.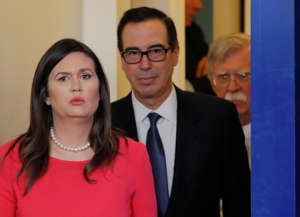 © Thomson Reuters White House Press Secretary Sarah Huckabee Sanders leads U.S. Treasury Secretary Steven Mnuchin and National Security Advisor John Bolton into the press briefing room to announce the Trump administration's economic sanctions against Venezuela and the Venezuelan state owned oil company Petroleos de Venezuela (PdVSA) at the White House in Washington, U.S., January 28, 2019. REUTERS/Jim Young The US treasury secretary, Steven Mnuchin, said he expected "significant progress at these meetings", despite the cloud Huawei has cast over the talks.

The justice department said Huawei had based its global expansion on "lies and deceit". It accused the firm and its executives of stealing trade secrets, laundering money, obstructing justice and defrauding banks to elude US sanctions.
Matthew Whitaker, the acting attorney general, said criminal offending at Huawei went "all the way to the top of the company". He announced that grand juries in Seattle and New York had issued indictments on 23 criminal charges.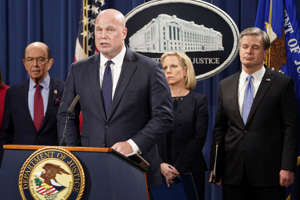 © Thomson Reuters Acting Attorney General Matthew Whitaker, Commerce Secretary Wilbur Ross (L), Homeland Security Secretary Kirstjen Nielsen and FBI Director Christopher Wray hold a news conference to announce indictments against China's Huawei Technologies Co Ltd, several of its subsidiaries and its chief financial officer Meng Wanzhou, in a pair of cases accusing the company of everything from bank and wire fraud to obstructing justice and conspiring to steal trade secrets from T-Mobile US Inc., at the Justice Department in Washington, U.S., January 28, 2019. REUTERS/Joshua Roberts Kirstjen Nielsen, the US homeland security secretary, said Huawei had operated a scheme that had been "detrimental to the security of the United States" by undermining sanctions against Iran.

The company, which is the world's biggest manufacturer of telecommunications equipment, has consistently denied wrongdoing.
Huawei is accused by the US of stealing robot technology from T-Mobile for making smartphones. The FBI said it obtained emails showing that in 2013, the company offered bonuses to employees based on the value of information they stole from other companies and sent home via an encrypted email address.
Engineers from Huawei measured and took photographs of the robot, "Tappy", and even stole a piece of it for replication in China, prosecutors said, and were falsely disowned as rogue employees by the company when they were caught.
The company and Meng are also accused of defrauding banks and lying to the US to get around economic sanctions on Iran. They claimed to have sold an Iranian subsidiary but had actually sold it to themselves, US prosecutors said.
Meng, 46, who is the daughter of the company's founder, was arrested in Canada on 1 December following a request by the US, which will now seek to extradite her. She is accused of personally making a presentation to a "major banking partner" in which she "repeatedly lied" about the company's relationship to the subsidiary, Skycom.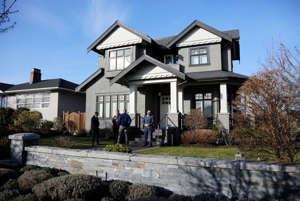 © Thomson Reuters Members of a private security firm stand outside of the family home of Huawei's financial chief Meng Wanzhou, in Vancouver, British Columbia, Canada, January 28, 2019. REUTERS/Ben Nelms Meng is currently under house arrest and the US justice department has until 30 January to file a formal extradition request.

Another senior executive falsely told FBI agents that Huawei did not directly deal with Iranian companies, according to US authorities, and falsely said Huawei complied with all US export laws.
The charges said Huawei had also obstructed justice by concealing or destroying evidence about its Iranian subsidiary, and even moving potential witnesses who knew about the fraud back to China so they could not be reached by US investigators.
Prosecutors said that, as a corporate entity, Huawei could be punished by a fine of three times the value of the stolen trade secret, and up to $500,000 for wire fraud and obstruction of justice.

The charges are likely to raise tensions between China and the US amid a trade war between the world's two biggest economies. They were unveiled shortly before trade talks between American and Chinese officials were due to resume.
Meanwhile, Meng's arrest in Vancouver has provoked the detention and alleged abuse of two Canadian citizens in China, amid an ongoing diplomatic row between the two countries.
Huawei has long been considered a cybersecurity risk by US authorities. The Trump administration has pressured American technology companies to not use Huawei components, and have asked allied governments to do the same.
Whitaker said on Monday: "China must hold its citizens and Chinese companies accountable for complying with the law."