Killed by a HUG: Family win £250,000 payout after judge rules their mother died from exposure to asbestos while washing husband's overalls and giving him a cuddle after work

Daily Mail
26/07/2018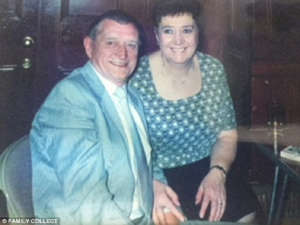 © Provided by Associated Newspapers Limited Adrienne Sweeney washed her husband Bill's work clothes in the 1960s and 1970s when he was employed at a boiler-making factory dealing with asbestos (pictured together) The family of a woman who died of cancer after years of washing her husband's asbestos-riddled overalls and giving him a big hug after work every day have won almost £250,000 in damages in an extraordinary legal first.
Adrienne Sweeney regularly handled her husband Bill's work clothes in the 1960s and 1970s when he was employed at a boiler-making factory.
She died in 2015 of mesothelioma but not before giving a statement about her exposure to asbestos to a lawyer based on her loving daily routine with Bill.
Now, after hearing her evidence from beyond the grave, a judge has awarded her family a total of £247,000. It is the first case in Scots Law to deal with 'secondary' exposure to the harmful substance but legal experts believe many more could follow.
Mrs Sweeney, from Paisley, Renfrewshire, told a lawyer before she died that she would shake out her husband's dust- covered overalls and put them in her twin-tub washing machine.
She told how he would cuddle her and their children while still wearing his work clothes. Only after years of this routine, she said, did his employer, Babcock & Wilcox, start washing employees' overalls in-house. 
In a judgment issued yesterday after a Court of Session hearing, Lady Carmichael ruled that the exposure to the asbestos dust on Mrs Sweeney's husband's clothes 'materially increased' her risk of contracting mesothelioma.
The hearing was told the risks of exposure to asbestos were known at least as early as 1960 and Lady Carmichael ruled Babcock was negligent in failing to reduce that risk to Mrs Sweeney.
Last night, her family said the ruling had brought the justice Mrs Sweeney had wanted before her 'painful and unnecessarily' premature death. Her daughter, Kay Gibson, said: 'Babcock's duty of care not only failed my father as an employee but they failed his wife, who subsequently died of mesothelioma because she washed his clothes.'
She said the same asbestos may have contaminated her and her siblings, adding: 'We are now wondering if we are going to die of mesothelioma. My mother died within 12 weeks of being diagnosed with the disease. We were offered over £100,000 on the first day of trial and we said no. We have not brought this case for money. We've brought this case because my mum wanted justice.'

Before she died, Mrs Sweeney gave a statement at Thompsons Solicitors in Glasgow. In it, she said: 'Before washing my husband's overalls I would normally shake them out at the back door.' 
Mrs Sweeney said she could not remember any discussions with her husband about his asbestos exposure but she knew he came home with asbestos dust on his overalls and his underclothes.
Babcock & Wilcox started cleaning employees' overalls and providing fresh ones but she was not sure exactly when this was.
Mr Sweeney died in 2008 after suffering a heart attack unrelated to his asbestos exposure. 
Lawyers for his employer, now Babcock International, argued it was unclear to what extent Mr Sweeney was exposed to asbestos at the factory in Renfrew. But Lady Carmichael said: 'The defenders knew or ought to have known that work clothes would be cleaned at home given that they did not provide clean clothing.'
Mrs Sweeney's children – Mrs Gibson, 54, of Paisley; Jan Sweeney, 52, of Moscow, Ayrshire; and William Sweeney, 50, of Beith, Ayrshire – originally sued Babcock for £50,000 as individuals.
Mrs Gibson also sought £200,000 as the executrix of her mother's estate, with lesser sums sought by other family members.
A family statement said: 'Women like our mother were unaware how unsafe it was to be handling the asbestos dust that came from these work clothes or of the contamination risk.'
The family lawyer, Nicola Macara of Thompsons Solicitors, said: 'This landmark case is a very positive outcome not only for the Sweeney family but for all Scots fighting to ensure that justice is done for sufferers of asbestos-related disease.'