Thousands of Protesters Block Hong Kong Roads Over China Extradition Bill

The Wall Street Journal.
12/06/2019
(Video by: Reuters)
HONG KONG—Thousands of protesters blocked roads around Hong Kong's legislature early Wednesday as lawmakers were set to debate a widely unpopular proposed law that would allow people to be extradited to China.
Crowds of mostly young people, some dressed in black and wearing face masks, dragged metal barriers and linked arms, closing off roads surrounding the government building. Numbers are expected to grow during the day after some unions called for a strike Wednesday.
Lawmakers are due to begin debating the bill so that a vote can be held by the evening of June 20. In an unusual move Tuesday, Andrew Leung, president of Hong Kong's mostly pro-government legislature, scheduled extra sessions for the bill to proceed more quickly than usual to a vote.
© anthony wallace/Agence France-Presse/Getty Images The renewed protests come after a mass demonstration on Sunday that organizers say drew one million people, but failed to derail the proposed law. The city's leader, Carrie Lam, on Monday said she would quickly press ahead with the bill. The government has already bypassed the usual scrutiny of the new legislation by a committee of lawmakers.
Related: Hong Kong's 'weekend of rage' put as many as a million on the streets
The proposed amendments include a mechanism for extraditions to mainland China, triggering fears in the city that Beijing could detain people in Hong Kong and try them across the border under its more opaque legal system. Mounting opposition has stirred from all corners of society, including businesspeople, lawyers and activists, who say the bill would undermine Hong Kong's relative autonomy and independent judicial system.
The U.S. on Monday expressed concern that the bill, if passed, "could damage Hong Kong's business environment and subject American citizens residing in or visiting Hong Kong to China's capricious judicial system." The U.S. shares the concerns of many in Hong Kong over the lack of protections for people in the proposed law, said State Department spokeswoman Morgan Ortagus.
Gallery: Hong Kong protests against extradition bill (Photo Services)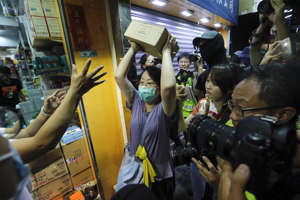 Opposition lawmakers are unable to block the bill because they lost their veto power after authorities ousted several democratically elected lawmakers through court orders and barred others from running.
The organizers of Sunday's march said they planned to camp outside the legislature from Wednesday until the vote on the bill on June 20.
Civic groups and organizations mobilized Tuesday, adding to small businesses and groups who called for a general strike and a school boycott to "defend Hong Kong."
A social workers union called for a strike Wednesday. Hong Kong's largest teachers group, which has 100,000 members, encouraged teachers to gather outside government headquarters—which also houses the legislature—and urged schools to be lenient with those who skipped classes to protest.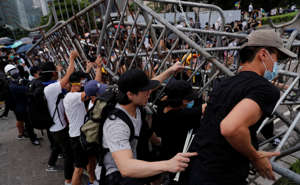 © Thomson Reuters Demonstrators attempt to move metal barricades during a protest against a proposed extradition bill in Hong Kong in Hong Kong, China June 12, 2019. "We are extremely angry," said Fung Wai-wah, president of the Hong Kong Professional Teachers' Union, who called Ms. Lam arrogant for pushing ahead. "She ignores the people's voices as if they are dirt and muck."

The city's Education Bureau said the calls for a school boycott were "extremely irresponsible."
Beijing has backed Ms. Lam, with officials telling state media that foreign powers had colluded with local dissidents to cause unrest.
The government is taking precautions to contain future protests after Sunday's march—which had been largely peaceful—turned violent overnight with some protesters clashing with police.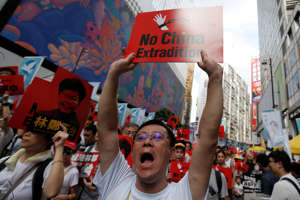 © Thomson Reuters A demonstrator holds up a sign during a protest to demand authorities scrap a proposed extradition bill with China, in Hong Kong, China June 9, 2019. Late Tuesday, the government restricted access to its headquarters, which also houses the legislature. Local media reported that police were planning to deploy 5,000 officers in response to expected protests. Police declined to comment on the figure.

Underlining concern about China's legal system, a court in New Zealand Tuesday blocked a murder suspect from being extradited to China, citing the "systemic or widespread torture" in China's system.
"New Zealand has obligations under international law to refuse to return a person to a jurisdiction in which they will be at substantial risk of torture, or where they will not receive a fair trial," the Court of Appeal judgment said.
MSN are empowering Women In Sport this summer. Find out more about our campaign and the charity fighting to promote the transformational and lifelong rewards of exercise for women and girls in the UK here.